Checkout
Oops, there is nothing in your cart.
NEW!! Spineless Wonders Audio.
To visit, click on the Audio tab
Spineless Wonders Bookshelf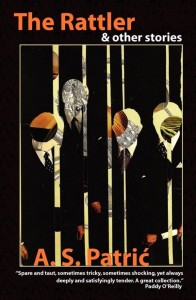 This entertaining collection includes a romp of a novella called The Rattler, as well as short stories and micro fictions all set in and around contemporary Melbourne. Sometimes serious, sometimes seriously playful –always written in breathtakingly beautiful prose – these stories uncover the heartbreaking tragedies, slow-burning emotions and serendipity of ordinary lives.
Cover image by Miles Allinson, illustrated by Miles Allinson & Maxine Beneba Clarke
Praise for The Rattler & other stories:
"Spare and taut, sometimes tricky, sometimes shocking, yet always deeply and satisfyingly tender. A great collection."
Paddy O'Reilly.
"An explosive mix of muscular prose and sharp originality. In this collection, A. S. Patric proves himself to be a writer who must be taken very seriously." Vanessa Gebbie, author of Short Circuit, A Guide to the Art of the Short Story.
"A.S. Patric is that rarest of writers- he is absolutely fearless.  His stories take risks, his characters soar and his prose sings.  Be careful.  These stories might cut you." Ryan O'Neill.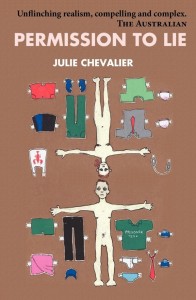 In Permission to Lie, Julie Chevalier casts a curious eye into many different worlds. Her characters ride the citybound bus route, spend the night in a nudist colony and wait tables. Quirky and beautifully-written, these stories provide insights that ring with integrity and compassion.
'A new voice in Australian fiction, wry, gritty, knowing and true.'
Fiona McGregor, Indelible Ink
Read an interview with the author, here.
What makes a man?
In this collection of short stories, Pierz Newton John moves through the full range of masculine experience, with an openness not afraid to show men at their most lonely, sexual, loving, sometimes vulnerable, sometimes abusive. First touch of a woman's body in a cold and foreign land, tender moments between father and son, the deep love of a father separated from his child, treachery and opportunism mixed up with loneliness and internet dating, the casual violence of young boys exploring the world, rites of passage from young rebels to comfortable suburbanites, and what men feel and think about women. In Pierz Newton John's stories it always come back to emotion?tenderness with children, warmth with wives after dreams of alienation, the pain of treacherous girlfriends, the loneliness of men. Plus ça change plus c'est la même chose…….the reader is lulled by the seamless prose, undercurrents of contemporary music, the urbane writing, the suburban settings, but it is all happening behind closed doors.
Read an interview with the author, here
Purchase a copy, here.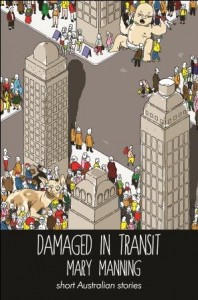 In these seventeen stories, Melbourne writer, Mary Manning, looks at the ways people are shaped, or damaged, by their circumstances. The results may sometimes be humorous, sometimes tragic. Whether set on a tram, along a highway or on an outback road?it is the journey, the characters and the telling of the tale that will capture your attention.
Cover and illustrations by Paden Hunter
'Mary Manning takes her stories to places few writers would dare to go. She ranges across different styles with ease in a unique voice that is tart, tight and compulsively readable.' PADDY O'REILLY
Read our interview with the author, Mary Manning here
To purchase, click here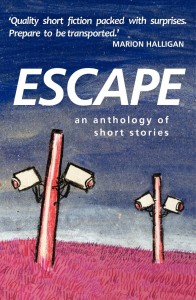 If you like your genres with a bit of edge, you'll love this diverse collection of stories from Spineless Wonders.
Features award-winning writers such as Ryan O'Neill, Jen Mills, Andy Kissane, Louise Swinn, Julie Chevalier, A.S. Patric and Kim Westwood as well as stories chosen by Sophie Cunningham in the inaugural Carmel Bird Short Fiction Award.
Contains illustrations by talented young artist, Paden Hunter.
'Quality short fiction, packed with surprises. Prepare to be transported.' Marion Halligan
Purchase here
Read interviews with our contributors, here.
Listen to audio samples here.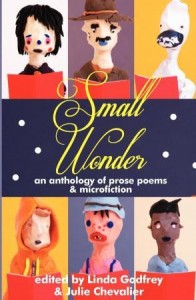 An anthology of prose poems and microfiction from 30 Australian writers.
Includes award-winning writers Michael Farrell, Keri Glastonbury, Judith Beveridge and Peter Boyle.
Features prose poems and microfiction selected by competition judge, joanne burns.
Cover and evocative sketches by talented artist, Paden Hunter.
Read interviews with our contributors here
Click here to here audio
To purchase, click here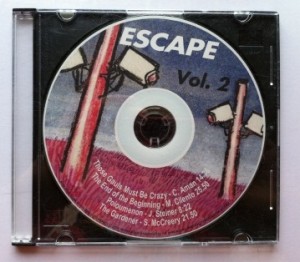 Escape audio stories Vol. 2
Playlist
Those Gauls Must Be Crazy – Claire Aman 14:36
The End of the Beginning – Meredyth Cilento 25:50
Poioumenon – John Steiner 8:22
The Gardener – Susan McCreery 21:50
For more details about these stories and their authors and to hear audio samples from this CD click here. Also available as mp3.
Escape – audio stories Vol. 1
Playlist
Paper Anniversary – SJ Finn/JR Davidson 19:35
Under the Skin – Sue Booker 21:39
Unnameable – M. Giacometti 20:14
Home – Yin Lin 13:36
For more details about these stories and their authors and to hear audio samples from this CD, click here. Also available as mp3.
Click to Buy Now
Subscribe to email alerts
Member of: