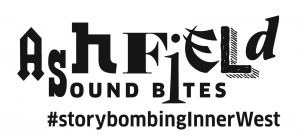 Attention all writers! Spineless Wonders has joined with Inner West Council in this exciting project calling for story submissions based on the sounds of the Sydney suburb of Ashfield.
Up to 500 wds.
Format: text and/or audio accepted
Deadline: 28 July 2019
Submit here.
Whether you are an emerging or established author, or a first-time writer – we want your words to bring some colour into the community life of Ashfield!
 Submissions can be up to 500 words in length.  You may choose to write in any prose genre (short story, flash and microfiction, monologue, prose poem)  – in fact, hybrid forms are encouraged. You can submit your work as a text or audio file or a combination of both. The call out is open to all. We are looking for engaging narratives and creative prose pieces which riff on the soundtracks of the lives of Ashfield residents and visitors – be that songs and music of any genre, or sounds from the built environment or the natural world. Your submission may reflect on the absence of sound or it may take us into a world without music.Your approach may be playful, witty, political, philosophical or all of the above.
A selection of stories submitted will be given to illustrators commissioned to create large-scale posters called 'Ashfield Sound Bites' which will be displayed around Ashfield as part of EDGE Ashfield (12 – 15 September). Other selected stories will be featured across our multi-platform #storybombing installations throughout the Ashfield EDGE Festival.
And the twist? Traditional written formats are welcome for this call out, but if you prefer, send us your work of fiction in the form of sound file straight from your mobile phone! You can find out about all the different ways to submit your written or audio piece here.
Submissions of up to 500 words – in written or audio format – due by midnight, July 28. Submit here.
Here are some short writing prompts to get you started:
What languages occupy the soundscape of Ashfield?
Write about a song from your childhood that has some significance to you.
What sounds characterise the Ashfield environment for you? (Is it the sounds of traffic, café conversations, birds…?)
What genre of music/artists/songs symbolise life in Ashfield?
Stuck for ideas? We'll be posting more story prompts for your Ashfield Sound Bite submission here and via our social media platforms. Sign up for our blog to stay updated.