This week we interview poet and editor, Anthony Lynch, whose story 'Rent' is one of twelve long stories in the Michael McGirr Selects series. Anthony tells us about his early attempts at storytelling, the inspiration for his story 'Rent' and about his reading and writing habits.
Read a sample and purchase this story by clicking the cover below. You can join Anthony Lynch and other lovers of short fiction on the Spineless Wonders online bookclub, Thursday Nov 12 from 8pm, more details here.
Do you remember the name and personality of the first character you ever created?
Putting aside earliest, schoolroom efforts, the first character I ever created was probably based on an uncle of mine on my mother's side. His name was Uncle Albert, and that was the name I retained for him in the story, and the title I gave the story. So this 'creation' was based closely on a real-life character, but all characters, whether in fiction, memoir or history, are of course creations. Albert was an amiable but sad character, damaged by the Second World War. The story tracked his irregular visits to the narrator's home when the narrator was a boy. It won a minor prize, which was a fillip, but subsequently I found the character sentimentally drawn, and I didn't include the story when I had a collection published some years later.
What drove you to write the story which is in the Michael McGirr Selects series?
I'm writing a series of stories dealing with notions of home and housing in its various forms, and this is one of the stories in that series. I wanted to write a story about a renter, and I like the idea that a character might provoke both sympathy and an element of revulsion. The story arose out of various incidents conveyed to me by friends, and I melded them together and came up with a character and a plot.
How do you approach a new story? With a clear plan of where the narrative is going, or is it more of a 'well, let's see how this goes' kind of approach?
A story for me can be driven by a particular incident I've imagined or heard about, a setting, or a character. Or, I might start with dialogue, and see where that takes things. In the latter case, it's easy to be left without a plot, though I have written the occasional short, dialogue-driven story nonetheless. A story based on an event, and to a lesser extent on a character or setting, is likely to suggest some kind of plot, though I almost never have anything so structured as a scene-by-scene plan. The approach I take to most stories is something of a hybrid – here's an idea that has within it the suggestion of a plot, but I don't know exactly where it's going.
Is there one particular author or book that you look to as a source of inspiration for your own writing? What are you reading now? Any recommendations?
I look to some of the usual suspects – Carver, Hemingway, John Cheever. Grace Paley. They help remind about the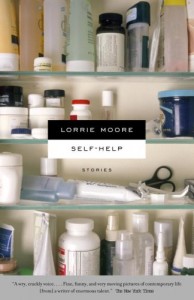 value of being concise, among other things. I read a lot of Kafka and Salinger when I was younger. But I read fairly widely, including poetry. Simon Armitage is a poet I've read lately who manages concision with narrative punch. Of recent novels, Homer and Langley by E.L. Doctorow and Harvest by Jim Crace are favourites – each in its own way an example of exhaustive historical research effectively brought to bear on very particular situations and characters. At the moment, however, I'm reading Self-Help by Lorrie Moore. It was Moore's first collection of short stories, from 1985, and I think it's brilliant – enormously sharp, funny, insightful. It's easy to overdo similes, but she fearlessly packs them in ('her face blank as a large Kleenex'), and they arrive in killer lines.
How does writing fit into your day-to-day life? Do you have any unusual writing habits? Any advice to share for those stuck in a writing slump?
It doesn't fit in enough. I recently started back at a full-time (editing) job, and it's a long commute each day from door to door. When I can, on the train, I get a seat with a tray that pulls down before me, and for that hour – minus time squandered on news or email on the smartphone – I try to write. I find the limitations of time and space helpful. There's nothing I can do but sit in that space. It can be the most productive time of my day. I write slowly, but I get something down. Perhaps the movement of the train helps. If I'm stuck for a subject, I'll write about what's around me. Which might explain why I wrote a poetry collection called Night Train.
Anthony Lynch is author of the short story collection Redfin (Arcadia) and poetry collection Night Train (Clouds of Magellan). His work has appeared in newspapers, journals and anthologies and been read on ABC Radio National. He writes reviews for The Australian and Australian Book Review. He works as an editor, and he is the publisher for Whitmore Press, which specialises in poetry (whitmorepress.com).
Book available at Tomely