Coffee Pod|cast

Need a lit hit with your caffeine fix? Subscribe to Coffee Pod|cast.
Each episode, Ali Morris & Emma Walsh will play you a Spineless Wonders' microfiction, read by an actor, then they'll chat about it over their morning coffee.
Subscribe to Coffee Pod|cast on iTunes, Stitcher and Spotify. Tell us what you think, leave a comment or suggestion and  join the discussion on Facebook.
Little Fictions On Air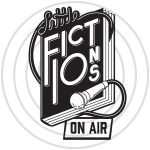 Little Fictions On Air podcast is hosted by actor Ella Watson-Russell and features highlights from the live Little Fictions shows.
The podcast will also feature audio stories which are given new life off-the-page with evocative sound design as well as interviews with actors, authors and behind-the-scenes chats with Little Fictions' curators and producers.
Follow us: