Description
Preview:
Now available on Google Play | Kobo | Scribd | Chirp | Coming soon to Audible  or browse our audiobook store here.
Siarad is a Welsh word, meaning to talk, to speak. In this collection of spoken word, prose poetry and micro-fiction, Reid speaks to the memories and emotions that move us through decades, continents and cultures. The collection pulses with images of stars and stray dogs, highways with no horizon and mothers with fading memories. Reid's background as a performer and playwright shines in this collection of works that are as bold as they are tender, begging to be shouted, spoken, whispered many times over.
'I don't have words for how much I fucking love SIARAD the audiobook. Caroline Reid's narration is so intimate, so up-close-&-personal it's like she's crouched inside my ear buds whispering her poems & stories directly to me. This is extraordinary work, superbly delivered, set in a dazzling soundscape. If you have a spare ten bucks in your pocket, OH MY GOD BUY THIS.'
–ali whitelock, the lactic acid in the calves of your despair
'Psychedelic. Startling. Alive. This book takes you to places you never imagined you'd go, and some places you've already been, but thought you were alone when you were there. Caroline Reid is a fellow traveller in a chaotic world. She tells a woman's story, but it is the story of us all.'
—Donna Ward, She I Dare Not Name: A Spinster's Meditations on Life.
'Caroline Reid's writing illuminates the mundane and the ordinary as spectacular and powerful.'
—Rosslyn Prosser, University of Adelaide
'While Reid's striking similes and surprising metaphors are a true joy, her observations about the human condition are also brilliant – in turns poignant and pointed'
— Reviewed by Alison Clifton, StylusLit
About the author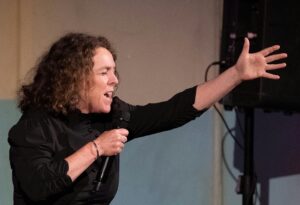 CAROLINE REID writes across genre and form. A regular spoken word performer and repeat finalist in the Australian Poetry Slam, her poetry and prose have also been widely published. Her play Prayer to an Iron God is published by Currency Press.
Now available: signed copy of Siarad and free shipping for $24.99 anywhere in Australia. Or $34.99 for international customers.

Published by ES-PRESS an imprint of
SPINELESS WONDERS
info@shortaustralianstories.com.au
DISTRIBUTION:
Distributed by NewSouth Books through Alliance Distribution Services (ADS)
Tel: +61 (2) 4390 1300
Email: adscs@alliancedist.com.au
http://www.newsouthbooks.com.au/