Our online bookclub has been operating now for two years and in case you haven't caught on to what it is about, here's five great reasons to put your $15 down and get on board.
1. BATS & PANTHERS
No, not free animal crackers. The first two sessions will showcase our March releases, Patrick Lenton's microfiction collection A Man Made Entirely of Bats and Jen Craig's novella, Panthers and the Museum of Fire. Both releases have been given terrific reviews in Australian's foremost booktrade mag, Bookseller + Publisher. The books are yet to hi the bookshops, so as a SW subscriber you will among the first to read these books by two of Australia's most exciting experimental authors.
 2. Go SLINKIES
Hot off the digital presses here at SW are three new eSingles by new and emerging writers: Ben Brooker, Abby Kong and Nick Couldwell. As well as the much anticipated mini-collection by up-and-coming author, JYL (Julie) Koh. Get the scoop on these excellent new voices.
 3. BARGAIN!
Four months' worth of downloads for the truly amazing low price of just $15. Convinced already? Here's where you subscribe.
4. SEDARIS & SEBALD
A chance to get up close and discursive with Australia's own David Sedaris, Patrick Lenton (according to Kill Your Darling's editor, Veronica Sullivan) and our very own WG Sebald, Jen Craig (according to Debra Adelaide).
 5. MR FACEBOOK SAYS YOU SHOULD
Mark Zuckerberg says 'My challenge for 2015 is to read a new book every other week…' Well, SW Online Bookclub is on every fortnight, so why not take up the challenge!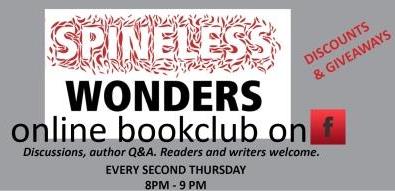 What is the SW bookclub?
It's the only regular online discussion forum for lovers of short Australian stories. It a Facebook group which you can join by simply sending a request or being invited. Here's where we are
https://www.facebook.com/groups/spinelesswondersbookclub/
We meet every fortnight between 8pm and 9pm Eastern Daylight Time to discuss a set reading. Set readings can range from a single story through to an entire collection or anthology of short stories. All of the set readings are Spineless Wonders publications. The set readings may be available in a variety of formats: digital (for any ereading device including Kindles and mobile apps) and audio (mp3s).
Who is the SW bookclub for?
Anyone interested in talking about short fiction. Readers, writers, teachers, students, reviewers as well as the simply curious. We currently have over 300 members so you will meet any and all of these kind of people. Last year our guests included Ryan O'Neill, Angela Meyer, Carmel Bird, AS Patric, Craig Cormick to name just a few.
What do we talk about in SW bookclub?
Topics range from where story ideas come from, about literary and other influences, about all aspects of the writing process – so there is bound to be something for the novice writer as well as the experienced writer, something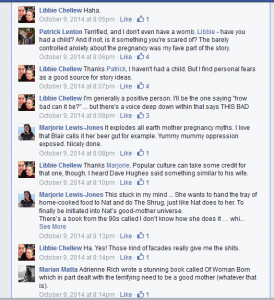 for readers new to the short story form through to the dilettante. More often than not the discussion veers off into unexpected directions and so it can get very spontaneous, ad hoc and adrenalin-filled. Ask any of our authors who have been in the hotseat! Most say they come away from the sessions having learnt something about their story or about writing. It really is that good!
Thanks to the wonders of Facebook, you can check out some of the past discussions by just trawling back through the timeline. Take a look – but be warned, you may be some time – the discussion threads are really fascinating.
How does the SW bookclub work?
Each fortnight we gather to chat via Facebook about a piece of short fiction. You don't have to have read the set text to take part. (Just like bookclubs in real life!) We have a bookclub facilitator to keep the discussion rolling but mostly the participants are busy talking (typing) over one another. We are often joined by the author or contributors who will field questions from the group and join in the discussion. And we encourage people to send in questions or comments ahead of time so the guest author can come prepared.
SW online bookclub vs SW bookclub subscription
Becoming a member of the SW online bookclub is free. You just need to have a Facebook account. To become a subscriber you pay $15 for a four month worth of downloads. Here is the link:
https://shortaustralianstories.com.au/products-page/subscriptions/sw-online-bookclub-offer/
How do SW Bookclub subscriptions work?
As a subscriber, for the price of $15, you will be sent a download link every fortnight for four months. We send you the links about two weeks ahead of time so you have a chance to download and read the material in time for our online discussion session on Facebook. Subscribers don't need to join the Facebook discussion – but can just enjoy the fortnightly short story hit.
What's coming up in 2015?
The first season of for 2015 starts in Feb and runs until the end of May. Over the next four months, subscribers will receive 8 downloads ranging from an entire short story collection, a novella, a capsule collection (thanks to JYL Koh for that great term!) through to individual stories. Most stories will be sent to you in digital format which you can read as ePub or mobi files on any PC or mobile device and one story, the last for this subscription season, will be an audio recording. For details of the Feb-May line up, click here.
Each fortnight the bookclub will be facilitated by our hand-picked hosts who each have intimate knowledge of the work under discussion and in most cases we will be joined by the author. In the final session, we will be joined by actor, Lauren Neill who narrated Jude Bridge's LOL critique of American imperialism via an AC/DC-loving Country Women's Association. 'Cake Mistake' was performed by Lauren at our live show, Little Fictions, and has been recorded for your listening pleasure.
To kick off this first season of the year, we present Patrick Lenton's A Man Made Entirely of Bats on Thursday, Feb 12. Our host for the evening will be Kathryn Moore, a freelance editor from Melbourne and self-confessed superhero comics fan who worked with Patrick on his collection. And Patrick will be online – so it is sure to be a great session.