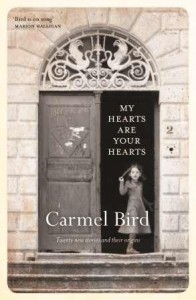 We are very proud to be publishing a long-awaited collection of new stories, My Hearts Are Your Hearts,  by one of Australia's most engaging storytellers. The first in our new series entitled Spineless Wonders Fiction Plus, My Hearts Are Your Hearts also contains an extensive essay in which Carmel Bird reflects on the stories origins.
Carmel Bird has published over twenty-five books including novels, books on writing and numerous short story collections. Three of her books have been shortlisted in the Miles Franklin Award and she has been shortlisted in the Victorian and New South Wales Premiers Awards as in the Ned Kelly and Australian Aurealis Awards.
Carmel's first collection of short stories, Births, Deaths and Marriages, was published in 1983 followed by The Woodpecker Toy Fact and other stories (1987), The Common Rat (1993) and Automatic Teller (1996). Individual stories have recently been published by Griffith Review, Island, Antipodes, The Center for Fiction (New York), Australian Short Stories, New Australian Stories, Wordlines, Best Australian Stories, Australian Love Stories, Review of Australian Fiction and Kill Your Darlings.
'Bird's wit and unsentimental hyper-realism play against her romantic imagery to summon the shifting truths of the human heart.' Gerardo Rodríguez-Salas
My Hearts Are Your Hearts brings together twenty stories by Carmel Bird, included some recently published in as well as a number which will be published for the first time. The stories in My Hearts Are Your Hearts navigate moments in human experience that are both shared and unique; stories of life and death, loss and fear, love and betrayal. Organised under the headings, 'Body Parts', 'Laws of Love', 'Sudden Death' and 'Life Saving', and ranging from playful to poignant, these stories all deal with matters of the heart – including the heart-shaped island of Tasmania which has featured in much of Bird's fiction. There are tales of transplanted wombs, broken marriages, murdered artists and $6000 raincoats. Intrinsically Australian, biting and clever, these well-crafted stories form a collection that speaks to anyone who has ever experienced the pain of loss or questioned the fallibility of human life.
Pre-release copies of My Hearts Are Your Hearts are available at a discounted price for those who order prior to July 25. To purchase, click here.
Bird on Bird
 Throughout her writing career Carmel Bird has reflected on her fiction, the art of storytelling and the workings of the imagination. Her ground-breaking collection, Automatic Teller published by Random House was a collection of short fiction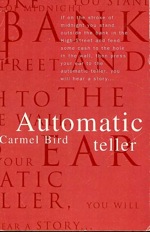 (texts) with accompanying essays (contexts). She is an experienced teacher of creative writing and has published books on writing including the inventive Dear Writer, first published by in 1988 by McPheeGribble, and then revised and released as Dear Writer Revisited, by Spineless Wonders in 2013.
The essay in My Hearts Are Your Hearts reflects on the origins of the twenty short stories – sources which range from found objects to works of literature, fairy tales, memory and imagination. Bird also reflects on issues relevant to the writing of fiction and the short form including the structure of a short story collection, narrative voice and genre.
'As an analyst of the story, I am almost as fresh as any other reader.' CARMEL BIRD
Below are some extracts from the essay in My Hearts Are Your Hearts:
 On narration
'One of the writer's most important tasks is that of inviting the reader into the story, assisting the reader to participate in the mood and therefore the meaning. But – a big but this – the writer is not in fact the storyteller, for the storyteller is located in the voice of the narrative. Fay Weldon is one of my favourite writers, and everything she writes is delightfully coming from Fay Weldon, but the storyteller is not Fay Weldon, writer. The storyteller is the narrative voice.'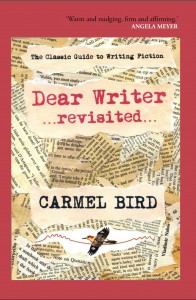 Fiction and memoir
'… one of the epigraphs to this collection is 'We make fiction because we are fiction.' This short statement unsettles and to a degree subverts the common discussion about the differences between 'fiction' and 'non-fiction'. It highlights the mystery that exists at the core of writing, for writing is a mysterious process. I hope to illuminate parts of the mystery, only parts of course, in this essay.'
On fairy tales
'A reader will find throughout this collection, and in fact in the fabric of much of my work, a reference to and flavour of old fairy tales, in particular the tales of Grimm and Andersen. The motifs and plots of fairy tales, repeated over centuries, changed and yet paradoxically immutable, can have a powerful grip on the human imagination, informing and shaping thought and feeling, which in turn have an effect on the stories themselves.'
The Fiction Plus series
As reported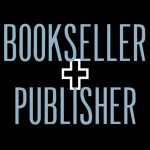 in Books+Publishing last year, we are launching a new short fiction series under the banner of Fiction Plus. Here's an excerpt of that article:
Independent Australian publisher Spineless Wonders has announced plans for a new series that combines short stories with authors' reflections on them.
Publisher Bronwyn Mehan told Books+Publishing that the 'SW Fiction Plus' series 'has come about in response to the interest we've had in our anthology of stories and essays Cracking the Spine: Ten Short Australian Stories and How They Were Written', and 'will be of great interest, we think, to readers and to writers' and 'a great resource for teachers and students of creative writing and Australian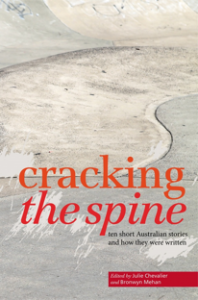 literature'.
The first collection in the series will be My Hearts Are Your Hearts by Carmel Bird (August) and 'will contain text and context—nineteen stories and a long essay on how each of them came about, reflections on the themes in the collection and on the processes of writing and creativity,' said Mehan. A second collection in this series, by Alice Springs author Michael Giacometti, is planned for early 2016.
Mehan said that Spineless Wonders is 'interested in writers who are working at experimental end of the short form' and those 'who have spent time reflecting on their writing and its influences'.
My Hearts Are Your Hearts will be launched in August at the Bendigo Writers Festival by Cate Kennedy and in Sydney's Berkelouw Books, Leichhardt in July. Carmel's memoir, Fair Game, will be published later this year by Finlay Lloyd. carmelbird.com
Pre-release copies of My Hearts Are Your Hearts are available at a discounted price for those who order prior to July 25. To purchase, click here.