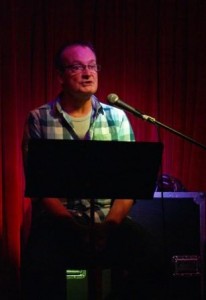 Spineless Wonders recently marked the six-month milestone of its live show, Little Fictions @ Knox Street Bar. We thought we'd check in with some of our actors and ask them about their experiences at Little Fictions, how they prepare for their performances and what other projects they are involved in.
We managed to catch the extraordinarily busy theatre-maker, Tim McGarry to ask him what he thinks of being in Little Fictions.
SW: Sum up your experience of performing at Little Fictions so far.
TMcG: I kind of love stories – I love telling stories and I think there is little difference – except of course sometimes the language is in third person, when for play scripts its more often in third person and more pointedly dramatic. And the other thing I love about any written word is the subtext – why did the writer write and what is the subtext or meaning behind it.
I love listening to other performers. I love the fact that it gives writers a chance to hear their words out loud. And for me it is a little escape once enough to relish some good writing and reading without pressure!
SW: Tell us about one of the pieces you've performed. How did you go about preparing for the reading? How did the audience respond?
TMcG: I really loved 'Lights' by Susan McCreery. It was relatively short but incredibly powerful piece. It was so realistic in the mundane nature of married life, with such a powerful deep-seated, emotional twist. I get connected to pieces that have some type of relevance to my life or somebody I know. That is generally how I prepare – imagine myself as someone else, or in someone else's shoes. Similarly when I read Imago, the lines and character reminded me of someone – Dr. Smith from Lost in Space. I loved that show as a kid, and for that piece I channelled him! Or tried too!
SW: How does Little Fictions compare to other acting work you do?
T McG: I find nearly every acting job is pretty unique and Little Fictions is no exception. The great part about little fictions is that there is no real pressure of learning lines. As readings they are easier to relax into.
SW: How did you get into the performing arts? What was your very first acting role?
T McG: I started taking started drama classes at 13. I went along with a friend who thought it might be fun to try out. He got bored after the first lesson and never came back – but I loved it and was completely hooked – I'd found my tribe.
Then after I left school I went to UTS to study a bachelor of Business and soon found that to be incredibly boring and auditioned for the acting course at the Western Australian Academy of Performing Arts and was stunned when I got accepted. I have never looked back. My first professional gig was The Sentimental Bloke for the Western Australian theatre Company in Perth.
SW: What's in store for you performance-wise over coming months?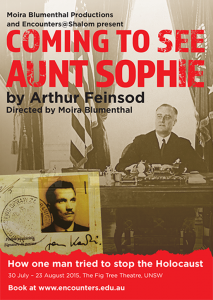 T McG: I have been busy working with colleagues at Monkey Baa on our next new work – an adaptation and creative development of Li Cunxin's The Peasant Prince, a hugely challenging piece which I will direct for he company in 2016.
My next gig as an actor will be Coming to see Aunt Sophie, a play about the extraordinary true story of Jan Karski, a young Catholic activist in the Polish resistance who tried to stop the Holocaust. The play is set in 1978 when Karski, a revered professor at Georgetown University, breaks his vow of silence about his past and recounts his harrowing missions during World War II to save the Polish Jews. Tortured by the Gestapo, he escaped a Nazi hospital and was smuggled into the Warsaw Ghetto and a concentration camp to witness and record first-hand the Nazi atrocities. He escaped Nazi-occupied Europe to report to Allied leaders about the Holocaust, eventually securing a meeting with US President Franklin D. Roosevelt – with devastating results.
It is the remarkable story about a quiet hero, in conflict with his younger self; haunted by what he saw and struggling with what he failed to do. I play 25 different characters and somehow master 8 different accents… a challenge ahead.
Tim McGarry, a Western Australian Academy of the Performing Arts graduate, works as an actor, workshop facilitator, writer and producer in Sydney.  Theatre credits include I Am Jack, Hitler's Daughter, The Prospectors (Monkey Baa), It's a Dad Thing (TML Management), The Sentimental Bloke (WATC), Bouncers (RTC), The Carthaginians (O'Punskys), Time Gentlemen, Macbeth, Italian Stories, (Theatre South) The Information (Company B Sharp), Big River (Gordon Frost). Film and TV credits include Lilian's Story, The Camera Trap, Backberner, Goddess of 1967, All Saints, Underbelly – The Golden Mile and Manny.
Tim, along with Sandra Eldridge and Eva Di Cesare, founded Monkey Baa Theatre Company, one of Australia's largest touring theatre companies presenting new Australian work for young audiences. In 2014 he toured in the one-man show I Am Jack throughout 14 cities in the USA. Tim is a proud member of the Media Entertainment & Actors Alliance.