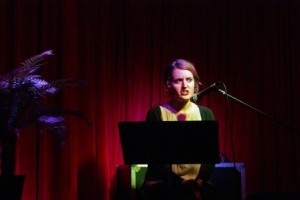 Spineless Wonders recently marked the six-month milestone of its live show, Little Fictions @ Knox Street Bar. We thought we'd check in with some of our actors and ask them about their experiences at Little Fictions, how they prepare for their performances and what other projects they are involved in.
We caught up with Eleni Schumacher who is currently preparing for a new show at Redfern's cultural hub, 107 Projects.
SW: Sum up your experience of performing at Little Fictions so far.
ES: Little Fictions has been such a nourishing experience on all fronts: Firstly, a chance to share the stories of so many talented writers via a live medium nurtures such a lovely sense of community that is hard to come by. Secondly, as an actor it's an opportunity to hone those live story-telling skills and focus solely on doing due justice to the written word.
SW: Tell us about one of the pieces you've performed. How did you go about preparing for the reading? How did the audience respond? Any surprises?
ES: On preparing for Mark O'Flynn's Red Shoes, I tried to focus on the slow, hot, tired feeling of the piece – a reluctant journey by train across the Australian desert – the dark and dry humour of the story seemed a focal point to me, and getting that across vocally was challenging. The audience responded very positively to those flashes of humour amidst the character's desperation, and that reaction was really rewarding to hear, particularly on behalf of Mark.
SW: How does Little Fictions compare to other acting work you do?
ES: I find Little Fictions to be a totally liberating experience as an actor – there's no need to focus on anything but your own understanding and experience of the stories – it's intellectual Creme Brulee!
SW: How did you get into the performing arts? What was your very first acting role?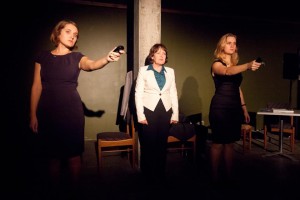 ES: My very first acting role was when I was in Year 3. I played the highly coveted role of the Princess in "Magon the Dragon". I got to wear a white dress and I had a crush on the boy who played the Prince. Ooft. But I'm sure I was focusing completely on developing my actor's craft…
SW: What's in store for you performance-wise over coming months?
ES: Having just closed Dead Time at 107 Projects with Lace Balloon Productions, I will be producing and performing in an adaptation of Marivaux's farce The Island of Slaves, also at 107 Projects in Redfern, from 29th July. It's shaping up to be an outrageous physical comedy – a much-needed laugh on a cold winter night!
Eleni Schumacher, a Sydney-based actor, writer and theatre-maker, is a graduate of Atlantic Acting School in New York City (2013). Whilst in New York she appeared in independent feature film Night and a Switchblade. Prior to training, whilst completing a Bachelor of Global and International Studies at the University of Sydney, she was an executive member and regular performer with the Sydney University Dramatic Society. She also appeared in several independent theatre productions and (Factory Space, Rough Hewn) and film, television and radio (Deadly Women, Triple J Unearthed/NIDA, ABC Radio National).
Since returning to Sydney, she has appeared in several independent films (Schadenfreude, Earth Hour Projects) as well as performing in immersive theatrical production Details Unknown for Penguin Plays Rough and Sydney Living Museums (Dir. James Dalton). She appeared in Dead Time at the TAP Gallery with Lace Balloon Productions in November 2014 and at 107 Projects in May 2015.
Eleni writes and devises for theatre, having written and performed developments of original work for GrifFRINGE, and a stage adaptation of a short story "Singing My Sister Down" (Margo Lanagan). She has also performed with Zine Collective for Underbelly Arts Festival, and with Volta Collective (Camenzind at Redfern Pavilion and Creditors at Verge Arts Festival). She now works, in conjunction with other artists and performers, under her own banner of BesideOurselves Collective, staging original works such as her own short play Just Try to Sit Still and Relax at 2014's Surry Hills Festival, with actor Luke Carson and director Pierce Wilcox working as co-creators, and reading original work at Marvellous Scandal, curated by Stephen Jones.
Eleni is represented by Ignite Elite Artists.