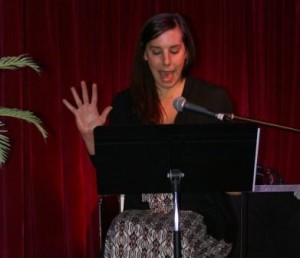 Spineless Wonders recently marked the six-month milestone of its live show, Little Fictions @ Knox Street Bar. We thought we'd check in with some of our actors and ask them about their experiences at Little Fictions, how they prepare for their performances and what other projects they are involved in.
We caught up with Ella Watson-Russell, one of the newest members of the troupe. Ella has just returned from the Northern Territory where she has been touring with a health promotion show.
SW: Sum up your experience of performing at Little Fictions so far.
E W-R: I'm the new girl! And like my Zooey Deschanel counterpart I've been welcomed and made to feel entirely at home by my new fam, the Little Fictions team. I love the Little Fictions nights not just because I get to jump up on stage and do me some acting, but for the intimate and funky vibe of the Knox St Bar; the fact that it's held on a Monday (c'mon, what else this good is happening on a Monday?) and for the range of people I get to chat to – students, writers and randoms who may have wandered in.
SW: Tell us about one of the pieces you've performed. How did you go about preparing for the reading? How did the audience respond? Any surprises?
E W-R: One of the pieces I've really loved has been 'The Metereologist's Daughter' by Mark Smith. I really enjoyed connecting with the magical realism in the piece and the physical experience of the character.
In preparing for this piece, as I do with every piece, I looked for shifts in time or tense; words that either resonated with me deeply or that I thought were key to the telling of the story; and paying close observance to punctuation and doing multiple aloud reads in order to make sure I had understood the intention of the words written and was delivering them in a way that made the story telling clear. I look for the comedy and tragedy in every work and try where I can to use the opposite in delivery to bring out the pathos.
This was a short work, but my feeling was the audience connected to the magic, humour and romance in the writing.
SW: How does Little Fictions compare to other acting work you do?
E W-R: I think the biggest difference is that the readings I do at Little Fictions provides a great opportunity to connect with the audience. There is no pretence that you are 'being' someone else, you are storytelling and you are sharing that story with the audience. So I can look at people, give them a smile or a nod and actively bring them into the work rather than trying to reach them via my 'transformation' into someone else.
SW: How did you get into the performing arts? What was your very first acting role?
E W-R: I decided when I was 11 that I wanted to be a writer and that it would be a good idea to do some theatre to get an idea about writing scripts. I was cast as Snow White in 'Snow White and the Seven Short Sharp Shooters'. The acting bug took over and the writing took a back seat.
SW: What's in store for you performance-wise over coming months?
E W-R: My next project is working on a web series called 'Dave+One' – a story about dating in the modern age minus the groan worthy cliches. I play Annabelle, a pre-school teacher with a plan for everything and an Etsy business in knitting cat hats.
Ella Watson-Russell is a graduate of the Victorian College of the Arts and works as an actor, theatre maker, producer and drama tutor. Her acting credits include work for Darwin Theatre Company, JUTE, CIYA, ArtBack, Festival of Darwin, Darwin Fringe Festival, Melbourne Fringe Festival, National Gallery of Victoria, La Mama & Optic Nerve Performance Group as well as roles in film, tv and voiceovers.
Her theatre-making and directing credits include Acacia Hills, The Hamlet Project, A Life is Passing and Unrequited as well as several short works developed with young people in her capacity as a drama tutor. Ella holds a special interest in the collaborative generation of new theatre works and working with writers and playwrights in the early development stage of new work.