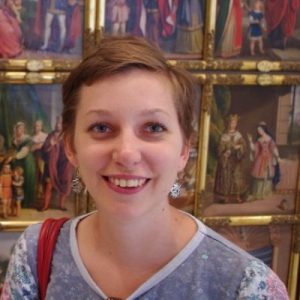 We asked Queensland writer, Ariella Van Luyn about the inspiration for her story, 'Bulldozer' and for some tips for writing. Read her responses here. Ariella's story, 'Bulldozer' is one of twelve finalists in the 2014 Carmel Bird Award and is included in the Michael McGirr Selects series of digital singles which is being released this year. You can read a preview and purchase 'Bulldozer' below. Join Ariella and other short story readers and writers for a discussion of 'Bulldozer' on our online bookclub, Thursday, Sept 3 at 8pm EST.
Do you remember the name and personality of the first character you ever created?
My first character's name was Elaine. Elaine had feisty arguments with dragons, and was very self-conscious about the size of her nose. I'd just discovered Terry Pratchett and realised how fun and playful stories could be. I still write about female characters who are a mixture of bravery and self-consciousness.
What drove you to write the story which is in the Michael McGirr Selects series?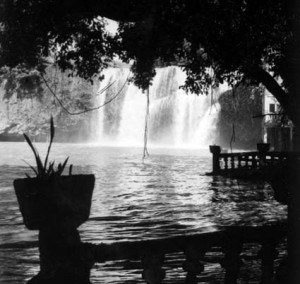 I was driven to write this story after I visited the place where the story is set, Paronella Park. Like in the story, Paronella Park is an impressive series of stone buildings next to a waterfall in the middle of the rainforest near Cairns, Far North Queensland. In the 1930s, Spanish migrant Jose Paronella built the castle-like park, including a cinema, a dance hall with a mirrorball, tennis courts, and pleasure grounds. The park stayed open until the 1950s, when my story is set. After Jose died, his family couldn't maintain the place. The buildings were left to the rainforest, fire and cyclone. Later it re-opened as a tourist attraction and inspired the Studio Ghibli animation Laputa: Castle in the Sky.
The night after visiting Paronella Park, I dreamt of a table riddled with insects, a key image in my story.
How do you approach a new story? With a clear plan of where the narrative is going, or is it more of a 'well, let's see how this goes' kind of approach?
I usually start with an image and a character, inspired by something I've seen or read, or someone I know. Usually then I get the central feeling and emotion for the story. I'm also inspired by historical photographs, oral histories and newspaper articles.
I write a lot, focusing on trying to capture the emotions I'm after and exploring the character's backstory. Then I shape, cut and fiddle. Usually it takes me a year of on-and-off work to get the story. I will often come back to a story months later and only then realise what it's about.
Is there one particular author or book that you look to as a source of inspiration for your own writing? What are you reading now? Any recommendations?
This story was inspired by John Fowles's The Ebony Tower. I love Fowles's curious mix of historical detail and dream-like imagery, particularly in The French Lieutenant's Woman and A Maggot. I'm also inspired by Toni Morrison's Beloved, Thea Astley's It's Raining in Mango, Margaret Atwood's The Handmaid's Tale and Nicole Kraus's Great House. I think these authors do something stunning with language.
At the moment, I'm reading Maxine Benebe Clarke's Foreign Soil. The collection is not like any Australian short stories I've read before, so I would recommend it!
How does writing fit into your day-to-day life? Do you have any unusual writing habits? Any advice to share for those stuck in a writing slump?
It's only recently, since I've started working full time, that I've come to realise how precious writing time is. This year, I made myself get up an hour earlier so I can spend an hour writing before I go to work. It's dark at 5.30am, and I'm still half-asleep, but the semi-dream state is conducive to tapping into the unconscious mind.
I know I've got stuck in a slump before because of the nasty voices in my head saying, 'You suck!', 'Why did you ever think this was a good idea?', 'You've tricked everyone into thinking you're a writer and now look at you! Not a single word!' and variations on these self-messages. The only way I've found to get the voices to go away is to lift the pressure of having to write perfectly the first time, and to soothe them by telling myself I can fix the writing later.
I find the surrealist technique of free association pretty helpful with this: start with one word that interests or inspires you and straight away write the next word that comes into your head associated with it. Write for five minutes without lifting your pen. Usually amongst it all, there'll be some image or phrase you can work with.
Ariella Van Luyn is a writer and lecturer in Townsville, North Queensland. Her stories have appeared in Overland, Voiceworks, The Lifted Brow, One Book Many Brisbanes and Lip Magazine. Her manuscript, Hidden Objects, was shortlisted for the 2012 Queensland Literary Awards.
Preview 'Bulldozer' here:
Book available at Tomely