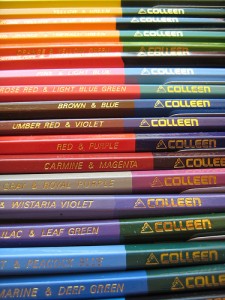 We are thrilled to be releasing, 'We're All Travellers Here', the winning entry from the 2014 Carmel Bird Award chosen by judge, Michael McGirr. Marjorie Lewis-Jones' story is the first of the series of twelve digital long stories to be released over coming months. We caught up with Marjorie recently and asked her a few questions about this story and its origins, about her writing life. As you will see, she began her writing career by cutting her teeth on novel-writing, before moving on to the more challenging short story form.
Do you remember the name and personality of the first character you ever created?
I was 8 or 9 when I wrote my novel Gretel of Connemore and illustrated it using my Colleen colouring pencils. I still have the book squirrelled away in its homemade dust jacket of clear plastic. Twin babies are found on the doorstep of a country house. I'd tell you more about this intriguing plot and my scintillating protagonist, Gretel, but I sense I've already dug my literary grave here!
What drove you to write the story that is in the Michael McGirr Selects series?
Travel got under my skin early. My favourite childhood book was my mother's journal written when she cruised the world on the Strathaird in the late 1950s. The excitement of her journey, the lure of her narrative voice, her beautiful handwriting, the independence she played out in exotic places … I was in thrall! How could I not become a traveller and a writer?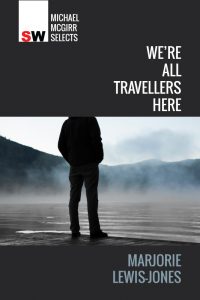 You can read more about what specifically motivated me to write 'We're All Traveller's Here' on my literary blog A Bigger Brighter world (so please visit). And, you know, I'm still pondering why the monster man from Larson's Far Side cartoon always sits next to me when I'm on a long-haul flight and travelling alone …
We long to be elsewhere, don't we? But sometimes in getting there, or on arrival, we feel dislocated or ill and find that the places (and we, ourselves) disappoint. In my story, Eric and his mother Marguerite have a scratchy relationship as they travel together and I ached for them to resolve it. Eric is caught in a life that has not yielded the opportunities he has hoped for nor the closeness to his mother or others that he desires. Like the children in the 7 Up series, we sense Eric was cast in a mould early with little chance of becoming anyone other than who he actually is. He loves to travel but worries about the stress it places on the planet. He feels guilty and hypocritical because he knows that buying carbon credits does little to balance tourism's damage to the world.
How do you approach a new story? With a clear plan of where the narrative is going, or is it more of a 'well, let's see how this goes' kind of approach?
When I begin a story nothing seems fixed or familiar. I'm like the neonate kangaroo — blind, disoriented and starving – that shimmies through its mother's thick abdominal fur trying to find the teat.
In the last year or two I've started several stories using the 'well, let's see how this goes' approach. 'Slowly' is the answer. But fascinating too — as characters reveal (millimetre by millimetre) qualities and interactions that are unexpected.
Is there one particular author or book that you look to as a source of inspiration for your own writing? What are you reading now? Any recommendations?
 One source of inspiration? ONE? You're kidding, right? When it comes to authors and books I'm a guzzler. Today I'm reading travel guides for the Faroe Islands, Iceland and Denmark in preparation for my next travel adventure. Yesterday I was savouring sentences in The Golden Age by Joan London. A week ago I was drunk on Herta Muller, Marion Halligan, Carmel Bird, Liz Berry, Sinead Morrissey and Dermot Healy. Next week I'll be dipping into Lost Boy & Other Stories — a new anthology that features a story by my writing buddy, Catherine. I'll also be feeling every sharp contour of The Iceberg by Marion Coutts — her award-winning memoir of living with her art critic husband, Tom Lubbock, during his decline and death due to a brain tumour.
Each story I attempt has its touchstones: a book or story or two or five that I must keep close to draw the literary / magic circle complete. A David Malouf story acted as a significant talisman for 'We're All Traveller's Here' and a George Saunders story was my lucky charm as I wrote 'Walk Beside Me' (my short story that won the Lane Cove Literary Award in 2014).
Current recommendations include H is for Hawk by Helen MacDonald (MacDonald's wisdom about nature and wildness is captivating) and The Illiterate by Agota Kristof (Kristof's tiny memoir of exile and loss is moving and I particularly loved its opening pars, which are relevant to the question you asked me, so I quote) …
 'I read. It is like a disease. I read everything that comes to hand, everything that meets my glance. Newspapers, schoolbooks, posters, bits of paper found on the street, recipes, children's books. Everything in print.'

' I am four years old. The war has just begun.'
How does writing fit into your day-to-day life? Do you have any unusual writing habits? Any advice to share for those stuck in a writing slump?
My writing life and day-to-day life are in constant tension. On the one hand I'm incredibly lucky to have a writers' loft to go to several days a week to cajole the muse to visit me. On the other hand I'm also a freelance writer/journalist/content creator/editor who needs to earn a crust. Mostly it feels like I'm body surfing. I'll be in the midst of a creative wave, revelling in the surge of a story, poem or literary review and a work project will come along and dump me, dazed and disoriented, onto the shores of a totally different world. Staying buoyant, breathing deeply and reacting nimbly are skills I practise every day to keep the water out of my lungs.
Unusual habit? Sometimes I write in my journal late at night just as I'm falling asleep. In the morning the scrawl indicates I'm a geriatric who's had a stroke. I've stopped having qualms about writing crud and rootling around in the pigpen. In among the murk and gobbledygook there can be the occasional diamond. Inspiration's capricious and the subconscious releases its gems more readily when unfettered.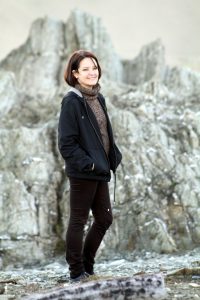 Slump? Banish your control freak. Keep your pen and paper close at hand. Look back over your journal to extract hidden veins of ore. Keep going. Walk often. Write every day. Phone a friend (who is a writer). Cry. Read good books. Laugh. Do writing exercises. Read everything. Murder your darlings. Celebrate. Submit your work. Rinse and repeat.
Marjorie Lewis-Jones is a Sydney writer and editor. Her story, 'Shooting Star' was featured in the Amanda Lohrey Selects series and she recently won the inaugural Lane Cove Literary Award. Marjorie runs the literary blog, a bigger brighter world.
You can preview and purchase, here:

Book available at Tomely