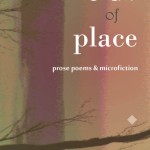 This week, we feature Out of Place contributor, Dotti Simmons.
What inspired you to write the piece of microliterature which appears in Out of Place? How would you describe this form of writing?
I simply saw the moment of death evoked in On the Hour as the ultimate example of being 'out of place.' The piece is excerpted from my novel, Living like a Kelly.
Microliterature moments of heightened consciousness.
 How do you know the point at which a piece you are writing should end? Do you have any favourite closing line/s from your own work or from another writer? If so, which ones and why?
You know when you've reread it for the umpteenth time and not changed anything.
Having just read Toni Morrison's novel of the same name, my current favourite closing line is one word: 'Beloved.'
Tell us about some of the writers that you've loved in the past and who you are reading now.
Margaret Atwood is my all time heroine… for her lucidity and her humour and her wordplay. Otherwise… where do I start?   Shakespeare? Romantic poets? Ted Hughes / Sylvia Plath? Yeats? Hilary Mantel? Peter Carey? Writers who find the stories that need to be told and show you why…
What you do if you haven't written anything in a while and you want to get started writing again? Share one of your favourite writing exercises with our readers.
Go running. Sit down at my computer and don't allow myself to leave.
Reread a specially good bit… improvise…
An Irish-Australian, Dorothy Simmons is the author of a play, several short stories and four young adult novels. She has completed a Phd in Creative Writing at Melbourne University and currently tutors at La Trobe university. Living like a Kelly is her latest novel.