Mark Smith is a regular contributor to Spineless Wonders and winner of the 2013  joanne burns Award. In this brief interview, Mark talks about the origins of the moving and evocative microfiction, 'Less Than A Minute', which is published in Out of Place, and about the influences on his writing. To read Mark's story and other fantastic Australian microlit, click the Out of Place cover below.
What inspired you to write the piece of microliterature which will appear in Out of Place? How would you describe this form of writing?
Less Than A Minute grew out of a tragedy that happened not far from where I live on Victoria's west coast. A group of young Indian students stopped along the Great Ocean Road to walk down to the beach at a spot called Hutt Gully. Two of them rolled up their jeans and waded in to take photographs. Waves breached the reef concealed under a high tide and swept them out through a gap in the reef. Microfiction suited the story because everything happened in "less than a minute". I wanted the piece to be short, concise and devastating.
How do you know the point at which a piece you are writing should end? Do you have any favourite closing line/s from your own work or from another writer? If so, which ones and why?
I generally have a word limit in mind when writing a story. The final lines don't necessarily have to tie everything together but they do need to provide some sort of resolution in the reader's mind. I wrote a story called "On The Port Keats Road" about a young indigenous man returning to his mother's country after being released from prison. I always liked its ending:
The Hi Lux is holding sway over the red ribbon road, inching its way closer to the wider expanse of the ocean. The great green snake of the Daly is lost in the haze of heat lifting off the land and filling the air. The word of T-Bone's return is passing all the way down the river to the sea.
Tell us about some of the writers that you've loved in the past and who you are reading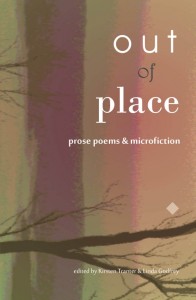 now.
My writing has been largely influenced by Australian writers: Tim Winton, Peter Carey, Cate Kennedy, Amanda Lohrey, James Bradley, David Malouf. Most recently I've been reading James Bradley's "Clade" and Amanda Lohrey's "A Short History of Richard Kline."
What you do if you haven't written anything in a while and you want to get started writing again? Share one of your favourite writing exercises with our readers.
Don't panic! Your talent won't desert you overnight. Go for a ride/swim/surf/walk – anything that stimulates you – I've written a whole short story in my head while on a two hour mountain bike ride!
As for writing exercises – my theory is that they can often be an excuse for not writing what you should be writing – your flash fiction or poetry or your short story or your novel. Don't spend too much time limbering up – just get in there and do it!
MARK SMITH's writing has been published widely in journals, anthologies and magazines including Best Australian Stories, Great Ocean Quarterly and The Australian. He won the Josephine Ulrich Prize in 2014 and his first novel will be published by Text. He lives, surfs and occasionally works on Victoria's west coast.