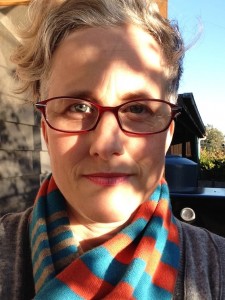 We asked Melbourne writer, Lisa Smithies about the origin of the microlit piece she has published in Out of Place, about endings and about her reading and writing habits. Ask for Out of Place at your favourite bookstore or order your copy by clicking on the cover below.
What inspired you to write the piece of microliterature which will appear in Out of Place? How would you describe this form of writing?
The phrase 'Girt by Sea' and a postcard from Santorini came together in my mind to form what I would describe as a micro-narrative.
How do you know the point at which a piece you are writing should end? Do you have any favourite closing line/s from your own work or from another writer? If so, which ones and why?
My smaller pieces tend to end almost as soon as I work out what they are about. Sometimes they need one more line, but I hate a neat bow. And my favourite ending is from Nabokov's short story, Signs and Symbols – "He had got to crab apple, when the telephone rang again."
Tell us about some of the writers that you've loved in the past and who you are reading now.
I still find it hard to go past Vladimir Nabokov, love Lydia Davis, and I am currently discovering the fabulous worlds of Janet Frame, pretty old school I know.
What you do if you haven't written anything in a while and you want to get started writing again? Share one of your favourite writing exercises with our readers.
I have notes on napkins, receipts, chewing gum packets, etc, scraps all over the place, with story ideas that I pull out when I am stuck for a starting point. My favourite exercise is The Treasure Hunt – which involves going for a walk, etc, and taking as many notes as possible. The aim here is quantity not quality. I steal conversation snippets, people's fashion choices, hairstyles, advertising slogans, anything and everything I see that takes my fancy. The rules are: have a set time frame (the length of a tram trip is good, but if you're just going for a walk, don't make it too long); do not edit; and do not start to write a story. I end up with a pretty interesting list of observations that start connecting in fun ways.
LISA SMITHIES writes short fiction and screenplays. She teaches creative writing at the University of Melbourne, where she is completing a PhD that examines why the human brain loves short fiction. She runs the blog, Creative Writer PhD.