Description
This is well written silliness. 'Radiocative Jerk' tells of a man bitten by a jerk who gains the exponential strength of ten jerks. 'The Insomni-Yak' tells of  a man who can't sleep and is visited by a well-meaning yak every night. There's lots, lots more. Plus illustrations by the talented Daniel Lethlean Higson, a designer with a love for gumpy art and ugly graphics.
'In this collection of short stories and flash fiction, Patrick Lenton careens wildly across genres and draws on elements of surrealism, horror, fairytale, stand-up comedy and pulp fiction to generate tiny worlds that are surprising, original and frequently hilarious … There are echoes of David Sedaris' surreal animal fables Squirrel Seeks Chipmunk. Like Sedaris, Lenton is hugely entertaining, which renders occasional moments of emotional tenderness all the more poignant.' Veronica Sullivan, online editor of Kill Your Darlings
'Featuring a colourful assortment of superheroes, mutants, zombies, bank robbers and boy bands – these stories are wonderfully bizarre, original and hilarious. A new and original voice, Patrick Lenton's short stories bring qualities rare in Australian fiction; inventiveness, humour, and a fine sense of the absurd.' RYAN O'NEILL
'I love Patrick's stories because he seems to think a bit differently to everybody else. He strolls down the shoreline picking up seashells and gold coins and gemstones as well as bottle caps, discarded pantyhose, broken dreams and crisp packets and he makes them all play together in his wild sandcastle. Patrick is a bit like a child who knows way too much and also has a degree in poetics. Do not read this on the bus if you have a primal fear of laughing loudly in front of strangers.' ZOE NORTON LODGE (Story Club, ABC TV's The Checkout & The Media Circus)
Cover design and illustrations by Daniel Lethlean Higson.
About The Author: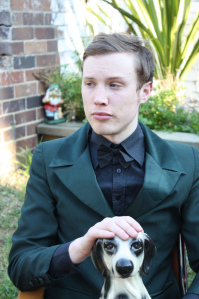 Patrick Lenton is a playwright, fiction writer and blogger at The Spontaneity Review. He was a Finalist in the 2013 SOYA Awards. He writes The Rory Gilmore Reading Challenge  for Going Down Swinging. His stories have appeared in Best Australian Stories, Seizure and Lifted Brow. He tweets@patricklenton.
Trade enquiries:
Dennis Jones & Associates
e: theoffice@dennisjones.com.au
w: www.dennisjones.com.au