Description
In these seventeen stories, Melbourne writer, Mary Manning, looks at the ways people are shaped, or damaged, by their circumstances. The results may sometimes be humorous, sometimes tragic. Whether set on a tram, along a highway or on an outback road – it is the journey, the characters and the telling of the tale that will capture your attention.
Cover and illustrations by Paden Hunter
'Mary Manning takes her stories to places few writers would dare to go. She ranges across different styles with ease in a unique voice that is tart, tight and compulsively readable.' PADDY O'REILLY
Cover design and illustrations by Paden Hunter
Watch the booktrailer by Evelyn Araluen,  here
About The Author: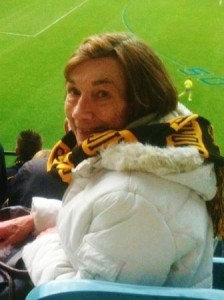 Mary Manning, who died in late 2016,  was a writer of short stories, poetry and educational books. Her stories were awarded in the Victorian Fellowship of Writers and published in Eureka Street, Slippery When Wet and Gathering Force. Her poetry has been published in Small City Tales of Strangeness and Beauty and awarded in the Reason-Brisbane Poetry Competition and by the Melbourne Poets' Union. Mary taught in primary and secondary schools, adult workshops, the Diploma of Professional Writing and Editing and online classes. She also worked in magazine publishing. Her interests included events with the family clan, reading, particularly contemporary fiction, film, music, and outback Australia. She lived in Melbourne with her husband,  a cat as big as a tiger-coloured pillow. She was a keen Richmond supporter.
For trade inquiries contact:
Dennis Jones & Associates
e: theoffice@dennisjones.com.au
w: www.dennisjones.com.au