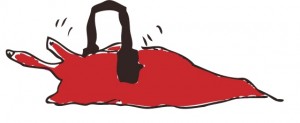 EARWORMS
Breaking the Silence
When I first began thinking about Spineless Wonders back in late 2010, I envisaged the three platforms, PRINT DIGITAL AUDIO. At last, we are now offering short Australian stories as audio files or, as we like to say, as Earworms, stories that stay with you.
In writing this blog post, we are breaking the silence in two ways. First up, we believe there are not enough opportunities for short stories from Australia to be heard. Some publishers produce audiobooks, but these tend to be of novels. And there are some fine examples of short story broadcasts such as Radio National's Sunday Story  and Paper Radio. We are delighted to see Overland Audio hit cyberspace recently, and hope to see fiction as well as poetry there.
But we want more. We want a website full of short Australian stories for you to download and listen to when ever and where ever you want. That's why we invented Earworms.
It's time to break our silence. We have been working away at the audio side of things for a while now here at Spineless Wonders, and whilst we are not done yet, we felt it time to let you know what we have planned. Right now, we are uploading recordings by contributing authors from our two anthologies, small wonder and Escape. See our Audio page. We will be adding more as they become available, as well as selected stories from our single author collections.
And as of today, we are open to submissions from other authors. Like all of our Spineless Wonders' publications, Earworms will showcase the best of Australian writing. We are looking for quality, innovative works by writers who already have a publishing or awards track record as well as for works by new writers who come to us via recommendation. (If you'd like to submit, click here. You can find more details on our Submissions page.)
As for the future, we will have a bigger, searchable shopfront. That means you'll be able to find stories by genre (including a category called 'not yet defined'), by author and by length. We will have a Reviews & Discussion section featuring audio reviews and interviews with authors. (So if you fancy yourself as the Australia's answer to the New Yorker's Deborah Treisman and would like to record an interview with an Earworms author, discuss an Earworms story or if you have views you'd like to share about the short story in Australia – then get in contact with us.)
We have plans for wider distribution as well – currently we are selling straight from our website but we are looking at other platforms such as iTunes. We also plan limited CD production, especially for use in institutions such as public, university and school libraries. (We are keen to have a show of hands for CDs – so if you work in one of those areas, or have a preference for CD over mp3, then do let us know.)
Stories that stay with you
Yes, we do want you to pay for the audio downloads. http://bit.ly/OgZ4BP In fact, some of you have already done so. Thanks for your support and do come back for more. Prices range from $0.99 to $2.99.  Majority proceeds go to the author.
How does it work?
Earworm audio files are sold without digital rights management technology. This means that once purchased and downloaded, the audio file can be played on however many devices the purchaser owns.
Our audio short stories are copyrighted works. Purchasers may not upload to, or otherwise share, the audio file through any personal, community or business website, blog, on-line forum or use any other means to broadly distribute Earworms without our permission.
Yes, we are relying on honesty here. Trusting, that's us.