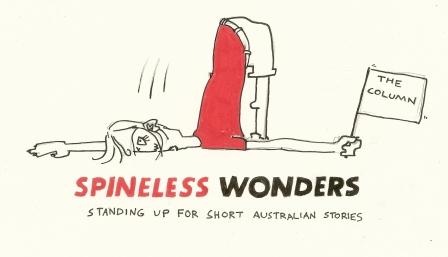 'Australian websites such as Literary Minded, Spineless Wonders, and Verity La do great things for this country's literary culture.'

Laurie Steed in conversation with Verity La's Alec Patric.
Want to be part of this exciting literary conversation?
Spineless Wonders is currently looking for contributors to its blog, The Column. We are looking for news, reviews, interviews and commentary.
If there's a short fiction writer you'd like to showcase or a particular story that you think is worth a closer look, we are interested. Impressed or otherwise, by a recent collection, anthology or journal featuring short Australian stories – why not blog about it, here at The Column.
We want to interview more writers for our Spineless Wonders Asks series. (Writers from Queensland, Tasmania or South Australia, take note. And a special callout to regional and remote writers.) There's TEN questions, you know what to do. Don't forget to send in your author bio, photo and any links to your web, Facebook or Twitter.
We are also interested to find out about your short story writing life. Are you in a writing group that's working well? Are you in an online group, or do you have an email or coffee shop buddy? Write and tell us about your literary relationships. It can be an individual contribution or In Conversation format. Are you a midnight scribbler, or a lone writer.  Tell us about it. Have fun.
We recently we ran a feature on opening lines where three guest writers each chose a story with an arresting first sentence and told us why it stood out. You are welcome to send us your choice of openers. Next, we'll turn our attention to final lines – so if you'd like to take part, send us your choice of final sentence, details of the story it is from (title, author, where it is published) and a brief comment.
Whether you are a Creative Writing student, an emerging, experienced or established writer or an avid reader – all contributions, large or small, are welcome. Write to bronwyn@shortaustralianstories.com.au