We are excited to announce that our judge, Michael McGirr, has chosen Marjorie Lewis-Jones' story, 'We're All Travellers Here' as the winner of the 2014 Carmel Bird Award.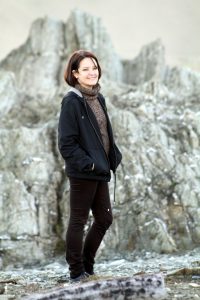 Marjorie Lewis-Jones is a Sydney writer and editor. Her story, 'Shooting Star' was featured in the Amanda Lohrey Selects series and she recently won the inaugural Lane Cove Literary Award. Marjorie runs the literary blog, a bigger brighter world.
From the judge's report:
Winner
'We're All Travellers Here' by Marjorie Lewis-Jones
'The story of an older mother and her adult son on tour. The son is buried alive in his own sophistication and self-concern. The mother eclipses him with her open appetite for life. Both portraits are realised with subtlety and understatement. A terrific achievement which makes great use of cultural history to frame its portrait.'
Highly commended
'Rent' by Anthony Lynch
'This story has a winning simplicity. The narrative is stealthy but irresistible. Many entrants got lost as they introduced needless complexity into their plot. This one has a driving and unnerving force. It is the story of a woman and her manipulative flat mate. It has a great understanding of the way passivity can create power.'
Commended
'Love Bites'  by Andy Kissane
'Great tension between a mother and daughter, both caught in the bind of making sense of the world  and trying to find intimacy at the same time. Great emotional shades.'
'Flatrock 1979' by Lukas Jackson
'I liked the searching quality of this story.'
'The owl gazes at the moon' by Claire Aman
'This one has something special. A gritty story about fragile relationships and the struggle for emotional survival.'
The Michael McGirr Selects series
We will be releasing all twelve stories which were finalists in the 2014 Carmel Bird Award as part of the Michael McGirr Selects series from June this year. Each of the long stories will be available as an eSingle.
We will also be offering a subscription to all twelve stories. Each eSingle will be released fortnightly from June this year. Subscribers will be invited to join us for a Q&A discussion of the story, plus a Q&A with the author, each fortnight on the Spineless Wonders online bookclub. Details about release dates and the online bookclub schedule will be announced in coming months.
In the meantime, if you are looking for some great long stories to read on your commute to work or for bedtime reading, check out the Amanda Lohrey Selects series, here.