Podcast: Play in new window | Download (Duration: 10:53 — 15.0MB) | Embed
Subscribe: Google Podcasts | Email | RSS | More
Sydney author, Julie Chevalier gender flips the breast screening scenario in this microlit narrated by Lauren Hamilton Neill. Ali and Emma chat about 'PenisScreen' mulling over the question of whether reversals of this kind help to educate as well as entertain. Join the conversation on the Coffee Pod|cast Facebook page
'PenisScreen' was first performed as part of the Little Fictions' show, Vaginal Spray, feminist stories at Knox Street Bar, Chippendale.
About The Author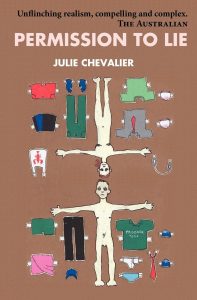 Julie Chevalier grew up in New Jersey and now lives in Annandale. Her third book, Darger: his girls was short-listed for the WA Premier's Poetry Prize. Her collection  of stories, Permission To Lie is published by Spineless Wonders.
About The Actor
Lauren Hamilton Neill is Queensland born and holds a Bachelor in Music Theatre (CQCM).  She professionally has murdered several husbands in Deadly Women, was murdered in The Suspects, shamelessly flirted with a man far too old for her in ABC TV's The Gods of Wheat St, and will soon be starring as a vegetarian vampire chef in a short film that will also see her don the producers hat.
Credits
Presenters: Ali Morris and Emma Walsh
Producer: Bronwyn Mehan
Theme music: James Seymour
Coffee Pod|cast has been produced with the support of the Australian Government through the Australia Council, its arts funding and advisory body and we wish to also acknowledge the support of Little Fictions by the Copyright Agency's Cultural Fund and the City of Sydney Matching Grants program.