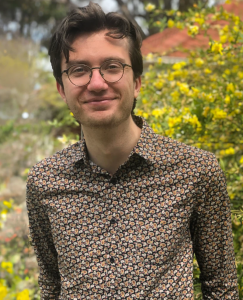 We are excited to introduce you to Leo Alder, the author of 'Banksias Lie' in Slinkies 2023. Leo's work is a fantastical tale of the voices hiding in the natural world. In this interview, Leo discusses the inspirations for his short story, his favourite books and his current writing project 'Pigalicious'. Read his story 'Banksias Lie' in Slinkies 2023, out December 1st! Pre-order your copy for $19.99 now to read 'Banksias Lie' and other short stories. Join us for the highly anticipated Slinkies 2023 Book Party on October 26th!
About Leo
Leo Alder is an emerging writer living on Ngunnawal land, Canberra. He writes best while falling asleep at his desk, letting thoughts blur into dream slurries that spill across the page.
What inspired you to write 'Banksias Lie'?
I had been writing a lot of magic realism but wanted to try really plunging into the fantastical—territory I hadn't trod previously. I was interested in writing something very Australian, and I've always found banksias unique. When fire strips away their colourful outer layer to reveal these eerie, gaping mouths (almost skeletal somehow), it just seems like they know something, some secret revealed to them within the flames. The idea of the whispers came first, and then I started wondering who's listening.
Without giving away too much, what perspective is the story told from? What are these creatures that hide in the Australian landscape?
The story follows this little critter, a sort of insect-fairy, who is small even compared to the others of his kind. Conventional fairies are very European, so I thought it'd be fun to switch it up with an Australian context and give them antennae, and instead of fairy dust, have them release the tiny dust-like scales that moths expel when they're fluttering about. At a glance, they seem to be simple creatures who frolic by the river and lounge in the sun, but drama can strike even when you're less than 10cm tall.
Your piece has a wonderful illustration that goes along with it. Who was the artist and how do you know them?
The illustration was done by a good friend of mine, Ashleigh Green. We met at high school in Braidwood, which is a small country town near Canberra. She draws a lot of cottagecore, gnomecore, folk-tale sort of stuff, so the story was a good fit. Based on only a small amount of description, she pretty much perfectly captured what I'd imagined. You can follow her on Instagram @ashgreenart.

What is one of your favourite books or stories?
I'll narrow this down to short stories, so I'm not too paralysed by indecision. I really dig weird fiction, stories like 'Especially Heinous' by Carmen Machado or 'A Lack of Order in the Floating Objects Room' by George Saunders. I love fiction that defies easy understanding and is endlessly re-readable. I also love the fantastical and very psychological sci-fi stuff Ursula Le Guin wrote, such as 'Vaster Than Empires and More Slow'. If we're talking Australian short story writers, I'll eat up anything by Max Lavergne and Jack Vening, both of whom write stories drenched in simultaneously beautiful and ugly, punchy surrealism.
Are you writing anything else at the moment?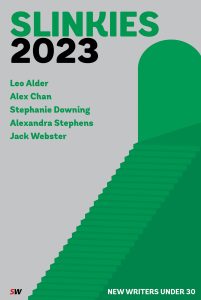 Yeah, I've always got a million projects on the boil. I'm currently trying to polish up a short story, 'Pigalicious', about this poor, love-sick dude who works a
s a live target at a 'simulate the feel of hunting your own meal' restaurant. He wears a pig suit while patrons plug him with pellets until they've 'killed' him, after
which they sit down to eat a pork roast dressed up to resemble the suit. There's a sp
ectral glue horse, a daring robbery, unrequited yearning, all that good stuff.
Where can we find you on the socials?
You can find me on Instagram @leoalderwriter!