Podcast: Play in new window | Download (Duration: 11:25 — 15.7MB) | Embed
Subscribe: Google Podcasts | Email | RSS | More
The story of the opera singer who developed a hearing impairment. In this episode, Ali and Emma discuss Anna Spargo-Ryan's moving piece, 'Menieres' narrated by Anni Finsterer. Got a story to share about hearing damage? Join the discussion on the Coffee Pod|cast Facebook page.
'Menieres' is published in Shuffle an anthology of microlit edited by Cassandra Atherton.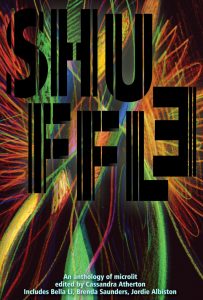 About the Author
ANNA SPARGO-RYAN is the Melbourne-based author of The Gulf and The Paper House, and winner of the 2016 Horne Prize. Her work has appeared in The Big Issue, Island, Kill Your Darlings, Meanjin, Good Weekend, the Guardian, and many other places. She is a PhD candidate in Creative Writing at Deakin University.
About the Actor
Anni is an actor, writer and director in theatre, film and television. Anni was awarded an AFI Award for Best Supporting Actress in a Television Drama for her performance in 3 Acts of Murder. Her feature film credits include The True Story of the Kelly Gang and Sweet Country. She has appeared in the TV shows Wentworth, Rake, Glitch, Underbelly Badness, City Homicide, All Saints and Love My Way. Her theatre credits include The Readers for Belvoir, In Real Life for Darlinghurst Theatre, Parramatta Girls for Parramatta Riverside, Poor Superman, The Threepenny Opera, Antony & Cleopatra, The Loaded Ute and The Women of Troy for the Sydney Theatre Company.
Credits
Presenters: Ali Morris and Emma Walsh
Producer: Bronwyn Mehan
Theme music: James Seymour
Production Assistant: Hannah Oakshott
Coffee Pod|cast has been produced with the support of the Australian Government through the Australia Council, its arts funding and advisory body and we wish to also acknowledge the support of Little Fictions by the Copyright Agency's Cultural Fund and the City of Sydney Matching Grants program.