Podcast: Play in new window | Download (Duration: 16:44 — 23.0MB) | Embed
Subscribe: Google Podcasts | Email | RSS | More
A surrealist microstory which is either a horror story about animal cruelty, the nightmarish abuse of a stuffed toy or just a typical breakfast in a long-term relationship. You be the judge of Lou Swinn's 'Particles In My Body' narrated by Eleni Schumacher. Let Ali and Emma know what you think, drop by the Coffee Pod|cast Facebook page.
'Particles In My Body' is published in the anthology, Escape edited by Bronwyn Mehan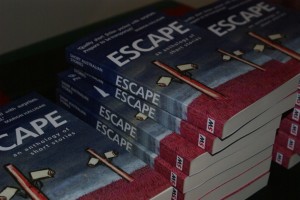 About The Author
Louise Swinn is a writer, editor, publisher and reviewer. Her work appears regularly in the Age, the Australian and the Sydney Morning Herald. She was one of the founders of Sleepers Publishing, the Small Press Network and the Stella Prize.
About The Actor
Eleni Schumacher trained at Atlantic Acting School (NYC), has appeared on Foxtel's A Place to Call Home and is due to appear in Black B*tch (ABC), as well as a schools tour for Echelon Productions in 2019. Eleni recently completed a tour across Australia, NZ and Hong Kong with Poetry In Action.
Credits
Presenters: Ali Morris and Emma Walsh
Producer: Bronwyn Mehan
Theme music: James Seymour
Coffee Pod|cast has been produced with the support of the Australian Government through the Australia Council, its arts funding and advisory body and we wish to also acknowledge the support of Little Fictions by the Copyright Agency's Cultural Fund and the City of Sydney Matching Grants program.