Podcast: Play in new window | Download (Duration: 9:13 — 12.7MB) | Embed
Subscribe: Google Podcasts | Email | RSS | More
Older women drinking sherry and behaving badly at funerals, weddings, parties, anything. In this episode, Ali and Emma discuss Elizabeth Hodgins' 'Timeless Crones' narrated by Ella Watson-Russell. They ask if you have any thoughts on some of the common tropes used to portray older women in mythology through to popular culture. Join the discussion on the Coffee Pod|cast Facebook page.
'Timeless Crones' is published in the microlit anthology, Writing To The Edge.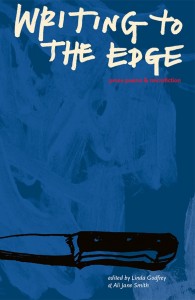 About the Author
Elizabeth Hodgson is a Wiradjuri woman who lives in Wollongong on the New South Wales south coast. She was born in Wellington, New South Wales, but spent her childhood in a home for fair-skinned Aboriginal children in Sydney. She writes from the perspective of a fair-skinned Aboriginal woman with a dark-skinned father about the racism which has permeated her life. Her poetry collection, Skin Painting won the 2007 David Unaipon Award and is published by UQP.

About the Actor
Ella Watson-Russell has worked across Australia and internationally as an actor, theatre maker, producer and drama tutor. Her acting credits include work for Kings Cross Theatre, Queensland Theatre Company, Teatre Satu, Browns Mart, Darwin Theatre Company and La Mama. Ella presents Little Fiction On Air on 2RPH.
Credits
Presenters: Ali Morris and Emma Walsh
Producer: Bronwyn Mehan
Theme music: James Seymour
Coffee Pod|cast has been produced with the support of the Australian Government through the Australia Council, its arts funding and advisory body and we wish to also acknowledge the support of Little Fictions by the Copyright Agency's Cultural Fund and the City of Sydney Matching Grants program.