Podcast: Play in new window | Download (Duration: 17:22 — 23.9MB) | Embed
Subscribe: Google Podcasts | Email | RSS | More
This disturbing episode carries a domestic violence content warning. Ali and Emma discuss Susan McCreery's microfiction, 'Disturbance' narrated by Sydney actor, Alex Neal. Join the discussion about the role that literature can play in depicting this  pressing social issue on the Coffee Pod|cast Facebook page.
'Disturbance' is published in Loopholes by Susan McCreery.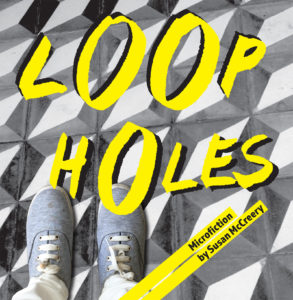 About the Author
Her poetry collection, Waiting for the Southerly, was published in 2012, and Commended in the Anne Elder Award for a first book of poetry. After the release of Waiting for the Southerly, Susan turned her attention back to prose, focusing initially on short fiction and microfiction, and now on a novel. Her collection of microfiction, Loopholes, was published in December 2016, and was a finalist in the Small Press Network's Most Underrated Book Award (MUBA) of 2017.
This Person Is Not That Person, a collection of short stories, was published in September 2019.
About The Actor
Alex graduated QUT Acting in 2017 before moving to Sydney where he is currently working in film and theatre. His film and TV credits include the Australian film Danger Close and ABCTV's Les Norton. Alex is a regular performer in Little Fictions Productions.
Credits
Presenters: Ali Morris and Emma Walsh
Producer: Bronwyn Mehan
Theme music: James Seymour
Coffee Pod|cast has been produced with the support of the Australian Government through the Australia Council, its arts funding and advisory body and we wish to also acknowledge the support of Little Fictions by the Copyright Agency's Cultural Fund and the City of Sydney Matching Grants program.