Podcast: Play in new window | Download (Duration: 11:47 — 16.2MB) | Embed
Subscribe: Google Podcasts | Email | RSS | More
It's common to build a picture in our minds about new neighbours based on the sounds that come through the walls – but what if this eavesdropping becomes the stuff of vivid sexual fantasy? In this episode, Ali and Emma discuss a variety of reactions to noisy neighbours when they listen to Paulette Smythe's 'When B Moved In' narrated by Alex Neal.
About The Author
PAULETTE SMYTHE lives in Melbourne where she teaches English to migrants and refugees. Her writing has previously been published in Antipodean SF, Bewildering Stories, Verandah and Eureka Street.
'When B Moved  In' is published in the Spineless Wonders' anthology of sound-themed microlit, Shuffle edited by Cassandra Atherton.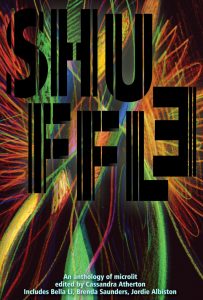 About the actor
ALEX NEAL  graduated QUT Acting in 2017, and has been living and working in syd for 4 months.  In that time he has completed a TVC for ESS super and is currently working  on an AFTRS short film and will appear in the Australian film, Danger Close.
Credits
Presenters: Ali Morris and Emma Walsh
Producer: Bronwyn Mehan
Theme music: James Seymour
Production Assistant: Hannah Oakshott
Coffee Pod|cast has been produced with the support of the Australian Government through the Australia Council, its arts funding and advisory body and we wish to also acknowledge the support of Little Fictions by the Copyright Agency's Cultural Fund and the City of Sydney Matching Grants program.