Podcast: Play in new window | Download (Duration: 11:02 — 15.2MB) | Embed
Subscribe: Google Podcasts | Email | RSS | More
Love in a feed store lost in down the rabbit-hole of time. In their final episode, Ali and Emma return to one of their favourite authors, Jon Steiner to discuss 'Liebostod' narrated by Joel Horwood. Leave your feedback on this episode or on the series generally at the Coffee Pod|cast Facebook page.
'Liebestod' is published in Jon Steiner's debut collection, The Last Wilkie's and other stories (Spineless Wonders, 2016).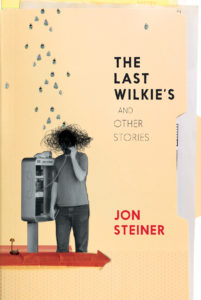 About The Author
Jon Steiner grew up in Washington, D.C. He went to Vassar College in Poughkeepsie, New York, graduating in 1993 with a Bachelors Degree in Film. After a few years in Texas and a few years in New York City, he migrated to Australia in 2000. In 2008, he completed a Graduate Diploma in Creative Writing at the University of Technology Sydney. He lives in the Sydney suburb of Tempe with his wife and daughter.
About The Actor
Joel Horwood trained in Western Australia and since moving to Sydney has performed in a number of independent theatre productions. These include the devising and subsequent premiere of Decay by award-winning playwright Melissa Lee Speyer and the Australian premiere of Alice Birch's Many Moons with English theatre company Said&Done. Most recently Joel peformed the lead role of Ort Flack in the stage adaptation of Tim Winton's That Eye, The Sky.
Credits
Presenters: Ali Morris and Emma Walsh
Producer: Bronwyn Mehan
Theme music: James Seymour
Coffee Pod|cast has been produced with the support of the Australian Government through the Australia Council, its arts funding and advisory body and we wish to also acknowledge the support of Little Fictions by the Copyright Agency's Cultural Fund and the City of Sydney Matching Grants program.