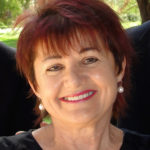 This week we talk to Susan Midalia about her piece 'The Bright Silver Pin' which appears in Landmarks, the latest anthology curated by Spineless Wonders. During this interview Susan describes two landmarks of significance to her, she talks about who inspires her writing and what inspired her micro-lit piece.

Tell us about a landmark that is significant to you
I have two adult sons, so I would like to be permitted two landmarks!  Helping to raise two wonderful, decent human beings has taught me about unconditional love, as well as the need for patience and kindness. I've learned to be much kinder over the years but still need some lessons in patience.
What inspired you to write 'The Bright Silver Pin'?
My story 'The Bright Silver Pin' came about when I decided to combine two of my favourite responses to life: writing short stories and having a laugh. I have garnered so many quotes about the challenges of writing short stories, so I chose one by the American novelist Ann Patchett and wrote a metafictive piece which gently mocks pomposity and over-thinking one's writing.
How do you find the experience of writing to a theme?
Writing to a theme can be too prescriptive, but because "Landmarks" is a sufficiently broad topic and invites both a literal and/or metaphoric response, this particular project didn't worry me at all. And of course having a set theme makes sense in the context of producing an anthology. I'm looking forward to reading the different interpretations and approaches from other writers. The most difficult part for me was the 200-word limit. The shortest story I'd ever written before was around 2,000 words, so it was a big challenge to be really small.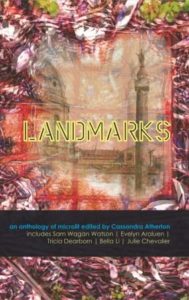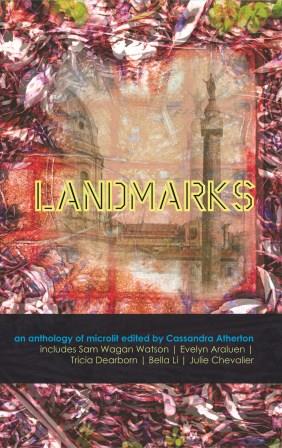 Describe your writing space
I have my own study in an apartment block, and am blessed with a balcony, floor-to-ceiling bookshelves (courtesy of Ikea) and the most beautiful writing desk I have ever owned, made of marri, a honey-coloured wood with dark smudges. And because I collect bookmarks and paperweights, I have many of them gracing every spare surface, as well as my favourite paintings on three walls. It's a quiet, contemplative space, with double-glazed windows that keep out party noise and other distractions from the real world.
Tell us about a writer or work that has inspired you as a writer
A novel which has inspired me is Henry James's novel Portrait of a Lady, not because of its style (James can be prolix) but because it taught me about both the need for ethical complexity in fiction and the value of tenderness: qualities I aspire to in my own writing. But there are also many short story writers whose writing has taught me so many important things about language, structure, voice and negotiating the passing of time. If I might be permitted to name a few (in alphabetical order): Raymond Carver, Anton Chekhov, Lydia Davis, Jennifer Egan, Janet Frame, Helen Garner, Amy Hempel, Gail Jones, Dennis Jonson, Claire Keegan, Carson McCullers, Laurie Moore, Alice Munro, Joyce Carol Oates, Ryan O'Neill, Carol Shields and George Saunders. And that's only a few!
Susan Midalia is a Perth-based author of three collections of short stories, all of them shortlisted for major literary awards: A History of the Beanbag (2007), An Unknown Sky (2102) and Feet to the Stars (2105). Her first novel will be published in early 2108 by Fremantle Press. She has judged several major literary awards, and is currently on the board of writingWA and Margaret River Press.
Feature image via Flickr.com