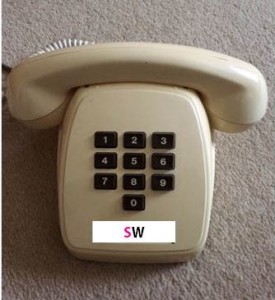 We are excited to be launching the Spineless Wonders StoryPhones. The first set of twelve audio stories to be featured on the StoryPhones are microlit – all under two minutes long. The subject matter ranges from shark attacks to shipwrecks and they are recorded by actors as well as  authors. In this article, intern, Jordan Meek asked the contributing authors about where the inspiration for their microlit came from, their views on this exciting new platform for audio stories and tips for writers interested in the microlit form.
To find out more about how StoryPhones work, read Jordan Meek's post, here.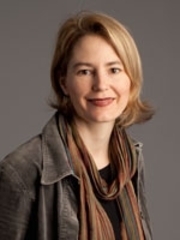 Call the Ambulance written by Shady Cosgrove and read by Tim McGarry
About the story: Call the Ambulance encapsulates tension in an elevator. This story is published in Flashing the Square. To hear more, please press 1.
About the author:
Shady Cosgrove is the author of What the Ground Can't Hold (Picador, 2013) and She Played Elvis (2009), which was shortlisted for the Australian Vogel Award. Her short fiction has appeared in Best Australian Stories, Overland, Antipodes and Southerly.
Q&A with Shady Cosgrove:
 1.Tell us about your experience with Little Fictions. Did you imagine your works as being read aloud while writing them?
I always read my stories out loud as I'm writing them so they work rhythmically. I've loved hearing my work performed in Spineless Wonders events because I imagine them as I'm writing with an Australian accent and so, weirdly, they sound more authentic to me when they're read aloud by actors than they do when they're in my voice.
2.What do you think of StoryPhones?
I think it's a great idea – it's innovative and intriguing. I like the idea of visiting the past via the push button phone, and that when you do there's a story waiting.
3. How did your story 'Call the Ambulance' come about? 
It was the inspiration for a novel I'm working on right now. I liked the idea of making the title work. That is, that the title actually tells part of the story. I was also interested in stakes and voice and how a reserved voice might actually raise the stakes for the characters.
4. Any advice for writers of microfiction? 
Start with your climax and work towards the beginning. Think of moments of change or catharsis. Of course Lydia Davis can get away with amazing microfictions where relatively little happens but usually you want to make sure the status quo has been interrupted.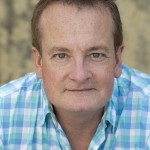 About the actor:
Tim McGarry, a Western Australian Acadmey for the Performing Arts graduate, works as an actor, workshop facilitator, writer and producer in Sydney. Theatre credit include I Am Jack, Hitler's Daughter, The Prospectors (Monkey Baa), It's a Dad Thing (TML Management, The Sentimental Bloke (WATC), Bouncers (RTC), The Carthaginians (O'Punskeys) Time Gentlemen, Macbeth, Italian Stories (Theatre South), The Information (Company B Sharp), Big River (Gordon Frost). Film and TV credits include Lilian's Story, The Camera Trap, Backberner, Goddess of 1967, All Saints, Underbelly – The Golden Mile and Manny.
Tim, along with Sandra Elridge and Eva Di Cesare, founded Monkey Baa Theatre Company, one of Australia's largest touring theatre companies presenting new Australian work for young audiences. In 2014 he toured in the one-man show I Am Jack throughout 14 cities in the USA. Tim is a proud member of the Media Entertainment & Actors Alliance.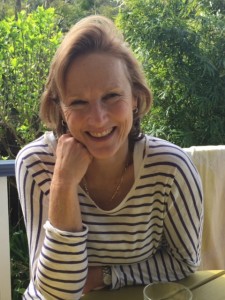 Hold-Up written by Susan McCreery and read by Lauren Hamilton Neill
About the story:
Hold-Up is about an unlikely reunion at an unexpected time. It is published in Flashing the Square. To hear more, please press 2.
About the author:
 Susan McCreery's stories have been published in Award Winning Australian Writing 2010, Island, Islet, Page Seventeen and Sleepers Almanac 7. She has been shortlisted for The Age and Hal Porter short story competitions and won frist prize in the 2009 Julie Lewis Literary Competition. She is also a widely published poet (Best Australian Poems 2009, Hecate, Poetrix, Blue Dog, Five Bells, Going Down Swinging, among others) and her first poetry collection, Waiting for the Southerly, was published in 2012. Her story 'The Gardener' was the inaugural winner of the Carmel Bird Short Fiction Award 2011 and is published in Escape.
Q&A with Susan McCreery:
 1.Tell us about your experience with Little Fictions (Did you imagine your works as being read aloud while writing them? How was it hearing them being performed? Were you happy with the actor, Lauren Neill?)
Little Fictions is brilliant. I love the concept and I love the venue. I do read my work aloud when I write, just to get a sense of the rhythm of language, etc. but have not yet written with an aim to hearing a piece performed. The actors at LF are supremely skilled. Stories become multi-layered, living things. Lauren Neill is amazing. Even when reading a long story she keeps the audience's attention right to the last word, such is her ability with light and shade, and pacing.
2.Would you ever record your own stories? Why/why not? 
It'd be fun. Although professional actors would do a much better job.
3.What do you think of StoryPhones?
Unusual and creative – I expect nothing less from Spineless Wonders! Sounds like quite an intimate experience – a story told to you alone, yet in a public place. And I like the retro aspect of it – no swipe screens or ear buds.
4.How did your story Hold-Up come about?
Like most of my stories – out of a first line, then another. As soon as I had the picture of the servo in the rain in my mind's eye, I knew I had a story. It felt film-like. Like the camera was going from wide shot, and then narrowing into the shop. I had fun with that story. Especially with the twist in the middle when the attendant recognises the hoodie and starts talking about schoolyard sandwiches.
5. Any advice for writers of microfiction? 
Try and use muscular language. By that I mean cut words that don't do much work. Try not to tie up too neatly at the end. Find a good title. Revisit frequently in between rests and do some rearranging, cutting, substitution. Tighten, tighten.
Ab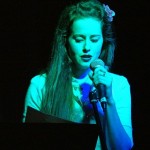 out the actor:
Lauren Hamilton Neill is known for her work on The Gods of Wheat Street (2013), 3 Minutes (2016) and Bikie Wars: Brothers in Arms (2012).
I Don't Use My Powers for Good written by Ruth Wyer and read by Eleni Shumacher
About the story: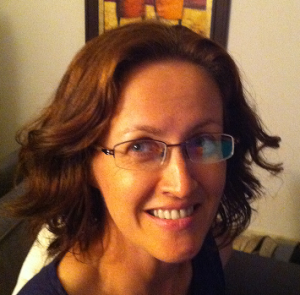 A commuter with powers has had enough of the insufferable people who ride the train with her. It is published in Flashing the Square. To hear more, please press 3.
About the author:
Ruth Wyer lives in south-west Sydney. Her stories have won Zinewest 2012, The Margaret River Short Story Collection Competition 2014 and have appeared in The Sleepers Almanac No. 9, The Canary Press, and Margaret River Press.
Q&A with Ruth Wyer:
1.Tell us about your experience with Little Fictions (Did you imagine your works as being read aloud while writing them? How was it hearing them being performed? Were you happy with the actor, Eleni Shumacher?)
I sadly have been unable to make any Little Fictions because I live too far away and can't make anything mid-week. I get very jealous when I see the photos on Facebook.  Looks like they are great nights.
3.Would you ever record your own stories? Why/why not?
I think most people feel uncomfortable hearing their recorded voice but it's something you just have to get past.  I recorded 'I Don't Use My Powers For Good' for Flashing the Square and also had the opportunity to record another one of my stories for Radio National's 360 Documentaries.  That was challenging as the story was specifically written in a flat tone which didn't translate well to radio.  We recorded it at ABC studios and they asked me to try and make the story more upbeat and I couldn't make that fit. They were wonderful and supportive but, in the end, due to a cold, my voice gave out and my sister had to step in and record it for me.  I'd do either of those again in a heartbeat. They were both wonderful opportunities.
3. What do you think of StoryPhones?
What a fabulous idea.  I love that Spineless Wonders are always coming up with unique and interesting ways to promote microfiction and to encourage more people to the engage with the form.
4. How did your story 'I Don't Use My Powers for Good' come about? 
I commute 3 hours a day and am constantly flabbergasted by just how rude and inconsiderate people can be on public transport.  I once wrote a long email rant about it to a friend on my way home.  Months later, I was having a conversation with colleagues at work and we were talking about what our secret superpower wish would be and I said mine was to stop time so I could take revenge on all these people who drive me crazy every day. Everyone else had these other great super power wishes but, unlike me, they wanted them so they could do fun, adventurous things. I thought back to what I'd written to my friend months before and I thought 'Wow! I am really mean and petty!'  I had most of the story right there.
5. Any advice for writers of microfiction? 
There's a ton of advice on websites all saying mostly the same thing for good reason … cut, cut, cut and make every word earn its place.  Read (or listen to) a lot of microfiction and write what you enjoy and you feel connected to as, with so few words on the page, the reader has to connect immediately.
 About the actor:
Eleni Schumacher, a Sydney-based actor, writer and theatre-maker, is a graduate of Atlantic Acting School in New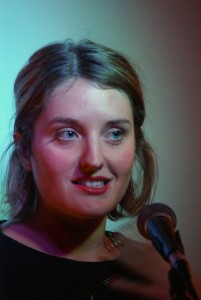 York City (2013). Whilst in New York she appeared in the independent feature feature film Night and a Switchblade. Prior to training, whilst completing a Bachelor of Global and International Studies at the University of Sydney, she was an executive member and regular performer with the Sydney University Dramatic Society. She also appeared in several independent theatre productions and 9Factory Space, Rough Hewn) and film, television and radio (Deadly Women, Triple J Unearthed/NIDA, ABC Radio National).
Since returning to Sydney, she has appeared in several independent films (Schadenfreude, Earth Hour Projects) as well as performing in immersive theatrical production Details Unknown for Penguin Plays Rough and Sydney Living Museums Dir. James Dalton). She appeared in Dead Times at the TAP Gallery with Lace Balloon Productions in November 2014 and at 107 Projects in May 2015.
Eleni writes and devises for theatre, having written and performed developments of original work for GrifFRINGE, and a stage adaptation of a short story "Singing My Sister Down" (Margo Lanagan). She has also performed with Zine Collective for Underbelly Arts Festival, and with Volta Collective (Camenzind at Redfern Pavilion and Creditors at Verge Arts Festival). She now works, in conjunction with other artists and performers, under her own banner of Beside Ourselves Collective, staging original works such as her own short play Just Try to Sit Still and Relax at 2014's Surry Hills Festival, with actor Luke Carson and director Pierce Wilcox working as co-creators, and reading original work at Marvellous Scandal, curated by Stephen Jones. Eleni is represented by Ignite Elite Artists.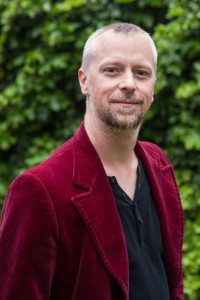 I Saw a Man Die by Cameron Semmens read by Lauren Hamilton Neill
About the story: I Saw a Man Die is about someone who has witnessed a tragic event. It is published in Flashing the Square. To hear more, please press 4.
 About the author: Cameron Semmens is a Melbourne-based, award-winning poet, entertainer and poetry educator with 15 books and 4 CDs of poetry to his name. He makes his living through words: running workshops, writing, performing live throughout Australia and publishing. Cameron is a 'Vision Artist' with World Vision Australia. He lives in The Dandenongs with his wife and two youngsters.
 About the actor: See above.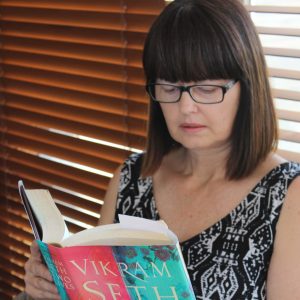 Koi written by Karen Whitelaw and read by Eleni Schumacher
About the story:
Koi is a story about family relationships. It is published in Liminal Newcastle Writers Festival. To hear more, please press 5.
 About the author:
Karen Whitelaw is a writer, teacher and editor. She has a Master of Creative Arts(writing) and specialises in short stories, travel writing and memoir. Her work has been published in anthologies, literary magazines and newspapers. Karen has worked for ten years on the editorial committee of community-based publishing house, Catchfire Press, as well as taking on the role of Registrar. She has also worked as a facilitator for the self-publishing house, Koel Koel Publications. Karen teaches creative writing at the local adult education centre, and to writing groups in the wider community. She enjoys judging writing competitions because she gets to read prize-winning stories without having to pay for them.
Comments from Karen Whitelaw:
 When I first started blogging I found an online writing community which posted a photo once a week on their Friday Fictioneers blog and asked writers to do a 100-word flash fiction story inspired by the photo. I wrote a story inspired by one of these photos, a close-up of a pond teaming with koi. That was my first introduction to writing micro-stories and I fell in love with the form.
A year and a half later the Newcastle Writers' Festival and Spineless Wonders created the Newcastle Writers Festival Micro-Lit short story competition. What excited me about this competition was that the four short-listed stories were to be made into a visual presentation by Richard Holt, with original music and read by an actor. I used the images from my original koi story as a starting point and re-imagined a story and characters that represented the competition theme of 'Threshold.' When the visual presentation of my winning story Koi screened at the Newcastle Writers' Festival it showed me a whole world of new and fascinating possibilities for story.
Little Fictions is one of these exciting possibilities. During the Sydney Writers' Festival Koi was read by Holly Myers as part of the Little Fictions Sydney Stories at Knox St Bar, a cool bar in inner Sydney. The room was warm and cosy.  The crowd welcoming. Because I didn't have to perform my work I could relax, chat and enjoy a glass of red or two, appreciate the rest of the line-up without the nerves that always come when I read my own work. Hearing my story performed by professional actors feels the same to me as seeing my stories in print. Once my work goes public I no longer feel it belongs to me solely. Readers bring their own views and experiences to your work and can interpret it in various ways, or place importance on different aspects of it. I don't see this in terms of right or wrong; it's just part of the reading process. Both Eleni Schumacher, in the video, and Holly Myers, at Little Fictions, read my story with subtle variations in pausing and emphasis, which were different again from the way I heard it in my head when I was writing it. This experience of hearing my story read aloud somehow expanded the meaning of Koi for me. So to have a reader, especially a professional actor who is an expert in the nuanced meaning of words and subtleties of voice, give your story back to you as they have interpreted it is truly a gift.
I love the idea of StoryPhone. It brings together two key ways we communicate with each other – through story and by phone. And to use the old 70s pushbutton phones is inspired. It takes me back to a time when the only way to communicate over the phone was with the voice. This is in stark contrast to today when so much of our communication on the smartphone is done visually – Facebook, Instagram, Snapchat , Whatsapp – or using the written word – texting, Twitter, emails.
My advice for anyone wanting to explore the pleasures and challenges of writing micro-fiction has already been published on my blog. While you are there, check out her blog post about StoryPhone.
 About the actor: See above.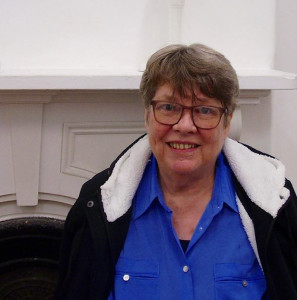 Proposal by Jenni Nixon read by Lauren Hamilton Neill
About the story: Proposal is a story about equal rights for LGBT. It is published in Flashing the Square. To hear more, please press 6.
About the author:
Jenni Nixon is a graduate of the Independent Theatre, Sydney, and worked as an actor for many years. She toured with the Queensland Theatre Company, delivering classic and contemporary plays along with a poetry program. As a performance poet Jenni has read at a wide range of events in Sydney, Melbourne, Wollongong and the Blue Mountains. Her poem "visitor at home" won the 2002 Leonard Teale Memorial Prize at the Henry Lawson Festival, Gulgong, NSW. Jenni lives in Sydney and is an active poet/performer at diverse venues.
 Comments from Jenni Nixon
The StoryPhone project sounds wonderful and thanks for including my piece Proposal. I'm pleased to have several short prose poems published by Spineless Wonders. I worked as an actor in the dim distant past and often write pieces with performance in mind. I've recorded my poetry in the past, some can be found on iTunes from my first book cafe boogie Interactive Press 2014. A second collection swimming underground was published by Ginninderra Press in 2015.  An audio of Dudgeon from the book will soon be posted on Going Down Swinging. Proposal was written as a reaction to Abbott's Turn Back the Clock to 1950s and the frumpy plebiscite brigade who oppose freedom and equal rights for LBGTI people. Writing micro-fiction is freeing but requires focus.  I read my pieces aloud and often keep on rewriting, tightening as I go.  I belong to Roundtable, a poetry workshop group, that is very helpful with suggestions that keep the waffle to a minimum.
About the actor: See above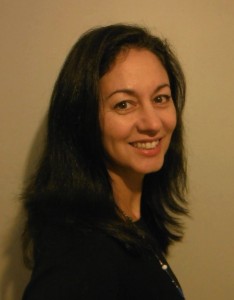 Taken written and read by Michelle Wright
About the story:
Taken is about a surfing experience gone wrong. It is published in Flashing the Square. To hear more, please press 7.
About the author and actor:
Michelle wright writes short stories and flash fiction. She's won the Age (2013), Alan Marshall (2014) and Grace Marion Wilson (2013) Awards, and the Writers Victoria Templeberg Fellowship (2013). In 2013, she was placed second in the Bridport Prize for Flash Fiction. Her debut collection of short stories Fine was published July 2016 by Allen and Unwin.
Comments from Michelle Wright
I love the idea of StoryPhone. A lot of my writing is about the difficulty of communicating, the different ways people hide their inner lives, and isolate themselves, conceal their desires, fears, regrets, guilt. So I think it's very interesting that through the use of these phones, we take the 'readers' and create a distance between them and the characters in the stories by putting them at the other end of a telephone line.  I imagine the listeners might feel that they are eavesdropping on hidden, private stories, that they are gaining a glimpse into a hidden corner of a stranger's life.
My story, 'Taken', is based on the fears I had as a mother every time my son went out surfing, but the acceptance of the dangers inherent in entering another creature's territory. I have enormous respect for great white sharks, their exquisite evolutionary adaptation to their environment and their place as apex predators.  I feel we need to be humble in the face of that and accept the natural consequences of coming face to face with them. This story was a protest against killing sharks, but also an acknowledgement of human grief.
My advice to writers of flash fiction is to be adventurous in the choice of subject matter. Nothing is off-limits and any subject can become a compelling piece of flash if it's looked at from an original angle and told with the right words.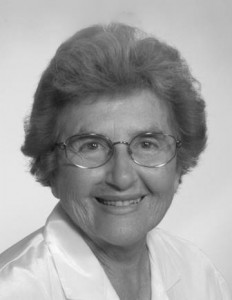 The Last Hare written by Irene Wilkie and read by Ella Watson-Russell
About the story:
The Last Hare is about a human's observation of a hare which the hare cannot possibly know. It is published in Flashing the Square. To hear more, please press 8.
 About the author:
Irene Wilkie's work has appeared in many anthologies and journals including Blue Dog, Poetrix, Idiom 23, four W eighteen, four W twenty-four, Five Bells, Going Down Swining, Broadkill Review USA, Australian Reader, Divan, Henry Lawson Festival of the Arts Anthology, Award Winning Australian Writing 2011 (Melbourne Books), Notes for the Translators 2012, (ed. Kit Kelen) and Australian Poetry Members Anthology 2013. She has won and been placed in various competitions. Her first book of poetry, Love and Galactic Spiders (2005) and her second Extravagance (2013) were published by Ginninderra Press. Irene has read her poetry at Shoalhaven poetry festivals, at the Shoalhaven Arts Centre, at Bundanon, at the South Coast Writers Centre as a featured reader, at Newtown and Glebe at the RhyZomic Poetry Readings.
Comments from Irene:
I am thinking at deeper level, why I wrote 'The last Hare.' I realise it is a plea for those at the bottom of the heap, be they hares, foxes or people. It offers no solution except friendship and a kind approach to every problem. I know that is not enough but it is a beginning, the hare is such a rare creature where I live…and those ears are so different. He was being exterminated along with general crowd of the unwanted. I knew he had problems and wanted to help.
 About the actor: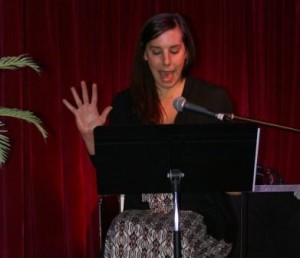 Ella Watson-Russell is a graduate of the Victorian College of the Arts and works as an actor, theatre maker, producer and drama tutor. Her acting credits include work for Darwin Theatre Company, JUTE, CIYA, ArtBack, Festival of Darwin, Darwin Fringe Festival, Melbourne Fringe Festivak, National Gallery of Victoria, La Mana & Optic Nerve Performance Group as well as roles in film, TV and voiceovers.
Her theatre-making and directing credits include Acacia Hills, The Hamlet Project, A Life is Passing and Unrequited as well as several short works developed with young people in her capacity as a drama tutor. Ella holds a special interest in the collaborative generation of new theatre works and working with writers and playwrights in the early development stage of new work.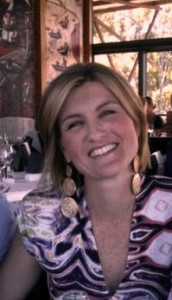 Addicted written by Angie Holst and read by Lauren Hamilton Neill
About the story:
A woman seeks help for her addiction. This story is published in Flashing the Square. To hear more, please press 9.
About the author:
Angie Holst is a Sydney based writer. Her YA novel Expectations was published in 2013 by Really Blue Books.
Q&A with Angie Holst:
Tell us about your experience with Little Fictions. Did you imagine your works as being read aloud while writing them?
Little Fictions has been a fantastic experience. I wrote 'Addicted' with no thought of it being performed and was surprised and thrilled when it was suggested as a Little Fictions piece. I really enjoyed hearing it performed by an actor but I was a bit nervous having it read to an audience because it has a 'humorous twist' at the end. Was my idea of humour going to be everyone's idea of humour? Luckily people laughed at the end. But seriously, I didn't breathe until they did! The actor Lauren did a great job.
Would you ever record your own stories? Why/why not?
 I wouldn't have thought of recording my own stories until I heard 'Addicted' at Little Fictions. Now I'm attempting to write a playscript. I love writing dialogue, it's my favourite part of writing. I like to see how close I can get to the way people speak naturally.
What do you think of StoryPhones?
 I'll tell you what I think of StoryPhone – I am affronted by the description of 'retro phones'! I lived during the time of those phones so if they are retro, then so am I! I love the idea of them, I love anything quirky and fun. And any way to get more people engaging in fiction is a great idea as far as I am concerned.
How did your story 'Addicted' come about?
 I wrote 'Addicted' after I started to consider my own addiction to the particular item I reveal at the end of the piece. The characteristics of addiction can be applied to so many facets in life, and we all have our own peculiar vices. I thought I would explore a vice that a few of us have fallen victim to in recent years.
 5. Any advice for writers of microfiction? 
Microfiction is all about the edit. Find your idea, and write fast for the first draft. And then edit, edit, edit. A short word count can be a great tool in losing all those unnecessary adverbs and adjectives which we think are making our writing sound fancy. They're not. The sparer the writing, the better.
About the actor:
See above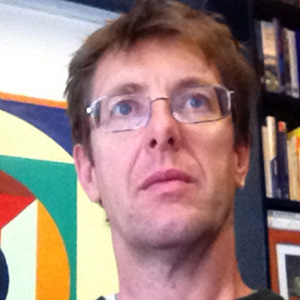 Afloat written by Richard Holt and read by Todd Morgan
About the Story:
Afloat is a story about how society views success. It is published in Out of Place. To hear more, please press #.
About the Author:
A writer from Melbourne, Richard maintains a number of blogs exploring very short fiction. His stories have been published widely in both mainstream and alternative journals and collections. He is also a visual artist and was co-founder of both Platform Artist Groups and zine store, Sticky. He continues to publish very short fiction and conduct micro-fiction workshops for practicing writers, students and others. As well as writing micro-fiction he is currently working on a series of novel for older children.
Comments from Richard Holt
In the 1950s artist Ian Fairweather built a raft from scrounged and scavenged materials and set out from Darwin, towards Timor. His story was the starting point for this short piece that considers how we value lives and achievements and how those values are not as universal as we might think. Success, in this story, is a fluid thing.
A story like Afloat is written to be read aloud. It is built around distinct dialogue and narrative voices. I'm excited about its inclusion in the StoryPhone project, which complements my ongoing interest in 'off-the-page' approaches to publishing, as championed by Spineless Wonders, with whom I have collaborated on a number of video and microlit projects.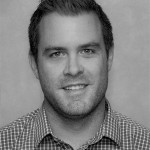 About the Actor: New Zealand born Australian actor, Todd Morgan, graduated from NZ's Unitec Performing Arts school in 2005. Since graduating, Todd has appeared in NZ soap Shortland Street, Peter Jackson's King Kong, and the ABC drama Miss Fisher's Murder Mysteries. Todd is heavily involved in the theatre scene in Melbourne and Sydney.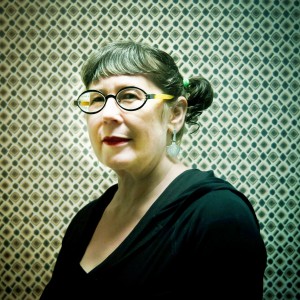 The Alternative Plan by Vivienne Plumb and read by Lauren Hamilton Neill
About the story:
The Alternative Plan is a prose poem about making life plans when life doesn't go according to plan. It is published in Small Wonder. To hear more, please press 0.
About the author: Vivienne Plumb, an Australian currently living in New Zealand, is a playwright, poet, and fiction writer. She has held several residencies, including one in 2004 at the University of Iowa and the 2006 Massey University writers' residency and is she is currently at University of Auckland completing a residency. She holds a Doctorate in Creative Arts at the University of Wollongong.
 Comments from Vivienne Plumb
 I like writing prose poems and have also written a collection of prose poems about 'iconic' New Zealand subjects (as I live in New Zealand). I write poetry, fiction and drama, and give many professional readings of my own work, and so would love to be asked to read my own work for a recording. I worked in the past for many years as an actor, and so I think I can 'hear' a poem when I am writing it, and I have also written for the theatre. I now write full time and my only 'performances' are when I read my own work. I presently hold the 2016 University of Auckland/ Michael King Centre Writing Fellowship, in Auckland, although I am generally based in Wellington, N.Z.
'The Alternative Plan' was written as part of a a special project where I wrote one poem every day during the time of one entire year. I wrote a lot of prose poems, and some of these are in my poetry collection 'Nefarious' (Headworx, 2004), now out of print. But some of these pieces will be reprinted soon – early next year a major collection of my past-published work (including poetry, fiction, drama) will be published by slit/fountain publishing, Auckland in a beautiful 'compendium' that will include images from the Auckland artist, Glenn Otto.
'The Alternative Plan' will be in that collection, and the collection is entitled 'As Much Gold as An Ass Could Carry' (which is the title of another poem).
I guess when I wrote it, I was saying that you shouldn't just have a Plan B, but a Plan X also. Being a typical writer, I like to obsess, and I often find myself obsessing about Plan A – Z, and this prose poem was born out of that desire. This was also a year (when it was written) that was full of my son's illness, he had cancer of the lymph glands and passed away a few years later, after a courageous battle. So I guess I was constantly making and remaking my 'plans' for the week. But at the same time, I make a little bit of fun in the poem, about 'making your plan', as it doesn't matter what you do, I really think that life can always throw you a good curve ball, both good, and maybe not so good.
About the actor: See above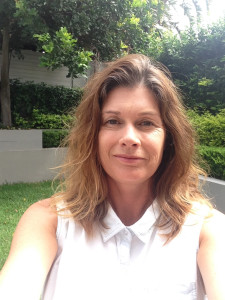 Blue Light Disco by Kelli Hawkins read by Eleni Schumacher
About the story:
Blue Light Disco is about young love. It is published in Flashing the Square. To hear more please press *.
 About the author:
 I'm a married mother of two school aged children, currently living at Bar Beach. I work three jobs part time – report writing, editing and as a graphic designer. I've had a couple of short stories published locally, but my real dream is to get a novel into print. Earlier this year I was the awarded the Sydney Writing a Novel Scholarship with Allen & Unwin's Faber Academy, and I've been heading down to Crow's Nest once a week to attend sessions. Hopefully the course will be the push I need to make my publishing dream a reality.
Q&A with Kelli Hawkins
1.Tell us about your experience with Little Fictions (Did you imagine your works as being read aloud while writing them? How was it hearing them being performed? Were you happy with the actor?)
 My experience with Little Fictions was fascinating. I haven't written many short stories, let alone REALLY short stories, so that itself was an interesting process. And then when I found out I was a finalist in the competition it became even more interesting. My story was performed by a voice actor with music and artworks created especially for it. Hearing the words out loud, seeing the graphics that had been designed specifically for the story was surprising – the words were mine, but they now had a life of their own. The interpretation was different to my own, but none the less valid for it.
 2. Would you ever record your own stories? Why/why not?
 Definitely not! I'm as far from an actor as you could get. Writing for me is a private thing. Loved hearing it though!
3. What do you think of StoryPhones?
 Great idea. I appreciate the novelty of it – anyone who knows me knows I am a massive retro furniture fan. Even better is the random nature of the concept. No-one knows what story they might get when they press a button – dark or light, comedy or tragedy.
4. How did your story 'Blue Light Disco' come about? 
 It's actually based on a true even from my life, but with a few important tinkerings. The setting and the characters are memories from my childhood, and I just took the story one step further to make the narrative more dramatic. And the theme of 'threshold' seemed to fit perfectly with the idea of a first kiss.
5. Any advice for writers of microfiction? 
Give it a go! The length of the piece means you can usually find the time to try and write one, even if you are busy. But on the other hand don't be fooled into thinking it will take five minutes! You have to make every word count. There was a lot of fiddling and culling to get my story down to a hundred words. It's actually a great exercise in editing. I kept coming back to it after leaving it for a day at a time until I was happy with the final result.
 About the actor: See above.
If these stories, a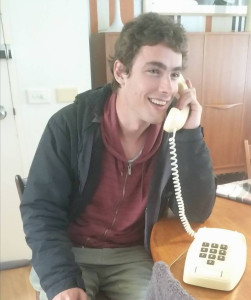 uthors and/or actors excite you, please come and see us at the expo. Pick up the phone and have a listen! We can't wait to see you there.
For a quick glimpse into what the experience of StoryPhone will be, take a look at this photo of our audio guy, Jack, enjoying the stories on StoryPhone that he helped create. Look how happy he is! To be as happy as him, get yourself to a Spineless Wonders StoryPhone and  pick up the phone.
 Sources
https://ipoz.biz/Titles/CB.htm
https://shortaustralianstories.com.au/
http://www.imdb.com/name/nm2329607/bio?ref_=nm_ov_bio_sm
Save
Save
Save
Save
Save
Save
Save
Save
Save
Save