Description
Step into the dysfunctional life of Eunice…
Oblivious to her unhappy marriage, still living in her mother's house and unable to stop biting her nails, Eunice feels as if she has no control over her own life. When her new husband needs to make a trip for work, Eunice tags along in the caravan without much thought for what it will be like. Left to her own devices, what will she uncover within the deepest recesses of the caravan park… and within herself?
About The Author: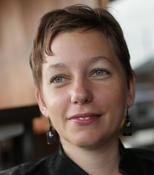 Ariella Van Luyn is a writer and lecturer in Townsville, North Queensland. Her stories have appeared in Overland, Voiceworks, The Lifted Brow, One Book Many Brisbanes and Lip Magazine. Her manuscript, Hidden Objects, was shortlisted for the 2012 Queensland Literary Awards. Her first novel, Treading Air was published in 2016 by Affirm Press.
Interview with author, here.
The Michael McGirr  Select Series
Spineless Wonders is proud to offer this series of twelve beautifully written digital long stories selected for us by award-winning Australian author, Michael McGirr.