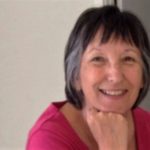 This week we talk to Janet Thomas about her piece 'Underpass' which appears in Landmarks, the latest anthology curated by Spineless Wonders. During this interview Janet describes a favourite landmark in the Australian landscape , who inspires her writing and what inspired her micro-lit piece.

Tell us about a landmark that is significant to you
KarraWirra Parra, two minutes' walk from my home, flows from the Adelaide Hills to Henley Beach, one of my favourite beaches. Also known as the River Torrens it is a linear park, with bike and walking tracks, playgrounds and barbeque areas strung along its length. Unlike many, I've not walked its entire 35 km length, but I cherish the section I know well.
What inspired you to write 'Underpass'?
I was travelling to Adelaide's central business district when I witnessed the scene described in 'Underpass.' In the last twelve months, many homes have been cleared and they will, in two generations, be forgotten. I knew a woman who lived in the area. She was an enthusiastic part of an established bartering system centred around the vegetable gardens and fruit trees in her street. Not only houses are lost to progress: traditions, a way of life, communities and relationships disappear as well. I wrote 'Underpass' as an homage to the women who grew, preserved and cooked the fruit and vegetables that fed not only their families, but many of their neighbours.
How do you find the experience of writing to a theme?
I saw it as a prompt; I played around with a couple of ideas then worked on 'Underpass', which emerged as one of the strongest efforts. I left it for a while and when I returned, pruned it, not only so it fitted into the word count but so the core values of the piece could emerge. I read the theme, therefore, as a chance to reflect on how people think about and connect to what we call a 'landmark', a site that is nothing until meaning is ascribed to it.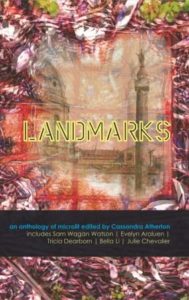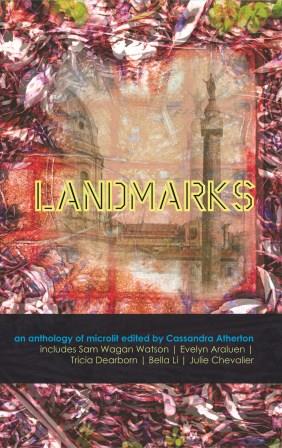 Describe your writing space
I have converted a bedroom into my 'Writing Sanctuary'. I sit at a long narrow desk against one wall, opposite the day bed where I occasionally lie and read and which is ever ready for an overnight stay by my granddaughter. Next to my lap top hangs a pinup board with clippings, posters and my writing goals for the month. Next to that is my granddaughter's first painting, in thick aqua and purple brush strokes. Above the door, in bright red letters is the word 'Imagine.'
Tell us about a writer or work that has inspired you as a writer
I am working on some pieces of theatre so I am currently reading Sarah Ruhl's 100 Essays I don't have time to Write. I admire her wit, her warmth, her intelligence and how she refuses to compromise these qualities in her ruminations on the state of American theatre. Most of the essays are little more than 100 words but they are insightful, challenging, perceptive and entertaining.
Janet Thomas has a doctorate in Creative Writing from Flinders University. After a career in education she is now a full-time writer. Twelve months ago, she started her blog, Elixir: Creative and Reflexive Writing from the Third Age, which includes reflections on her PhD research, and on life in general, as well as a selection of her flash fiction.
Feature image via Flickr.com