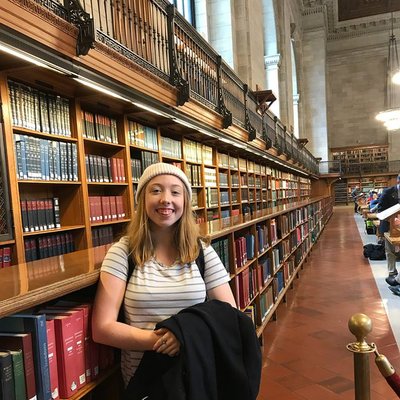 We are thrilled to announce this year's Slinkies authors. In the next series of posts we bring you interviews with 2020 Slinkies authors, Sophie Overett, Harry Goddard, Ch'aska Cuba de Reed, Liam Higham, Sky Carrall, Emil Colic, Tehya Nicholas and Thomas Alan. In this post, Sky talks about her microfiction, 'Midnight Sandwiches' and 'Different Seasons', about the influences on her writing and her writing habits. Sky's microfiction is published in Slinkies Shorts which is available from all major ebook retailers.
Both 'Different Seasons' and 'Midnight Sandwiches' explore coming of age and young adulthood. What draws you to these types of stories?
I love how coming of age stories explore both personal challenges and large-scale issues through the view of a child. Everybody understands what it's like to grow up and deal with change, so these stories can bring a universal sense of innocence and hope unique to this particular genre. I love the feeling of nostalgia coming of age stories evoke- it can be really comforting to learn that so many other people have faced the same troubles and challenges I have, even in books from hundreds of years ago.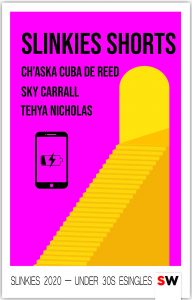 What are your writing habits?
I love mornings and usually feel creative at the beginning of the day. My desk sits behind a window in my bedroom, so I like to let the sunlight through the blinds, make a cup of coffee or tea, sit down and write. I try hard to write something, even if just a few sentences, every day. I also started journaling at the beginning of this year while I was studying abroad in the UK, and found it to be a nice way to reflect on my thoughts and emotions by just letting myself scribble words on a page.
Who are your favourite authors? How have they influenced your writing?
Some of my all-time favourite authors are Harper Lee, Jane Austen, Donna Tartt, S.E Hinton, Stephen King, and F. Scott Fitzgerald, as well as recently Favel Parrett, Karen Foxlee, Tara June Winch, and Helena Fox. I really admire first-person narration style, reflecting on past events, like that in To Kill A Mockingbird, or Catcher in the Rye by J.D. Salinger. I love how these authors write about wider universal themes from a smaller character-based, and more personal scale. It has helped me to understand that we can learn so much from just a single perspective, and is something I try to take into my own writing.
What do you like about the short story form?
I like how short stories require a deliberate and delicate use of language. It forces you to be selective and mindful of word choices, actions, and characters, and makes you think more deeply about the basic elements of a story, as there is not enough space for extra plot detail. Although it can be frustrating sometimes, I also enjoy how when I write a short story, I almost never finish with the same story I had in mind when I started writing.
What other projects are you working on? Where can people catch you on the internet?
I am continuing to write short stories regularly, and hope to publish more in the future. I am also in my third year studying creative writing at university, where I am working on developing a major project that I hope will one day become a full novel. I post (too many) photos of breakfasts and flowers on Instagram, you can find me at @sky_carrall
Sky Carrall studies Creative Writing and English at the University of Wollongong. She writes about growing up, friendship and connection, and loves reading literary fiction and coming of age. This is her first published work.