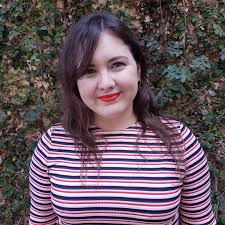 We are thrilled to announce this year's Slinkies authors. In the next series of posts we bring you interviews with 2020 Slinkies authors, Sophie Overett, Harry Goddard, Ch'aska Cuba de Reed, Liam Higham, Sky Carrall, Emil Colic, Tehya Nicholas and Thomas Alan. In this post, Sophie Overett talks about her short story, Drift about levitating and about writing, podcasting and her latest reads. Drift is available from all major ebook retailers.
How much do you believe in the unknown like levitation and aliens?
I don't know if I'd say I believe in either necessarily, but I would say that I'm fascinated by the prospect of both, and would love to be proven wrong in my scepticism like both Hest and Annie are in Drift. I'm a Fox Mulder at heart! I want to believe! Even if I am more Dana Scully on the outside.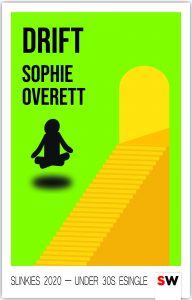 The story feels very authentic, is any of it based on real life?
The individual experiences are pretty much totally fictionalised, but I do try to channel emotions that are authentic to me into those fictionalised experiences! In particular, I think Hest's reluctance to move past a difficult experience, and her fixating on learning how to levitate to distract herself from facing that is something that – as much as it's probably a little embarrassing to admit, haha – is not foreign to me.
I also have spent a lot of my life in share houses, and love how they can open your world up. I've fostered relationships in share houses with some people who I'd now call some of my all-time favourite people, and well. I've also had the opposite of that.
Has your approach to writing fiction changed at all after working in the audio medium of podcasting?
I don't know if I'd say that working in the audio space has changed the way that I write, but talking about movies with my amazing co-host, Aimee Lindorff, on Lady Parts, has definitely  made me a better writer. It's made me think more deliberately about the tropes that we use when writing about gender and race, disability, and sexuality, and how all these issues translate on-screen particularly in science fiction, fantasy and horror. So yes! I think it's made me a more deliberate and more thoughtful writer.
What are your favourite authors and books? How have they influenced your writing?
Oh goodness, so many! I'd say probably one of my favourite authors is Isabel Allende, who I just think is divine and has really influenced me in the way she unfolds these sorts of worlds through places and families and often a bit of magic. I aspire to be a fraction as good as her. The list goes on though! Kelly Link, Amy Tan, Karen Russell, Laura van den Berg are all big ones! Melissa Lucashenko's Too Much Lip is probably my favourite book of the last five years too.
I'd say some of my biggest influences though at the moment are some of the incredible short fiction writers and collections being published in Australia. Julie Koh's Portable Curiousities and Laura Elvery's Trick of the Light are two that immediately spring to mind, but there are so many others too. Julie and Laura are both so incredible at capturing the intricacies of relationships and the weight of moments, and I know reading their work has made me strive to be a better writer.
What do you like about the short story form?
So much! Short stories are definitely one of my favourite spaces to play in – both as a writer and as a reader. There's something pretty magic about being presented with a slice of a world that feels rich and compelling and realised, and invites you in, whether that be through writing it or reading it.
What other projects are you currently working on? Where can people catch you on the internet?
I'm currently working on a new novel manuscript which is a magical realism thriller in the vein of Lauren Beukes The Shining Girls and Patrick Ness' A Monster Calls. The story centres around the bond between a brother and sister, thylacines and what it means to be a woman on the internet.
As for me, you can find me all over the internet, including at sophieoverett.com and on Instagram and Twitter, both at @SophieOverett.
Sophie Overett is an award-winning writer and cultural producer. Her stories have been published in Griffith Review, Going Down Swinging, Overland Online, The Sleepers Almanac, and elsewhere. She won the 2020 Penguin Literary Prize for her novel, The Rabbit, the 2018 AAWP Short Story Prize, and her work has been shortlisted for multiple awards including The Text Prize and The Richell Prize. She is one half of Lady Parts, a podcast about women's roles in genre cinema, and is creator and producer of The Oscars Project, where she explores cinema history through 90 years of Academy Award nominees.
Purchase Drift from Kobo | Amazon | Booktopia |
And check out the other 2020 Slinkies titles.