Description
'My stepfather—the rain-soaked scarecrow, bloated and soggy with buttons for eyes—doesn't give a flying fuck about the dog. One less mouth is what he said, without looking up from the insurance infomercial on TV.'
A story which explores the cruel world of illegal dogfighting. Tyler Mahoney creates a world of gritty realism with language and imagery which is fresh, edgy and sublime.
About The Author: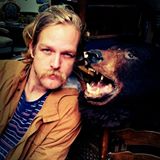 Tyler Mahoney is a graduate of Australian Film, Television & Radio School. He has just completed his undergraduate degree while moonlighting as a media demonstrator at The University of Sydney. He's had film scripts accepted into international film festivals and debut at Mercedes Benz Fashion Week. He continues enjoying the momentum of his life, making music with his fellow Swamp Monsters and tending his vegetable patch.
Author interview here.
About the Slinkies series:
Slinkies is a digital platform for new and emerging writers under 30. To read more great Slinkies, browse the online store on this website. To submit a story, check out the Slinkies tab on our Homepage. Slinkies cover designs are by Finbah Neill.