Description
Audrey and Steven Trott live on the Oasis Estate – a new, gated community marketed as a private and exclusive coastal retreat selling the dream of the ideal lifestyle. Encased by bush and ocean, it promises a safe sanctuary resplendent in beauty, relaxation and exclusivity. Or does it?  When the weather changes for the worse and our rainy day arrives, will we have it in us to prevail?
Joanna Atherfold Finn's reflective portrayal of character and her striking depiction of place resonates long after the final sentence has been read.
About The Author: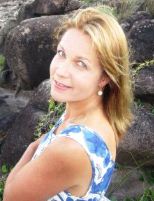 Joanna Atherfold Finn writes and teaches in Port Stephens. She has had short stories and articles published in anthologies and journals. She received the University Medal in English and has  a creative writing PhD from  the University of Newcastle.
Author interview here.
The Amanda Lohrey Selects Series
Spineless Wonders is proud to offer this series of twelve beautifully-written digital long stories selected for us by award-winning Australian author, Amanda Lohrey.
Cover design by Elice Chen, cover image David Marcu, via unsplash.com