Description
Simon is an angry clown running late for work, Clark is on a bad acid trip and all nine year-old Tom wants to do is ride the Space Roller. In their rage, panic and disappointment, they are convinced of their detachment from everyone around them. Not until it's too late do they realise that nobody exists in isolation – and all too soon their lives will intersect.
About The Author: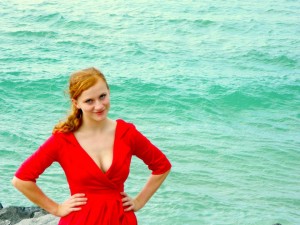 Tina Gaudry has a BFA in Creative Writing from Queensland University of Technology. This year she won second prize for an FAW National Literary Award and was Highly Commended for the SLQ Young Writers Prize. 'Intersections' is her debut short story publication.
Author interview here.
About the Slinkies series:
Slinkies is a digital platform for new and emerging writers under 30. To read more great Slinkies, browse the online store on this website. To submit a story, check out the Slinkies tab on our Homepage. Slinkies cover designs are by Finbah Neill.