Description
---
Awards
***Runner Up in the 2021 Carmel Bird Digital Literary Award***
---
Praise
'With her new and brilliant collection, Smacked, Dominique Hecq proves again her literary virtuosity: portraits, fragments of broken lives, dialogues and memories assemble in a masterly patchwork of stories, at once subtle and brutal, that both shock and enthrall the reader. With her precise and evocative prose, Dominique Hecq is without a doubt the Katherine Mansfield of our times.' —Sebastien Doubinsky, Paperclip

'Hecq probes us to consider our fractured subjectivity within the context of the lives we live, have lived, the dreams we dream, will dream, our irreconcilable extremes… In reading Smacked, we are called to question the impact of moments-in-time on our subjectivity – interrogatively.' —Julia Prendergast, author of Bloodrust and other stories

'In this truly eclectic collection the addicted become more than slipstreams of metaphorical notions, they become human; the woman with two left feet will dance.' —Evelyn Conlon, Irish short story writer

'Delve into the fragility of the human psyche with Dominique Hecq's collection of short stories Smacked and other stories of addiction. This collection invites you to experience the rollercoaster of shock, shame, desperation, and hope written into the lives of her very relatable characters.' —Marshall Moore, author of I Wouldn't Normally Do This Kind of Thing
---
Listen
Now available as an audiobook. Listen to a sample:
Available for purchase on Spotify.
---
Watch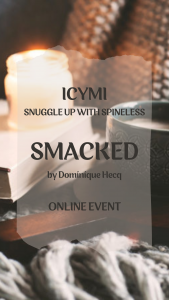 In case you missed it: please enjoy this recording of Spineless Wonders' Smacked online event, the second instalment of the Snuggle Up with Spineless series, featuring Eugen Bacon and Dominique Hecq. The event also features readings by Smacked audiobook narrator, Ella Watson-Russell.
You can watch the video on our Youtube channel here where you can find lots of other online literary events and author Q&As. Or just click the play button below.
---
Upcoming
JOURNAL OFF BEAT by Dominique Hecq and Chantal Danjou
Journal Off Beat is a multi-generic bilingual text which began in the aftermath of the 2019 Paris International Poetry Festival. It was brought to a conclusion on 22 March 2020 after COVID19 was declared a pandemic. It comprises Dominique Hecq's journal entries and Chantal Danjou's poetic responses.
---
About the Author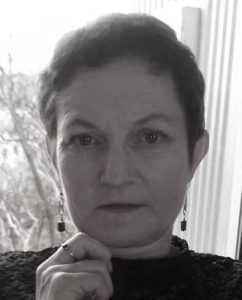 DOMINIQUE HECQ grew up in the French-speaking part of Belgium and now lives on unceded sovereign Wurundjeri land in Melbourne. She writes across genres and disciplines—and sometimes across tongues. Her creative works include a novel, six collections of short stories and fifteen books of poetry. Her latest publications include After Cage (2nd ed., 2022, Liquid Amber Press), Songlines (2023, Hedgehog) and Endgame with No Ending (2023, SurVision), winner of the 2022 James Tate Poetry Prize.
Among other honours such as the Melbourne Fringe Festival Award for Outstanding Writing and Spoken Word Performance, the Woorilla Prize for Fiction, the New England Review Prize for Poetry, the Martha Richardson Medal for Poetry, and the inaugural AALITRA Prize for Literary Translation (Spanish to English). Dominique Hecq, also a Pushcart nominee, is a recipient of the 2018 International Best Poets Prize administered by the International Poetry Translation and Research Centre in conjunction with the International Academy of Arts and Letters.
Cover Artwork: Bettina Kaiser
Distribution inquiries:
Our titles are distributed by NewSouth Books through Alliance Distribution Services:
Tel: 02 4390 1300
Email: adscs@alliancedist.com.au
www.newsouthbooks.com.au