Description
Event dates
6 September  6-8pm @fortyfivedownstairs presents Spoken Word Circle with Julia Prendergast. Free admission, details here
***Melbourne launch: details to come***
About Bloodrust and other stories
Frank depictions of family, mental health, youth, ageing, love and lust speak to the fragility of life, and to the dangerous games we play when we cross boundaries. Hidden beneath the mundanity is violence and decay, mirroring the natural environment so lyrically recreated in Prendergast's raw prose … pollen that stains the local estuary water an unsettling red—Bloodrust.
'Prendergast is a great observer of humans. She pulls no punches because she wants the truth.'
– Bruce Pascoe 
'These stories shun the sentimental and embrace the taboo.'
– Maria Takolander
'Bloodrust is a remarkable collection of stories from a writer who shapes each sentence, each word, with care and precision.'
– Tony Birch
'Earthed, confronting, visceral, and so achingly real.'
– Arnold Zable
'Prendergast's wildly experimental collection is a tour de force! Nothing 'distant' about it!'
– Meenakshi Bharat 
'Here is writing that is fraught and vulnerable, raw and openhearted …'
– Alan McMonagle 
'These stories are full of elegance, beauty and brilliance.'
– Roanna Gonsalves
'Julia Prendergast is a sure-footed writer of intellectually provocative stories.'
– Shinie Antony
'I love stories that cause visceral discomfort. I love these stories.'
– Tim Tomlinson, Writer, Director: New York Writers Workshop
'The landscape and the body are where Prendergast's dramas are played out in all their uncomfortable, cruel, generous and loving detail.'
–  Barrie Sherwood
About The Author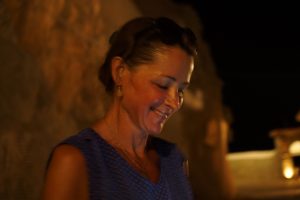 JULIA PRENDERGAST'S novel, The Earth Does Not Get Fat, was published in 2018 and longlisted for the Indie Book Awards for debut fiction. Her short stories have been recognised and published: Lightship Anthology International Short Story Competition (UK), Ink Tears International Short Story Competition, Glimmer Train International Short Story Competition (US), Séan Ó Faoláin International Short Story Competition, TEXT, Elizabeth Jolley Prize, Josephine Ulrick Prize.
Photo credit: Rafael Fajer: New York Writers Workshop 2022