Description
---
Awards
***Winner of the 2018 Carmel Bird Digital Literary Award***
---
Events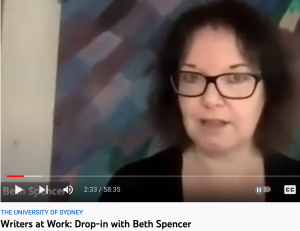 Writers@Work event hosted by University of Sydney
In case you missed it: Beth Spencer in conversation with Belinda Castles. Watch the recording here.
Friday October 7th 2022 at 1pm 
The Creative Writing program invites you to join us for a lunchtime chat with Beth Spencer, critically acclaimed author of How to Conceive of a Girl and winner of the Carmel Bird Literary Award for 2018. Beth will discuss her latest work, The Age of Fibs stories memoir microlit, as well as how she has sustained a long writing career in a changing literary landscape.
All welcome.
Click here for free link.
---
Praise
'Gives vivid insights into the small and large moments of the human story. It was a great pleasure to encounter this gem.' —Carmel Bird, author of Love Letter to Lola

'Spencer's work brims with energetic, provocative, and idiosyncratically stylish writing.' —Felicity Plunkett  

'Consistently thought-provoking,  compelling, and rich with humour and complexity.' —Magdalena Ball

'I should have known "fibs" would have more than one meaning.' —Andy Jackson, The Saturday Paper
---
Further Reading
Beth Spencer's Youtube interview with Magdalena Ball from Compulsive Reader Talks
https://www.youtube.com/watch?v=Fr2_TD8VX6w
Beth  Spencer's Podcast interview with Magdalena Ball from Compulsive Reader Talks

https://anchor.fm/compulsivereader/episodes/Beth-Spencer-on-The-Age-of-Fibs-e1k15qn
---
About the Author
BETH SPENCER writes fiction, essays and columns, and has had numerous pieces devised and performed for ABC Radio National. She has a PhD on 'Fiction as a way of thinking' and currently resides on the Central Coast, NSW.
Distribution inquiries:
Our titles are distributed by NewSouth Books through Alliance Distribution Services:
Tel: 02 4390 1300
Email: adscs@alliancedist.com.au
www.newsouthbooks.com.au