Description
---
Praise
'Hazel Smith is relentlessly experimental: no two poems seem alike in form. Her poetic range is impressive, too; she works along a spectrum from expansive, prose-poetic writing to highly compressed and disjunctive poems. This means that ecliptical, in spite of its experimentation, is not always difficult to read.' —Chris Arnold, Australian Book Review

'The poetry is expansive and powerful, utilising experimental forms and playing as much with sound and space as with meaning. The poems are almost always at least a little wry and humorous, often self-referential as well as outward looking, and fun, inviting an engagement that feels like play.' —Magdalena Ball, Compulsive Reader

'Her brief is to watch the world and urge the reader to watch it with her. In giving us perspectives on political prisoners, on the afterlives of Holocaust survivors, of a woman artist condemned to live in the shadow of her husband, or simply of an "everyone" figure trying to make sense of a child's disappearance, she involves us in a journey at once ethical and intellectual. How, she persistently asks, is it possible to remain a reflective, sentient being in the face of the incipient disorientation produced by watching the world?' —Joy Wallace, Electronic Book Review

'There is a sense of displacement and unease as we read this collection but it is compelling to read to the very end as each new poem confronts us in a contrasting way, sparking our curiosity and drawing us into its often carefully researched or strategised details to reward us with poems that shock and surprise. Hazel Smith is a poet at the height of her powers.' —Jane Frank, StylusLit

'Ecliptical: ellipses, for moving on, trailing off, and linking up; eclipses, for moving in and out of view; and elliptical, cyclical but not circular rotations—the shape of ova, as the occasion of (female) creation. Ecliptical is generatively patterned in sync with natural rhythms in a manner that does not presume perfect cycles, but is primed for making audible just barely-rhyming surprises of all sorts of repetitions.' —Heather Martin, Plumwood Mountain
---
Watch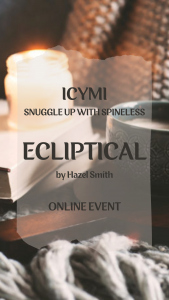 In case you missed it, please enjoy the final instalment of Spineless Wonders' Snuggle Up with Spineless series. The event celebrates the online launch of Hazel Smith's 2022 poetry volume, Ecliptical. Introduced by Callan McNeilage, this event includes readings of some of the poems, an appreciation of ecliptical by Joy Wallace, an interview with Hazel by Anne Brewster, a talk about the audio and multimedia works associated with the volume by Roger Dean, and a Q&A session.
You can watch the video on our YouTube channel here where you can find lots of other online literary events and author Q&As. Or just click the play button below.
---
Further Reading
Hazel Smith in conversation with Anne Brewster. 'A poem is not a puzzle with a correct answer. Cordite Poetry Review. http://cordite.org.au/interviews/brewster-smith/
---
About the author
HAZEL SMITH is a poet, performer, new media artist and academic. She has published five poetry volumes including The Erotics of Geography, Tinfish Press, 2008 and Word Migrants, Giramondo, 2016. She has also published numerous performance and multimedia works and performed her work extensively internationally. She is a founding member of the sound and multimedia ensemble austraLYSIS. In 2018, with Will Luers and Roger Dean, she was awarded first place in the Electronic Literature Organisation's international Robert Coover prize. Hazel is Emeritus Professor in the Writing and Society Research Centre, Western Sydney University. She has authored several academic books including The Contemporary Literature-Music Relationship, Routledge, 2016. Her website is at www.australysis.com
Front cover artwork: Sieglinde Karl-Spence 'Becoming' 2003 (250x100x90mm variable). Winged feet woven with allocasuarina needles, New Zealand flax and surrounded with acacia melanoxylon seeds. Collection of Queen Victoria Museum and Art Gallery, Launceston, Tasmania.

Published by ES-Press, an imprint of Spineless Wonders
Distribution inquiries:
Our titles are distributed by NewSouth Books through Alliance Distribution Services:
Tel: 02 4390 1300
Email: adscs@alliancedist.com.au
www.newsouthbooks.com.au