Home
AVAILABLE NOW

– TWELVE WOMENS eSINGLES
                             chosen by Amanda Lohrey
Read the eBrochure below to find out more: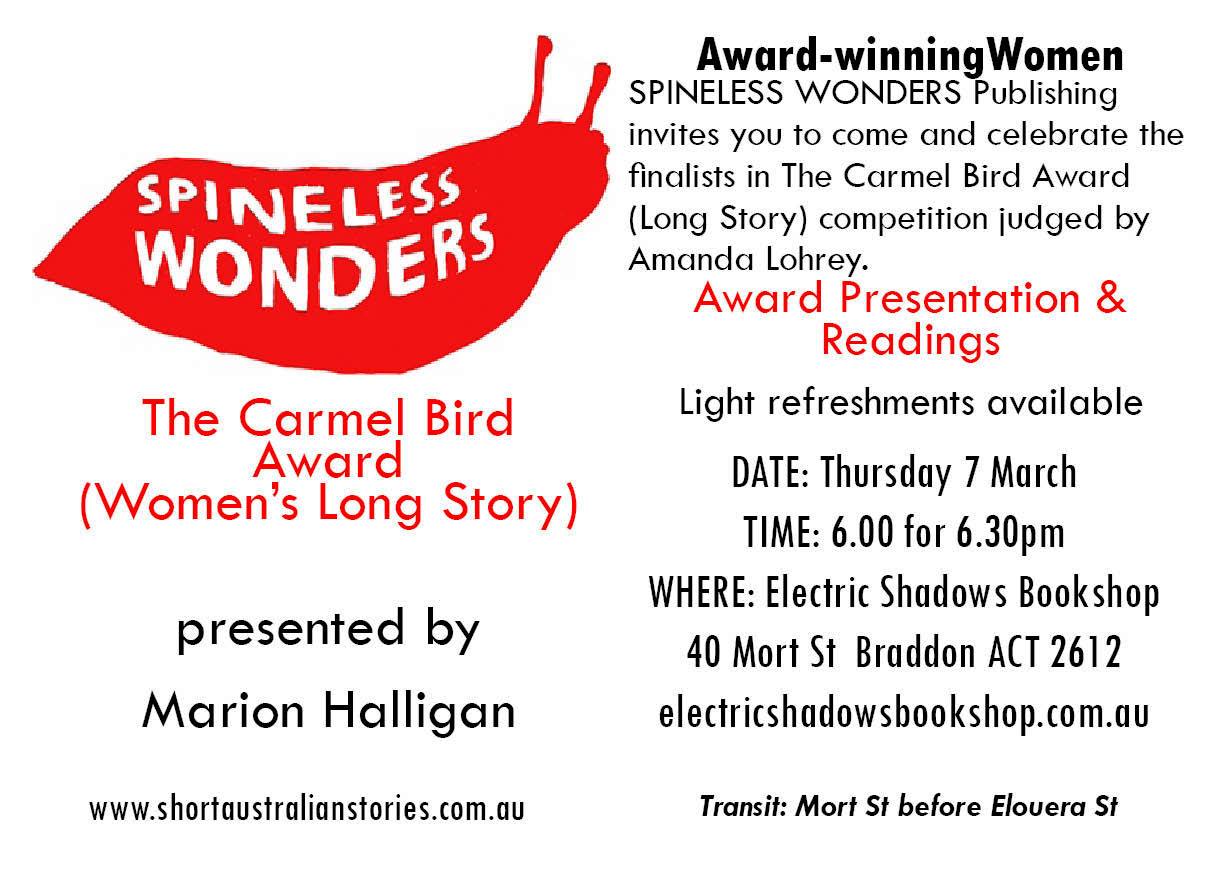 Click here, to find out more about the Carmel Bird Award (Women's Long Story)
Watch our latest book trailer:

Read 'Black Opal' a story from Mary Manning's Damaged In Transit here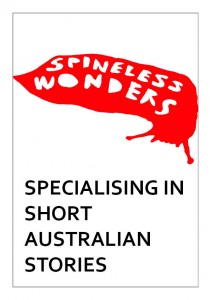 Check out our new 2011/2012 catalogue flip book.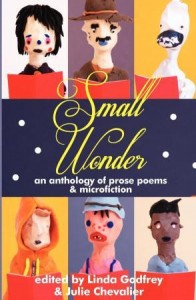 small wonder Sydney launch
by The Red Room's Johanna Featherstone
Saturday August 11 2pm
Addison Rd Art Gallery
142 Addison Rd, Marrickville
Click here to grab your copy now.
We're making literary history!
Spineless Wonders steers the Australian literary scene into a new direction with its latest release, small wonder, an elegant and edgy anthology which brings together thirty talented writers from across Australia who are working in the experimental forms of prose poetry and microfiction.
Editors, Linda Godfrey and Julie Chevalier, along with small wonder competition judge, joanne burns, have assembled an encyclopaedia of authors reflecting the traditions of Beat poets through to bloggers. See the list of contributors here.
small wonder is a field guide for those new to these forms, a literary Lonely Planet for tourists and a packet of Tim Tams for the devotees both here and overseas.
'A treasure trove of writing from some of the most innovative practitioners of prose poetry and microfiction in Australia.'    Readings Monthly

Like our other publications, small wonder is illustrated, with this edition's cover featuring Paden Hunter's plasticine hoi polloi as well as many other whacky characters inside from this talented artist's pen.
LAUNCHED in May

small wonder was launched in Darwin by award-winning Australian poet, Sandra Thibodeaux on Sunday May 13 at the combined Wordstorm, the Festival of Australasian Writing/National Poetry Festivals. Click here to grab your copy now.

And that's not all. Spineless Wonders is also breaking new ground with its audio recordings of prose poetry and microfiction.
For less than the price of a melting moment and in less time than it takes to order a flat white, you can be listening to the writer reading their 'small wonder' in your ear. What's more, you can listen to your download where and whenever you like, on the device of your choice. Sit back and enjoy. The tracks are yours to play again and again – this is literary fiction, folks, the more times you play, the more layers you uncover. COMING SOON small wonder volume 1
We will also be featuring interviews with contributors on our blog, The Column, where they discuss their process, where ideas come from and share writing tips. We kick off this new interview series with Charles D'Anastasi whose prose poem, Madame Bovary, won the small wonder competition.
New Release
Fault Lines
by
Pierz Newton-John
 
Reviewed by Lucy Clark March 17 2012
IT comes as no surprise to learn that Melbourne writer Pierz Newton-John, author of the appropriately titled Fault Lines, a debut collection of short stories, was once a psychotherapist.
As an observer of the human condition he is compassionate, curious and insightful: these beautifully written stories about lives in trauma and transition might well have come straight from the couch.
Newton-John seems particularly occupied with the question of what it means to be male. There are stories here about men on the make, men suffering the disappointment of broken dreams, men passionately loving their children, small boys being cruel to other small boys, teenage boys and violence, teenage boys and sex, teenage boys and love.
There is tenderness, there is humour and there is barely contained rage. There is a lot of self-medication.
There is also a fantastically memorable scene in which a full-sized crocodile is freed from a glass tank in a suburban back yard in Melbourne, a classic sting-in-the-tail at the end of a remarkable piece of short writing. In this story, Croc, Newton-John executes an act of great empathy, writing from the point of view of a runaway girl (it's not an entirely male-oriented collection) whose rebellion takes her to a frightening place. The quiet terror of a girl-woman being so far in over her head is perfectly, heartbreakingly captured.
Elsewhere is the crushing banality of suburban life, students going off the rails, teenagers alienated from their families, relationships going wrong.
Only one story is a surprise in this landscape of Australian suburban stories: Comrade Vasilii Goes to War encapsulates the absurd futility of war on the border between the fictional Ozakhstan and Uzekhstan, and the soldiers who command the outposts there.
As with the best short stories, indelible images are left on the brain: a teenage boy, convinced he his dying from melanoma, falls crying to the bathroom floor in the arms of a girl he barely knows; two Jewish boys and a Alsatian defend themselves against a racial attack; a little boy who loves birds is forced to kill a baby magpie; a father takes his young son on a holiday to break the news of divorce.
Newton-John treads along these fault lines like a guide, showing us the points where one may fall through the cracks. He does so with a professional listener's ear for dialogue and with a big heart.
If nobody knows what goes on behind closed doors in suburbia, then in this collection of stories Newton-John unflinchingly throws the doors open. The scenes he finds and describes are not always pretty, but they are startlingly illuminated by a promising new talent in Australian literature.
Launched by Jon Bauer
Hill of Content Bookshop, Melbourne
86 Bourke St, Melbourne

Thursday, March 15 at 6 pm
'Newton-John's astonishing collection of stories is both a thing of beauty and the stuff of nightmares. Here is a visceral contemporary world populated with predators, uncertain hearts, the damned and the hopeful, grasping for love and meaning at the edge of what we might call ordinary existence. Here are the fault lines in all our lives, and Newton-John, with an unflinching eye and a mesmerizing style, lays them bare in this sequence of expertly crafted vignettes. Fault Lines returns the grit to the Australian literary landscape.'MATTHEW CONDON
'A startling collection…sly humour and memorable characters.' CHRIS WOMERSLEY