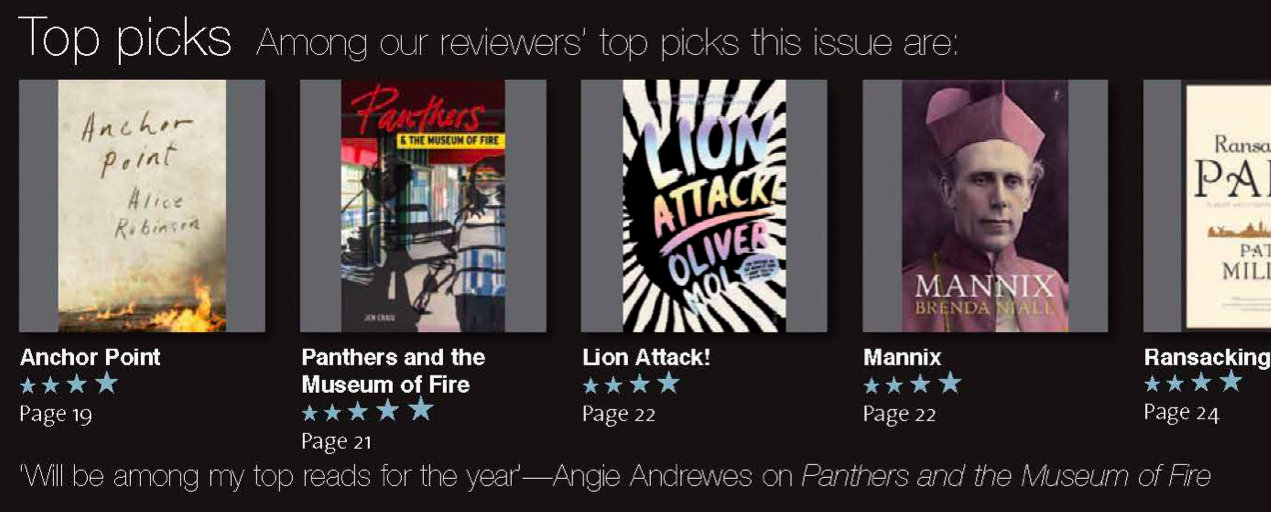 'Bold, original and urgent'
Jen Craig's Panthers and the Museum of Fire, released this month, has received a glowing review from Angie Andrewes in Books+Publishing.
"Craig blurs memoir and fiction as the reader follows Jen, walking from Glebe to Surry Hills to return a manuscript to a deceased friend's relations. On the way, Jen reflects on the text, crediting it with invigorating her sagging enthusiasm for her writing career. As she reflects, however, she also undertakes an excavation of her own psyche, her past and its implications for her future …
"It is an experimental novella but surprisingly easy to read, and brilliant for the very ordinariness of its subject, the everyday reflections of a very human mind throughout the progress of a day."
When it was observed during Spineless Wonders Bookclub how intense it was following the footsteps of Jen Craig, the character, with her very realistic dialogue with herself as she walked along, the real Jen Craig said she saw it as a kind of gesture — "a reading that should sweep you into it as it does the narrator. Which can be as puzzling as it is intense I imagine."
See below for some of Bettina Kaiser's photography for Panthers as well as this month's Panthers-themed competition.

It's the ocean, knit slow
The Ocean, It's A Terrible Thing, is the latest in our Slinkies e-Singles series for emerging writers under 30.
Asked how he approached a new story, author Nick Couldwell said, "I write like someone drunk trying to find their way home and that's saying something because I don't drink. I usually have a very small moment, idea or event in my mind and I just follow it; I start writing. I don't know where it will lead me. Sometimes it strays away from my idea entirely, other times I write until I find that point in the story. There's nothing pretty about it. I usually just follow the character's voice (as corny as it sounds) and wait until something happens. I knit slow and steady compared to quilting big patches of story together at a time."
Meet Nick Couldwell, read his story and join the Slinkies curators as they chat with Nick on Thursday night from 8 to 9 pm AEST, March 12, at the Spineless Wonders bookclub (or catch up with the discussion any time after that).

Meet the interns
What's it like to intern with a small, dynamic press?
Many of our interns have gone on to secure jobs in the publishing and related industry. We spoke to some about the projects they undertook with us, what they are doing now what they are reading or writing and why they want to work in publishing.
Melissa-Jane Fogerty (pictured), who interned in 2013, worked on the women's long story competition, The Amanda Lohrey Selects series. Now she runs her own editing business and is working on a children's book series.
Carrie Leach, whose intern project was Sluglines, is now working in design and communications at a company in Sydney and Evelyn Araluen Corr has begun a PhD at the University of Sydney, focusing on Indigenous and Postcolonial writing.
Spineless Wonders offers project-based internships and work experience to people wishing to enter the publishing industry. Anyone interested program should contact us by emailing here.

Voilà!
This is the cover of our next micro-literature anthology, Out of Place, designed by Richard Holt. Editors Kirsten Tranter and Linda Godfrey are working with contributors, including finalists in the 2015 joanne burns Award.
Among the invited contributors are Ceridwen Dovey (Only The Animals), celebrated experimental poet John Tranter and Australian-born, UK microfiction queen, Tania Hershman.
We are excited to be in talks with a major Australian literary festival about an Out of Place video screen project, similar to Flashing The Square, and will soon be able to reveal details of a new and exciting aspect to this collaborative project.

Great stories, everyone's welcome
Why do you want a 2015 Bookclub Membership subscription at $15 for 4 months?
Because it's amazing! See the new subscription schedule.
Recently featured was Patrick Lenton, whose collection, A Man Made Entirely of Bats, is that rarest of flying mammals: smart literature that makes you laugh.
Patrick was asked: "My favourite story is 'Insomni-Yak' (in which a man who can't sleep is visited by a yak every night). What feels more exposing, publishing your fiction or publishing your non-fiction pieces based on aspects of your life?"
Patrick responded: "Nonfiction. No competition. That said: Publishing 'Uncle Jeremy', a completely fictional story, drove a rift in my family that never really healed. When it was published a third time in The Age, it was just after my granddad's funeral, and that side of the family thought it was about him and thought I was calling them bogans. Which, apart from everything else, wasn't true simply because of the rules of linear time."
Coming up is Nick Couldwell (pictured), whose story, "The Ocean is a Terrible Thing", is the first of three new Slinkies e-Singles to be featured on Bookclub over three sessions. Nick says Tim Winton's first novel An Open Swimmer, which he wrote when he was a teenager, was often used as a source of inspiration.
Subscribe now and quiz Nick yourself.

Win, win, win ...
The story of the five-star rated Panthers and the Museum of Fire occurs in the time it takes for the narrator to walk from Glebe to Sydney's Central Station but in her thoughts she traverses many times and places. Above are details from some of the evocative photographs by artist Bettina Kaiser, inspired by that same walk.
For a free copy of the book, in 25 words or less describe a walking route you like to take when you want to contemplate or be inspired or rejuvenated. Email your entry.
The winner of last month's competition is Catherine Moffat, who chose design A. Catherine wins a free subscription to the Michael McGirr series, twelve digital long stories to be featured at the Spineless Wonders Bookclub from June 2015.

'Quote' unquote
You trace the blue biro between my toes with your tongue. Swirling around my second toe. Wormish. You nip the tough skin on the ball of my foot, press your ear against my warm ankle. I think for a moment just how much I want you to take me ice skating. Just because I like the word "rink". Just so you can lace my white boots and hold my hand as I scream white puffs of air.
"White Noise" by Cassandra Atherton in Writing to the Edge.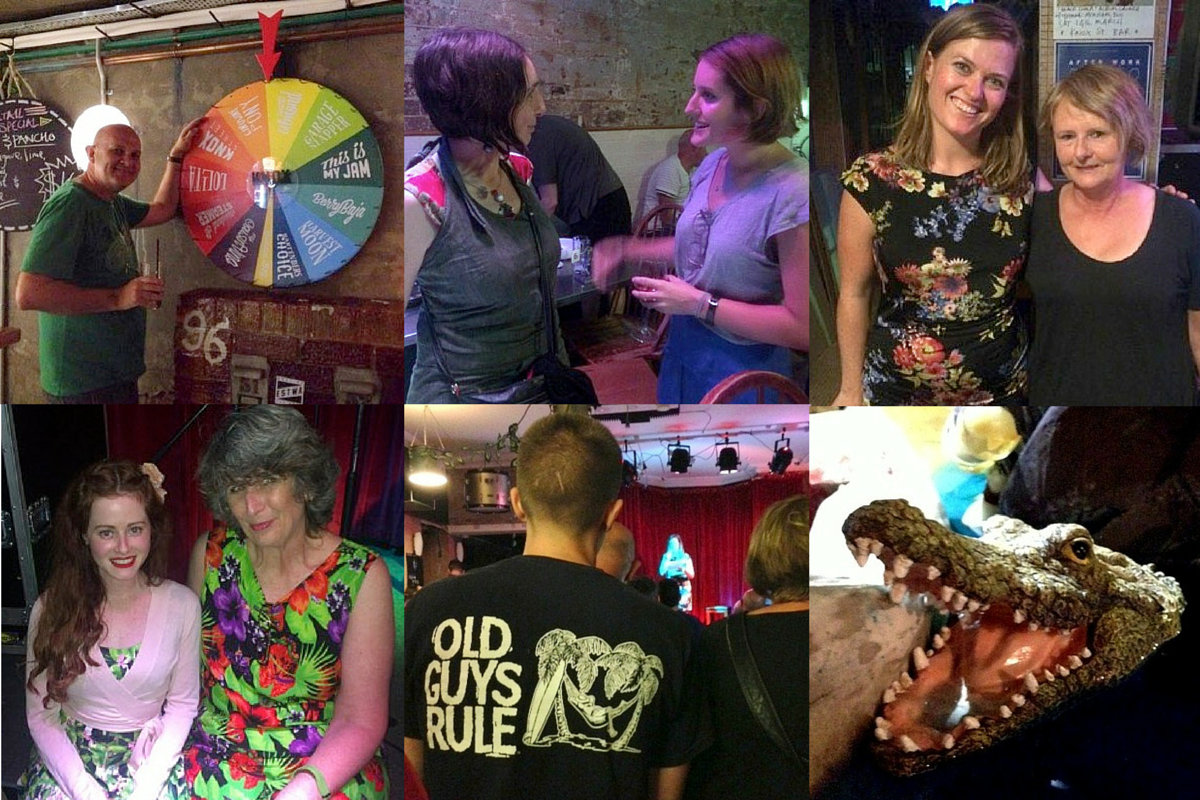 So much happening, so much buzz
Little Fictions this month was a wonderful night. The room was overflowing with people, literature and performances from our talented actors, reading some of the best short pieces by Australian authors. Tim McGarry did an amazing job of MCing and we welcomed Ella Watson-Russell to read for the first time.
Lauren Hamilton Neill read an extract from crime writer P.M. Newton's spooky tale from The Great Unknown. "The Local" is about the pub at the mouth of a valley that sees city slickers come and leave faster than the publican can wash glasses. Lauren also read Clare McHugh's "Briefly", a truly funny piece about being short of statue, read by the shortest actor in our troupe. Fellow short person and author of the piece, Clare McHugh, was in the audience and said the reading was "spot-on".
Ella Watson-Russell read the spine-chilling "Croc" by Pierz Newton John. Pierz's story is informed by his time as a psychotherapist working with jail inmates and victims of crime. Ella also read the beautiful reflective piece "Madame Bovary" by Charles D'Anastasi, about a man sitting in a poetry reading and reflecting on that famous tragic story.
Eleni Schumacher read from Jen Craig's recently-released Panthers and the Museum of Fire, in which Jen discloses the connection between herself and a world-famous dieting company. Eleni also read a spooky short piece called "The Swimmer" by Richard Holt, the man behind Flashing the Square at the Melbourne Writers Festival.
Cait Harris read an extract from Jane Skelton's "the cradle arms of strangers" and gave a convincing impression of a religious rally, complete with speaking in tongues and audience participation. And she delivered a delightful comic reading of Mary Manning's comment on love and commerce in "Customer Care". Alex Williams gave a sensitive and moving reading of Jo Langdon's "Pause", a reflective piece on children and their absent father, and he had the room in stitches with an extract from Alec Patric's "The Rattler", in which a writer visits his hairdresser.
And let's not forget our lucky door prizes. David Wooster, visiting Australia from Thailand, is pictured taking his free spin on the Knox Street Bar cocktail wheel (he won a Berry Baja).
We will be back for another night of entertainment, camaraderie and laughter on Monday April 13.

March 12 - Bookclub
March 26 - Bookclub
April 9 - Bookclub
April 13 - Little Fictions
May 2 - Launch of Panthers and the Museum of Fire by ABC radio's Julian Day at the Knox St Bar, Chippendale, 4pm.
Patrick Lenton appearances:
March 21 - Noted Literary Festival, Canberra.
April 28 - Better Read than Dead Talking Heads event, Newtown Library.
May 21 - Sydney Writers Festival satellite event, Bondi Pavilion.
Thanks to Bridget Lutherborrow for the photographs (above) from the launch of Patrick Lenton's A Man Made Entirely of Bats.