Have a little fiction with your writers' festival!
Little Fictions is proud to be part of the 2015 Sydney Writers Festival.
In addition to our regular date on May 11, you can also join us on May 18 at the Knox St Bar in Chippendale. The show starts at 7 pm and the bar is open from 5.30 pm for food and drinks.
We have an exciting line-up of readings for both sessions. Authors include experimental writer Ryan O'Neill, whose funny and moving story of a Ugandan refugee is told entirely through ESL homework exercises. Also in the line-up is Richard Holt's chilling 'Bush Burial', about rough justice meted out in the criminal world, and Ben Brooker's dystopic world of 'Awake', where nodding off can prove fatal.
Along with our regular talented actors we also have special appearances by authors Jon Steiner, reading his darkly hilarious stoner story 'Robber', and performance poet Alana Hicks. As a taster, here is a link to Alana reading her evocative piece, 'Movements', from Flashing the Square.
April's Little Fictions was graced by three of Spineless Wonders' distinguished authors: Jen Craig from Sydney, Claire Aman (pictured with Eleni Schumacher, who read 'What I Didn't Say at the Wedding'), and Sylvia Petter, who dropped in on her way home to Vienna.
The night was warm and fuzzy, as usual, with excellent stories read by a talented team of actors. Readings veered from the laugh out loud funny (Alex Williams reading Slade Quinn's 'Kurt and the Interview' and Patrick Lenton's 'Ross Geller Man', Lauren Williams reading Jon Steiner's 'How to Install', and Ella Russell Watson reading Libby Chellew's 'Hard Knots'), to the politics of class and money with Tim McGarry reading Mark O'Flynn's 'Loaded Dice', to a few serious pieces where we had a chance to reflect on our mortality (Tim reading Susan McCreery's 'Lights' and Lauren reading Cameron Semmen's 'I Saw a Man Die'.
All in the name of literature of course — listening to fine writing.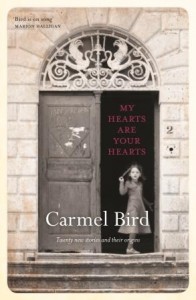 Pre-release offer for Carmel Bird collection
Carmel Bird's My Hearts Are Your Hearts: Twenty New Stories and Their Origins, the first in Spineless Wonders' Fiction Plus series, will be launched by Gabrielle Lord in Sydney on July 25 ...
... and by Cate Kennedy at the Bendigo Writers Festival on August 9!
The Sydney launch, at Berkelouw Books, Leichhardt, Saturday, July 25 at 6 pm, will be a combined literary event also involving the The Carmel Bird Award ceremony and launch of the Michael McGirr Selects series.
Orders placed before July 25 will receive the long-awaited collection of short fiction at a discounted price (plus a free four-month subscription to the Spineless Wonders bookclub).
My Hearts Are Your Hearts brings together twenty stories, including some recently published as well as a number that will be published for the first time. The stories navigate moments in human experience both shared and unique; stories of life and death, loss and fear, love and betrayal.
Organised under the headings, 'Body Parts', 'Laws of Love', 'Sudden Death' and 'Life Saving', and ranging from playful to poignant, the stories all deal with matters of the heart – including the heart-shaped island of Tasmania, which has featured in much of Bird's fiction.
An essay in My Hearts Are Your Hearts reflects on the origins of the twenty short stories – sources ranging from found objects to works of literature, fairy tales, memory and imagination. Bird also reflects on issues relevant to the writing of fiction and the short form, including the structure of a short story collection, narrative voice and genre.
Robert Drewe says My Hearts is 'Intimate and witty, romantic and ironic, and, above all, compassionate. Carmel Bird's extraordinary stories do more than take you in — they abduct you.'
This is a must for lovers of short fiction – for readers and for writers. See the pre-release offer.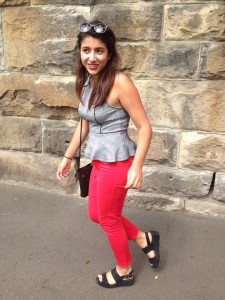 Inspired to intern?
Do you know someone who'd like a project-based internship and work experience that will help them enter the publishing industry? Maybe it's you?
Some Spineless Wonders interns take on projects through a tertiary institution while others use the experience to add to their curriculum vitae.
Aleesha Paz (pictured) was undertaking a Master of Publishing when she took on Spineless Wonders' Slinkies e-Singles Under 30, assisting with the editing and proofreading, liaising with authors and editors involved, e-book layout design, digital conversions and uploading the e-books to the distributors website.
"E-books are an integral part of the publishing industry and having knowledge and experience in this area is incredibly relevant," she says.
Kathryn Moore, who has graduated from the Professional Writing and Editing course at RMIT, worked as the editor of Patrick Lenton's A Man Made Entirely of Bats.
Kathryn says, "It really is an industry where people are generous with their time and always happy to share their knowledge. Certainly, that's what I found with Spineless Wonders. In turn, I hope to help others and share the expertise I have gained."
Intern projects are supervised by Spineless Wonders staff who provide ongoing advice, verbal and written feedback and references if required. They are devised in collaboration with the prospective intern and based on Spineless Wonders' needs as well as the intern's existing interests and skills.
Meet our interns and learn more about internships here.

Write 5,000 words, win $500
Zane Lovitt, documentary filmmaker and Ned Kelly Award-winning crime writer, will judge the 2015 The Carmel Bird Award competition on the theme "new crime writing".
Winning and selected shortlisted stories will be published in the Spineless Wonders crime-themed anthology along with stories by invited authors.
Zane is keen to discover a selection of outstanding stories to include alongside award-winning authors such as Angela Savage, Peter Corris, Leigh Redhead, Andrew Nette, David Whish-Wilson and Tony Birch, who will all contribute new crime writing to the anthology.
He is not only searching for short crime fiction with a uniquely Australian flavour, but also for new writing that comes at the world of crime aslant, placing the crime in the background and the characters, the place and the atmosphere up front.
First prize: $500.
Length: 5,000 words max.
Closing date: August 31, 2015.
How to enter: Click here.

Join us, discuss stories
The next Spineless Wonders online bookclub session, Thursday April 23, will showcase the writing of emerging author Julie (JYL) Koh. Her collection, Capital Misfits, subtitled 'Seven Exercises in Economical Fiction', explores the absurdity of a world in which the market has become God.
Join Julie Koh and Slinkies collection series editor, Bridget Lutherborrow, for an interesting hour of discussion.
There is still time to subscribe to the current bookclub season. For only $15 you receive eight downloads, including A Man Made Entirely of Bats, Panthers and the Museum of Fire, three Slinkies singles, Julie Koh's Capital Misfits plus audio stories from Mark O'Flynn and Jude Bridge. Subscribe to season #1/2015.

Walking/thinking winner
The winner of last month's competition is Anna Boyd from Duncraig, Western Australia. A copy of Panthers and the Museum of Fire goes to her walking/thinking entry:
Midnight sun shining. My breaths dancing icicles. Virgin snow stretching limitlessly. The wind bringing the scent of spruce. My eyes open — my bus has come.
Thanks to all those who entered.
This month's competition:
In this exclusive interview about her new collection, My Hearts Are Your Hearts, Carmel Bird mentions four playful writers she admires. Name one of them for a chance to win a free copy of her collection. Email your entry.

'Quote' unquote
Yesterday I was under-slept and impatient to talk to my friend even though I was still caught up, busy with my writing — so happy to be writing at last the kind of water that moves over water without visible sails — I was writing and all the time I was also watching myself writing; everything seemed to be possible after reading the manuscript; this was the way to write, I could see: just cutting to the quick.
Panthers and the Museum of Fire by Jen Craig

Heart to heart: Bird launches Halligan's new novel
Carmel Bird was in Canberra on April 14 to launch Marion Halligan's new novel Goodbye Sweetheart. If you missed it, here's what she said.
Bird's new short story collection, My Hearts Are Your Hearts, will be published by Spineless Wonders in August (take up our special pre-release offer).
Spineless Wonders Publisher, Bronwyn Mehan, who had a celebratory lunch with the authors on the day after the launch, said that Bird's and Halligan's contribution to Australian literature was profound. Both authors had published more than 20 books of outstanding quality and originality. She said she was also particularly proud to publish Bird's two most recent books, Dear Writer Revisited and the upcoming My Hearts Are Your Hearts: Twenty New Stories and Their Origins.
My Hearts is the first in Spineless Wonders' Fiction Plus series, in which authors tell the stories behind the stories — what inspired them and how their creative process works.
Bird and Halligan are longstanding friends who twice a week by phone have heart to hearts about writing and their other mutual interests.

Give a #GOB on Mothers Day
Every mum deserves a good book on Mothers Day (and on all other days). So why not make it a Spineless Wonders book?
Our #GOB (give one book) campaign doesn't come with a special offer like it did at Christmas. But we know your mum will love our books and the fact you're supporting a specialist Australian publisher through your purchase!
Panthers and the Museum of Fire, A Man Made Entirely of Bats, Cracking the Spine, Dear Writer … Revisited – these and other Spineless Wonders titles are gobsmackingly good.
Mothers Day is on May 10 so hurry and order your #GOB for mum now through our online shop.

April 23 - Julie Koh's Capital Misfits on Spineless Wonders online bookclub, 8-9 pm
April 28 - Patrick Lenton in Talking Heads: Comedy at Newtown Library, 6 for 6.30 -7.30 pm
May 2 - Launch of Panthers and the Museum of Fire by ABC radio's Julian Day at the Knox St Bar, Chippendale, 4 pm
May 7 - 'Iago' by Mark O'Flynn on Spineless Wonders online bookclub, 8-9 pm
May 9 - In Conversation with Jen Craig and Debra Adelaide, Gleebooks Dulwich Hill, 3.30 for 4-5 pm
May 11 - Little Fictions @ Knox St Bar
May 18 - Sydney Writers' Festival presents Little Fictions @ Knox St Bar
May 21 - Patrick Lenton's A Man Made Entirely of Bats performed as a Sydney Writers Festival satellite event, Bondi Pavilion, 6.45 – 8 pm
May 21 - 'Cake Mistake' by Jude Bridge with guest host, Little Fiction actor, Lauren Neill, 8-9 pm