Writers' festival will see strange fiction performed to live audiences in real time
Not only is Spineless Wonders at the Sydney Writers' Festival — Little Fictions and A Man Made Entirely of Bats — but we've also been invited to put on a one hour best of Little Fictions at the Bondi Feast on July 16.
Patrick Lenton says it's a big thrill having his A Man Made Entirely of Bats as part of the Writers' Festival. 'It's an institution I've always wanted to be a part of. I am also so excited at the innovative way they've included my very strange book — having a night where comedians and actors read stories from my book is just so perfect and shows that the festival is able to think outside dusty panels filled with old white men talking about books.
'The actors are all amazing performers, and I'm so keen to find out how they interpret my work. Of particular note is Penny Greenhalgh, an amazing comedian I've worked with before.'
On Monday May 18, Knox St Bar, 21 Shepherd Street, Chippendale, will host Little Fictions @ Sydney Writers Festival (7-9 pm).
Among ten stories performed by actors will be Lauren Hamilton Neill taking on 'The Trading Floor in Heaven' (a wild piece of fiction about dead people trading their karma) by Julie Koh, a Sydney-based lawyer-turned-writer whose short stories have appeared in many journals.
Eleni Schumacher will perform 'My English Homework' by Ryan O'Neill, one of Australia's foremost experimental authors. Alex Williams will perform 'Awake' by Ben Brooker, a regular writer for The New Internationalist, critic, essayist and playwright. 'Awake' is mentioned in Nike Sulway's review of World to Come.
Ella Watson-Russell will perform 'Those Gauls Must Be Crazy' by Claire Aman, who says she wants people to imagine their blue-spangled tights 'and the stolen dog you are tugging along on a dressing-gown cord, a surprise gift at a wedding to which you hadn't been invited'.
Food and drink available. Tickets at the door.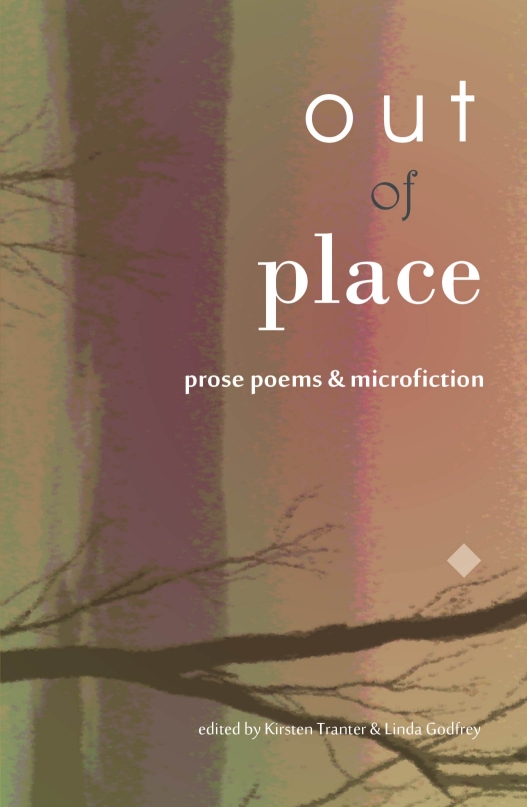 Spineless Wonders showcases sparkling treasures
As editors Kirsten Tranter and Linda Godfrey teased out the concept of 'travel', the theme for Spineless Wonders' annual anthology of microliterature, it was clear that the experience didn't have to be about physical movement but could also incorporate writing and reflecting on dislocation, in space, time, feeling, psyche and memory.
Contributors to Out of Place, including new and familiar voices among Australia's best micro-wordsmiths, produced journeys in words that took them somewhere surprising.
Humorous, weird and breathtaking, full of laughter, irony and grace – these stories will sweep you up, shake you, stir you and set you down again somewhere other than where you began.
'With the unsettling perfection of the miniature, this is a collection of sparkling treasures — each one demanding to be held up examined, re-examined and then marvelled over.'
Georgia Blain (author of The Secret Lives of Men)
Out of Place will be released in June, 2015.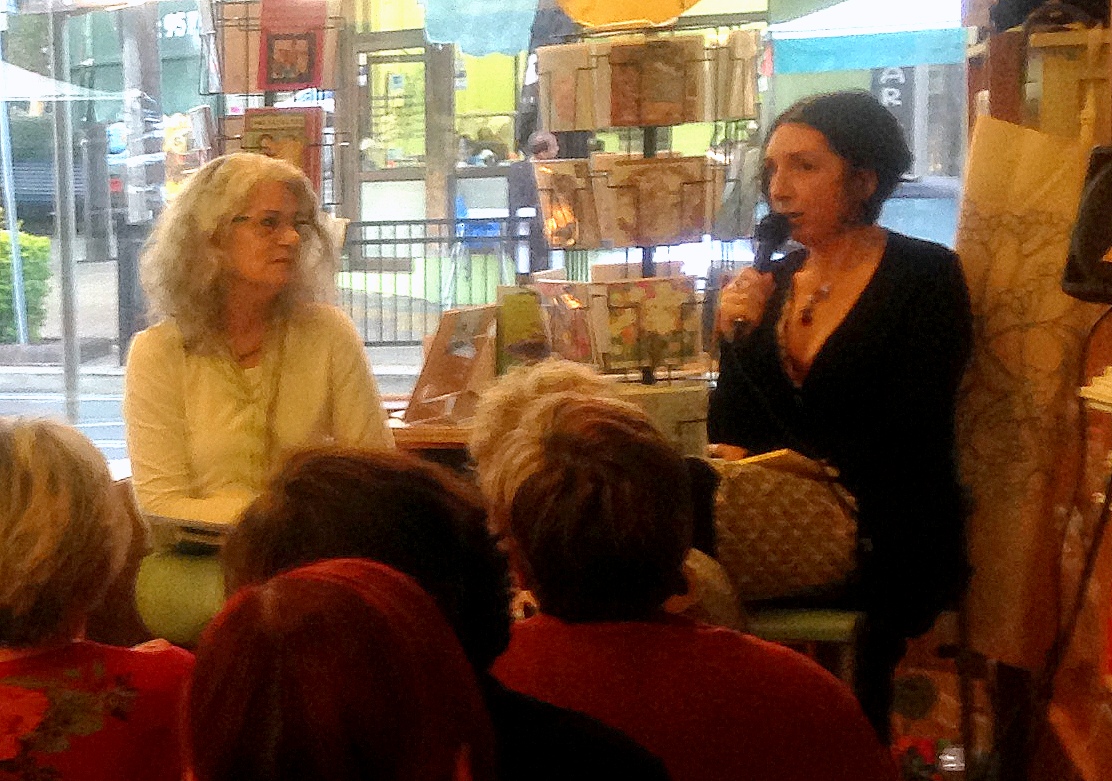 Jen Craig talks creative space
The intertwining of writing and reading was a recurring theme throughout the conversation when Jen Craig spoke with Debra Adelaide at Gleebooks, Dulwich Hill, on May 9.
The discussion ranged from the inspiration and creative process behind Panthers and the Museum of Fire to Proust to the elegiac nature of lost friendship.
'The experience of writing it is also the experience of reading it,' said Jen (pictured right). 'It has to be an experience, I have to feel it and that's what I'm looking for. So in some sense I stretch it, I keep stretching it until I get that shape.'
Panthers, she said, was about what it was like for her writing her first book. She discovered how a certain kind of reading, a certain kind of experience, could suddenly explode.
Jen said, 'The most important thing is the voice, the most important thing is the gesture of the piece. And so it needs to find its own shape. That's what I'm obsessed with.'
Jen Craig's novella, Panthers and the Museum of Fire, is available here.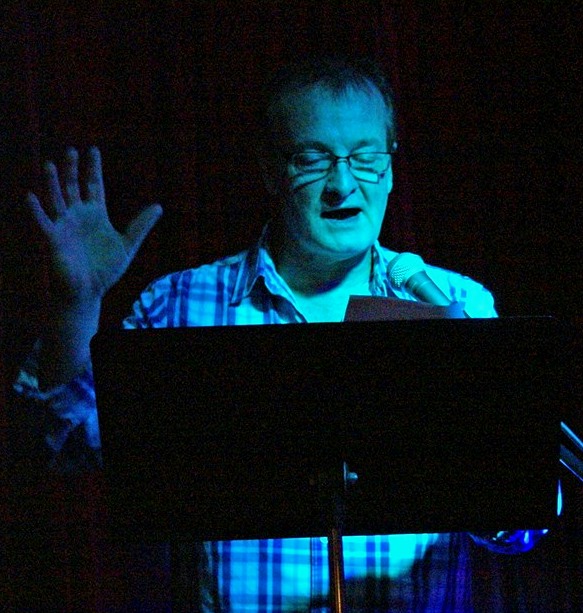 Behind the scenes at Little Fictions
Tim McGarry, one of the talented actors who performs at Little Fictions, says he loves telling stories and the subtext or meaning behind a story — 'Why did the writer write it?'
He also loves listening to other performers at Little Fictions. 'I love the fact that it gives writers a chance to hear their words out loud. And for me it is a little escape, a chance to relish some good writing and reading without pressure!
He says he really enjoyed performing 'Lights' by Susan McCreery. 'It was a relatively short but incredibly powerful piece. I get connected to pieces that have some type of relevance to my life or somebody I know. That is generally how I prepare — imagine myself as someone else, or in someone else's shoes. Similarly when I read Mark O'Flynn's "Iago", the lines and character reminded me of someone — Dr Smith from Lost in Space. I loved that show as a kid and for that piece I channelled him! Or tried too!'
Tim, who started taking drama classes at 13 and studied acting at the Western Australian Academy of Performing Arts, has been busy working with colleagues at Monkey Baa on an adaptation and creative development of Li Cunxin's The Peasant Prince, 'a hugely challenging piece which I will direct for he company in 2016'.
His next gig as an actor will be Coming to see Aunt Sophie, a play about the extraordinary true story of Jan Karski, a young Catholic activist in the Polish resistance who tried to stop the Holocaust. 'It is the remarkable story about a quiet hero, in conflict with his younger self; haunted by what he saw and struggling with what he failed to do. I play 25 different characters and somehow master eight different accents … a challenge ahead.'

New Bookclub season starts in June
If you haven't done so already it's time to get your special Spineless Wonders Bookclub subscription.
The new schedule is now available so mark your diary, meet the authors and join the online discussion.
Subscriptions include 15 digital downloads delivered to your inbox. There are 12 long stories selected by Michael McGirr, two more Slinkies collections (Sam George-Allen and Kate Liston Mills) and Carmel Bird's My Hearts Are Your Hearts.
We meet every second Thursday between 8 pm and 9 pm to discuss a story, put questions to the authors and chat about writing. Drop by and take a look at previous discussions.

'Quote' unquote
Brendan looked up from snuffling around in a hedge, expectantly sidling closer, until as one, the herd spooked and bounded away further down the beach. Jed was the last to leap away, trembling and casting a long-antlered shadow over Brendan, protecting his herd from outsiders.
'Nice rack, Jed,' quacked my father, throwing his beer bottle at the disappearing deer.
Mum slapped his arm, but she still smiled.
'The Neighbour Herd', A Man Made Entirely of Bats, Patrick Lenton
Make no mistake with Bridge and Neill
The final session for the current season of Bookclub (May 21) is the hilarious, witty, political 'Cake Mistake' by Jude Bridge, an audio download from Stoned Crows and Other Australian Icons.
Jude Bridge is a writer, singer, songwriter and actor living in a fantasy world and in Western Australia.
Download 'Cake Mistake' performed by Lauren Neill recorded at Little Fictions @ Knox Street Bar (for 99 cents).
Win a Bookclub subscription
The winner of last month's competition is Sonali Patel, who told us that Carmel Bird mentions four playful writers in her interview with A Bigger Brighter World and that one of them is Ford Maddox Ford. Sonali wins a copy of My Hearts Are Your Hearts.
To win a subscription to the next Spineless Wonders Bookclub series, tell us the name of the story and author that will feature at Bookclub on October 1.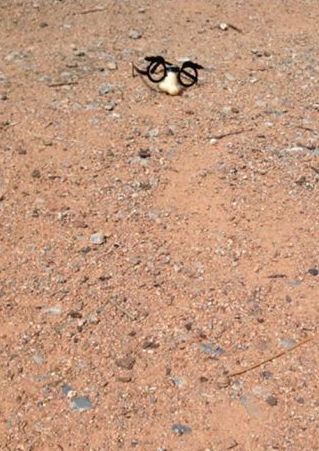 A writerly pondering of someone else's tragedy
From first hearing Jon Steiner's story at Little Fictions, Adam Norris was a stalwart fan.
'It was a strong, sprawling piece, erudite as it was hilarious, and besides — who doesn't crave a guest appearance from David Foster Wallace these many years since his death?'
Adam was quite humbled to hear Jon was interested in having him perform it for Radiotonic.
'The recording experience itself was a curious occasion, as I had never been inside an anechoic chamber before and had been forewarned that many people can find themselves growing dizzy (I would claim this as a goal for echolocation were it not for the fact I saw a bat fly into a telegraph pole).'
Jon was glad Adam was up for doing the reading. 'Not only does he have a great radio voice, he's also a literary type and he'd seen me read "Poioumenon" at Little Fictions, so I knew he'd get where it was coming from.
'We did some work on the pacing and rhythm beforehand, figuring out things like which parts should be read fast and where the pauses should go. Because the story is kind of unconventional and text-heavy, and not much actually happens in it, the big challenge was figuring out how to make it work as a radio piece.
'But in the skilled hands of producer Julie Shapiro and sound engineer Louis Mitchell, it took on an auditory life of its own, acquiring a setting (on a train station platform) and music and sound woven through it. It was so much fun to be part of the process, and what a cool feeling to listen to my story transformed into a work of audio art!'
Jon Steiner is an American-born Australian writer based in Sydney. 'Poioumenon' first appeared in the anthology Escape, published by Spineless Wonders, which is releasing a collection of Jon's short stories in late 2015.

May 18 - Sydney Writers Festival presents Little Fictions @ Knox St Bar.
May 18 - Mark O'Flynn (White Light, Spineless Wonders, 2014) will be in conversation with Patti Miller for the session 'Ransacking Paris' at Sydney Writers' Festival, Blue Mountains, 'on the ethics and usefulness of thieving from others for the purposes of writing and self-knowledge'.
May 21 - 'Cake Mistake' by Jude Bridge with guest host, Little Fiction actor, Lauren Neill, 8-9 pm.
May 21 - Patrick Lenton's A Man Made Entirely of Bats performed as a Sydney Writers' Festival satellite event, Bondi Pavilion, 6.45 – 8pm.
June 4 - 'We Are All Travellers Here' by Marjorie Lewis-Jones on Spineless Wonders Bookclub, 8-9 pm.
June 10 - Launch of Slinkies collections at Jane's Café, Wollongong, 6.30 for 7-8 pm.
June 18 - 'The Waterfowl Are Drunk!' by Kate Liston-Mills on Spineless Wonders Bookclub, 8-9 pm.
July 21 - Little Fictions @ Bondi Feast.
Upcoming launches:
July 25 - My Hearts Are Your Hearts launch by Gabrielle Lord plus Michael McGirr Selects series launch by Carmel Bird at Berkelouw Books, Leichhardt, 7 pm.
August 8 - Panthers and the Museum of Fire launch by Julian Day at Knox St Bar, Chippendale, 4 pm.
August 9 - My Hearts Are Your Hearts launch by Cate Kennedy at the Bendigo Writers Festival, 10 am.