All the 'cool kids' gathered for Young Writers' Month and Slinkies launch
June is National Young Writers Month and Spineless Wonders joined in the celebrations in Wollongong with its launch of three new Slinkies collections at Jane's Café on June 10.
There will also be a special June 18 Bookclub event with Slinkies author Kate Liston-Mills and Slinkies curator, Bridget Lutherborrow.
Those fortunate enough to be 'hanging with the cool kids' at Jane's, packed from front to back, shared with Bridget and Spineless Wonders' Linda Godfrey and Bronwyn Mehan in the launch of the new Slinkies (digital stories by writers under 30):
• Sam George-Allen's I Put A Spell On You,
• Julie Koh's Capital Misfits, and
• Kate Liston-Mills' The Waterfowl Are Drunk!
The event was part of Express Media's National Young Writers' Month, brought to Wollongong by Wollongong Writers' Festival.
Pictured at the launch are Kate, Julie and Alice Roberts, who read from the absent (but pictured above) Sam's collection (which she was driven to write because, 'I got a crush and it felt like voodoo').
Interviewed for National Young Writers' Month, Bridget Lutherborrow said it was important to encourage and support young and emerging writers if we want to have exceptional writers in our future. 'Also, the kinds of writing and subject matter young people want to write is often invalidated, because it might be a bit raw or incomplete, but I think young/new writers can have an incredible energy and unique perspective on what it's like to exist at this moment in history.'
Kate Liston-Mills, a fiction writer based in Pambula on the southern coast of New South Wales, says she wrote her collection because she loves Pambula. 'I love the dicky little birds called purple swamphens. And because I had an aunty who was a part of the fabric of Pambula who recently passed away; she had Down syndrome. She was pretty cool. Most of the stories are about her in some way. Who she was and what she represented. Sometimes you find teachers in life in the most obscure of places and in all sorts of disguises.'
Read Meghan Brewster's review of The Waterfowl Are Drunk!

July is … Microlit Month!
In July Spineless Wonders will celebrate bite-sized Australian literature through Microlit Month.
Each day an audio version of a selection of micro-literature from Spineless Wonders anthologies will be published on SoundCloud and shared through Facebook and Twitter. Discover your favourite Australian micro-literature authors and their unique audio pieces, share them with friends and join the daily discussion on Facebook, Twitter and SoundCloud.
From Western Australia to Sydney's Inner West, Spineless Wonders will be showcasing our favourite micro-literature authors from around Australia, as featured in the latest anthologies, Small Wonder, Stoned Crows and Other Australian Icons, Writing to the Edge and Flashing the Square.
These are beautifully distilled pieces to enjoy on the move—commuting to work or waiting in line. From magic powers to supermarket encounters, lucid dreams to fur-lined walls, we invite you to step into the world of micro-literature.
Be sure to follow us to access, share and comment on this great daily content on Twitter (@SpinelessWonder) or on Facebook. Sign up to SoundCloud now if you'd like to comment directly into the audio pieces as they're released. Your comments will appear onscreen when other people listen to the audio!
Download and keep a range of audio stories of varied lengths, including micro-literature and short stories. For more information, visit the Audio tab on the Spineless Wonders website.
We hope you'll be inspired by some of Australia's most talented micro-literature authors in the lead-up to the launch of our newest anthology, Out of Place. Pre-order your copy.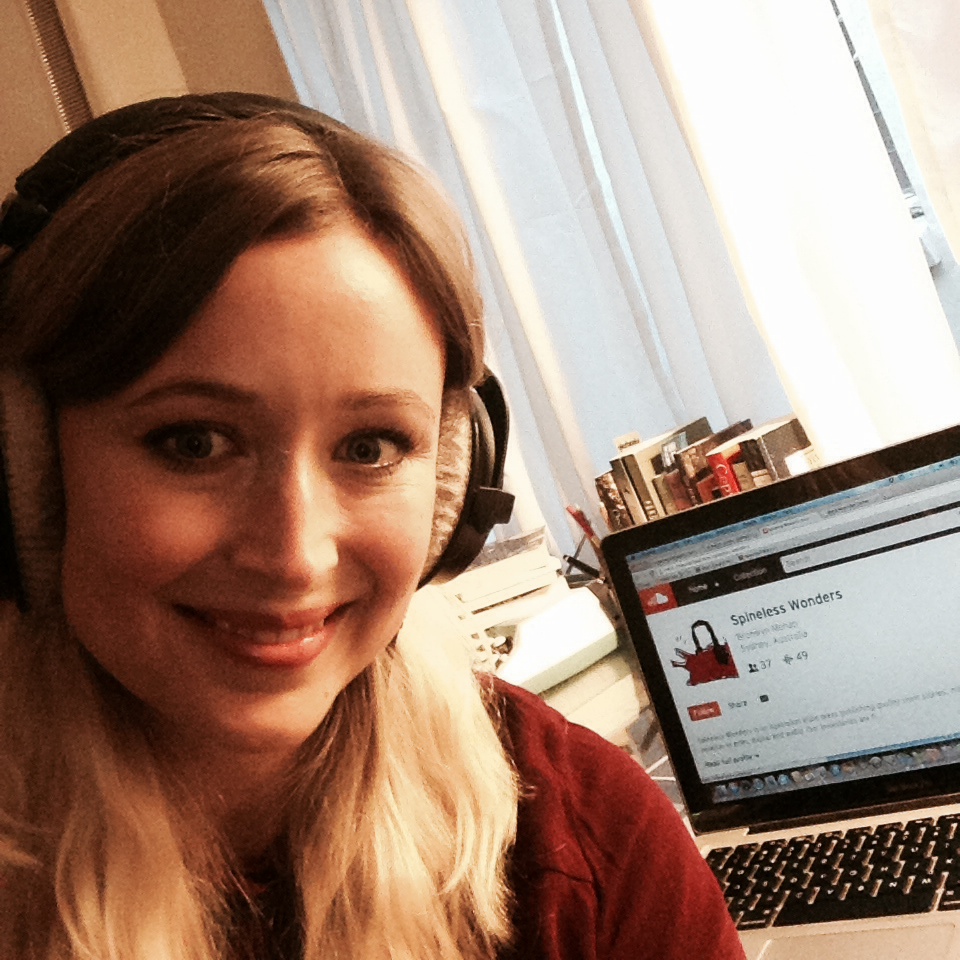 What draws Amber to microlit?
Microlit Month intern Amber Dalrymple says she's drawn to microlit because she loves good writing and discovering new authors.
'The short format of microlit allows me to appreciate entire pieces of literature on the move, with no need to break the spell. I can be travelling two stops on the train or standing in a line and discover a new author I love.
'I've been listening to audio recordings of pieces from the Spineless Wonders anthologies Flashing the Square and Writing to the Edge and I find these pieces stay with me even though some take less than two minutes to listen to. This writing has impact.
'There isn't an author on the Microlit Month playlist that I haven't investigated further, and I find myself wanting to read or listen to everything they've written.'
Amber's favourite from the Spineless selection?
'It's a hard one to call, but my favourite from the Microlit Month playlist would have to be "Pelts" by Marjorie Lewis-Jones, which appears in the Spineless Wonders anthology Writing to the Edge. I was introduced to this brilliant writer recently through the Spineless Wonders online book club (subscribe here), so I was pleased to see her name in the playlist. At just under four minutes, "Pelts" is one of the longer recordings in the Microlit Month playlist and it somehow manages to get inside my head and steal my thoughts.
'Who's your favourite? Make sure you follow Spineless Wonders during Microlit Month to access, share, and comment on Twitter, Facebook and SoundCloud!'

Microlit inspires emerging composers
Emerging composers are creating soundscapes inspired by micro-literature in an exciting new collaboration between Spineless Wonders and the Sydney Conservatorium of Music.
Four aspiring composers have chosen a work from Spineless Wonders' upcoming micro-literature anthology Out of Place to fuel their creative process.
Each finished composition will be coupled with a recorded reading and text-based version of the micro-literature piece it relates to. These will be screened during the Out of Place launch on July 18 at Knox Street Bar in Chippendale.
The students' soundscapes were all created for the 'Electroacoustic Composition' course taught by Sydney Conservatorium lecturer and award-winning composer, sound and digital media artist, Dr Daniel Blinkhorn.
As well as featuring at the Out of Place launch in July, the cross-disciplinary works would be screened in Federation Square in Melbourne later this year.


High praise from book industry bible
Three new Spineless Wonders releases have featured in Books and Publishing, even receiving four- and five-star reviews.
Bronwyn Reddan said of My Hearts Are Your Hearts: Twenty New Stories and Their Origins by Carmel Bird:
'Bird's … finely observed descriptions of the minutia of love, death and life will both shock and amuse readers interested in re-examining the seductive promise of a happy ending. The prose is deceptively easy to read, with matter-of-fact narrators providing the unvarnished truth of their inner lives—truths that have a habit of returning to your thoughts long after the story is finished. The lively critical essay, a conversational reflection on the stories behind the stories, complements the imaginative breadth of the collection. This is a rewarding read for fans of short fiction.'
Veronica Sullivan, online editor of Kill Your Darlings, said of A Man Made Entirely of Bats:
'In this collection of short stories and flash fiction, Patrick Lenton careens wildly across genres and draws on elements of surrealism, horror, fairy tale, stand-up comedy and pulp fiction to generate tiny worlds that are surprising, original and frequently hilarious ... There are echoes of David Sedaris' surreal animal fables Squirrel Seeks Chipmunk. Like Sedaris, Lenton is hugely entertaining, which renders occasional moments of emotional tenderness all the more poignant.'
Angie Andrewes said of Panthers and the Museum of Fire by Jen Craig:
'Bold, original and urgent ... a complex work of fictionalised-memoir in the style of writers such as Karl Ove Knausgaard and Sheila Heti. Fans of Joyce and Virginia Woolf may also be interested, as will many writers, I think. It is an experimental novella but surprisingly easy to read, and brilliant for the very ordinariness of its subject, the everyday reflections of a very human mind throughout the progress of a day.'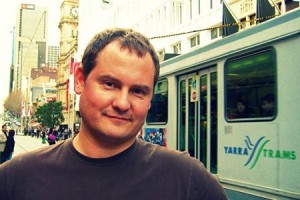 Energy and commitment (and a good editor) are to be admired
A. S. Patric, author of The Rattler & Other Stories, has now released his first novel, Black Rock White City.
His editor, Linda Godfrey, reports:
'I flew to Melbourne for the launch of Alec's book, but also to spend a few days on Lygon Street with my daughter (Persian food, pizza, pastries, mani/pedi, you get the picture. Oh, and editing her uni assignments, who knew) and to catch up with a writer friend who had just come back from living in Cartagena, Colombia, with his family.
'Mark Vender and I caught up at Alec's launch, where a room full of people at St Kilda Readings were there to wish Alec's book a long and prosperous sail. The book was launched by Maxine Beneba Clarke.
'I had a chat with Transit Lounge's Barry Scott and Angela Meyer.
'Alec said many fine things about our collaborations over time but towards the end it turned into a bit of a roast. There were lots of jokes about how tough I am as an editor but all in good fun and I know he is pleased with the attention I give to his words.
'He has said, "I have found Linda an invaluable editor for The Rattler and Other Stories and also my novel Black Rock White City. Beyond her technical command, which is of the highest standard, she has both a clarity of mind and a rigour of intent, which are of the most essential benefits to any writer."
'Alec's wife, Emily, wrote to me and said, "Thanks for all your hard work with Alec. He loves the push you give him and the tirelessness and passion you bring to your work."
'Alec is tireless in his quest to be the best writer he can be and to be published. Black Rock White City was launched and already he is lining me up to edit his next novel later this year. Such energy and commitment is to be admired.'

A cat-chy competition
Leslie Tulloch won a subscription to Spineless Wonders' Bookclub series by telling us the name of the story and author that will feature at Bookclub on October 1.
With Bats and Panthers now prowling the streets. For a complimentary copy of either title, tell us in 20 words or less about your favourite story or book told by an animal, featuring an animal or with an animal in the title … and why.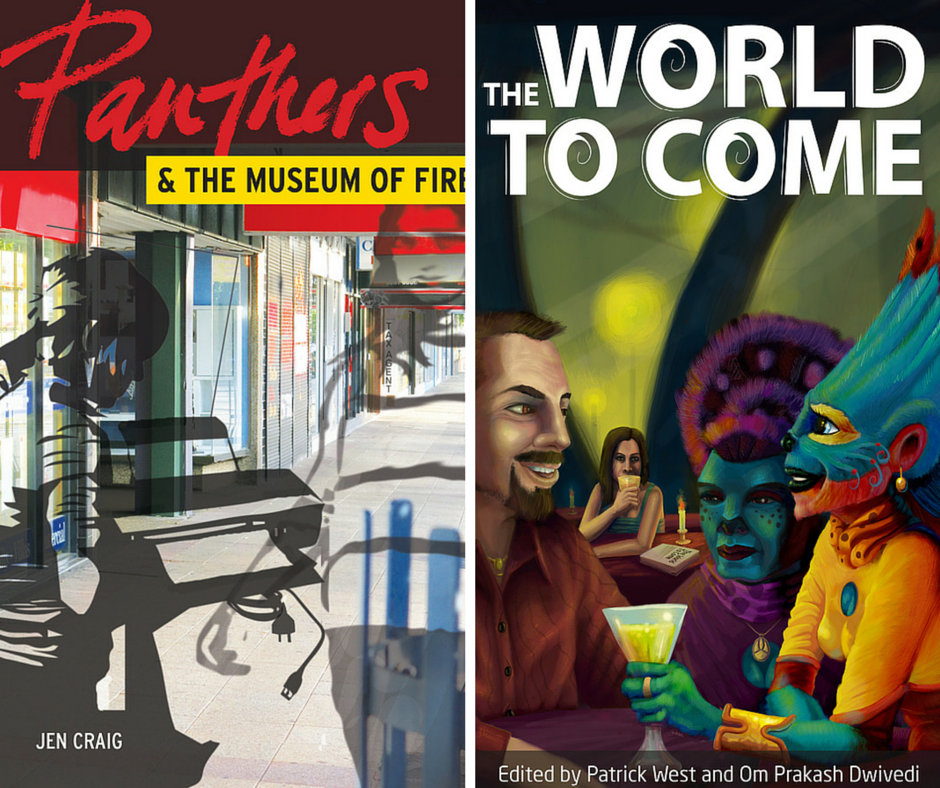 In the reviews …
The Clothesline: Panthers & the Museum of Fire is genuinely fresh, radical, exciting, brave and utterly self-aware. It is unconcerned with anything except the telling of the story and the uniqueness of its voice. The fact that it is reckless with conventions only deepens its charm and appeal.
Text Journal: The world to come, as imagined in the 21 stories, will be an enactment of both our deepest fears and our wildest fantasies. Worlds in which climate change has brought humanity to the brink of extinction, biomedical technology has changed our bodies beyond recognition, and loss is a constant companion. As such, most of the stories in this anthology are speculative: they are visions of the future imagined in terms of changes in technology and culture.
Sydney Morning Herald: Stream of consciousness is a technique characterised by its obsessive attention to even the smallest details and digressions in the way a mind works from moment to moment. Craig uses it to ponder friendship, Sydney, anorexia, fathers, the past, and – most importantly –writing itself.

'Quote' unquote
Sometimes I think that the writer's voice, for want of a better term, can never be found without pain … None of this is easy but if you want people to listen to you, you will need first of all something you urgently wish to say, and you will need the words and the voice with which to say it.
Sometimes students need to be shocked into opening their hearts and mouths in order to find the power of speech. … Writers at their screens or pages are like the little cat caught on the balcony, they sometimes write best when they are creatures in danger crying out for their lives. And when I set out to trap my students on balconies, I am sometimes rewarded by the sounds of their voices.
Dear Writer Revisited by Carmel Bird (Pre-release offer.)

Dates for your diary
June 18 - The Waterfowl Are Drunk! by Kate Liston-Mills on Spineless Wonders Bookclub, 8-9 pm.
July 2 - I Put A Spell On You by Sam George-Allen on Spineless Wonders Bookclub, 8-9 pm.
July 13 - Little Fictions @ Knox St Bar, 7 pm.
July 21 - Little Fictions @ Bondi Feast.
Upcoming launches:
July 18 - Out of Place launch with guest editor Kirsten Tranter direct from Berkeley,USA and including screening of videos featuring scores by emerging composers, at Knox St Bar, Chippendale, 4pm.
July 25 - My Hearts Are Your Hearts launch by Gabrielle Lord plus Michael McGirr Selects series launch by Carmel Bird at Berkelouw Books, Leichhardt, 7 pm.
August 8 - Panthers and the Museum of Fire launch by Julian Day at Knox St Bar, Chippendale, 4 pm.
August 9 - My Hearts Are Your Hearts launch by Cate Kennedy at the Bendigo Writers Festival, 10 am.
August 12 - My Hearts Are Your Hearts launch by Angela Meyer at Readings, St Kilda.