Short stories inspire emerging filmmakers
Writer/director Matt Holcomb and producer Annie Kinnane were recipients of the 2014 Emerging Filmmakers Fund for their film, Flat Daddy, based on Louise D'Arcy's short story of the same name.
Louise thinks aspects of the Spineless Wonders Earworm audio story that translated well into a short film were the combination of a family coping with absence and the introduction of a strange element (the cardboard cut out Flat Daddy).
Reformed American Jon Steiner, now working on a collection of short stories for Spineless Wonders, thinks his story 'Gecko' was deemed appropriate to be made into a film because it's a romance between middle-aged characters, which you don't often see on screen. And then there's the ending, which leads the reader to expect a sort of fairy tale, happily-ever-after conclusion that doesn't eventuate due to innate human lameness. Just like in real life.
Pictured above are Georgia Adamson as Nicole in Gecko, Flat Daddy with Kat Stewart as Kate and Sophia Tsoltoudis as Cindy, and Logie award-winning Kat Stewart in Flat Daddy.
Read Louise D'Arcy's interview with Irina Markovsky, see the film trailer, listen to Louise read 'Flat Daddy' or buy your own copy here. You can also visit the Flat Daddy website.
Read more about Gecko and read an interview with Jon Steiner or buy a copy of 'Robber', another of Jon's stories also being made into a film, here.

Bat-man pre-release deal
Just what you need for Christmas: a colourful assortment of superheroes, mutants, zombies, bank robbers and boy bands!
We are so thrilled to be publishing the amazingly talented and slap-your-thighs funny Patrick Lenton's first collection of microfiction, A Man Made Entirely of Bats, that we are offering a special pre-release deal.
Take up this offer now and you'll have a copy for your Christmas stocking.
You'll get:
• a signed copy of A Man Made Entirely of Bats with a personalised message from author, Patrick Lenton, at the special price of $17.99; plus
• a free six month's subscription to the Spineless Wonders Bookclub — that's a download every fortnight for 10 weeks starting in February 2015, valued at $15.
'The best thing about Patrick Lenton is that he's not writing for you. There's an unselfconscious enjoyment in his characters and scenarios, their bizarreness laced with blackly comic puns and phrasing. Where so much laboured humour is built for a market, Lenton entertains by happy accident.'
Goeff Lemon, Going Down Swinging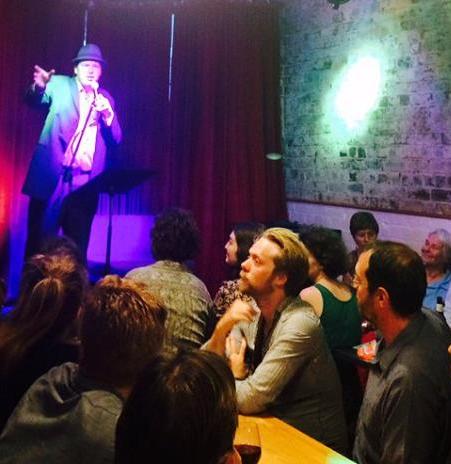 Little Fictions merriment
Short fiction author Jon Steiner also made an appearance at Little Fictions @ Knox Street on December 8.
MC for the evening was Brag Magazine's trilby-wearing, smooth operator, Adam Norris.
With drinks and food available at the bar, Little Fictions is always a festive occasion — and was even more so with Christmas approaching! The merry audience indulged in the simple pleasure of being read to by professional actors Caitlin Harris, Eleni Schumacher and Alex Williams as well as Monkey Baa Theatre's Tim McGarry.
The short and longer stories from Spineless Wonders were: Adam Ford's 'Sequel', Peter Boyle's 'The Tree's Ambition', Mary Manning's 'Black Opal', Dael Allison's 'On the wrong side', Mark O'Flynn's 'Iago', Jon Steiner's 'Poioumenon', Sean Wilson's 'Silver Fox', Katelin Farnsworth's 'Seagull' Cassandra Atherton's 'Rubbish', Jude Bridge's 'Cake Mistake' and Angie Holst's 'Addicted'.
Knox Street is great fun — come along on February 9.
In the meantime, read about the authors and actors on the event blog, stay in touch via Facebook or check out the authors in Spineless Wonders' story collections.

Use your #GOB to get a Christmas discount
What's the story? Our #GOB (give one book) offer gives you a discount on any book in our online shop listed on the #GOB XMAS Sale page.
Why do it? The great titles on sale will make fabulous gifts for yourself or your loved ones. (So snatch up Cracking the Spine, Dear Writer … Revisited, White Light and more …)
How? Get your Christmas discount by typing the discount code #GOB in the discount field on the checkout page. To post a book to a friend, type their details in the shipping address fields and that's Christmas sorted!
Where? Go to the #GOB XMAS Sale Page to browse the #GOB titles. Also visit Spineless Wonders on Facebook for more famous and infamous photo #GOBs, like Kirsten Tranter.
When? Do it now! Our offer finishes on December 24 at midnight.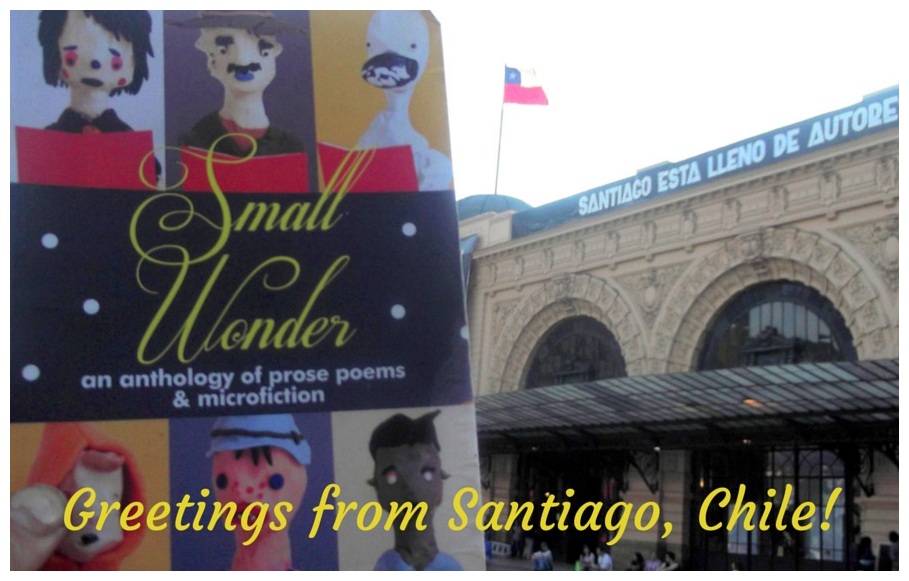 Postcard from the Feria Internacional de Libro de Santiago
The 34th International Book Fair of Santiago took place inside a restored railway station called Estation Mapucho.
Organisers estimate that more than 260,000 people attended the fair this year. The fair is one of most important cultural events in Chile and included new releases, classics, fiction, essays, comics and picture books, music recitals, plays, films and storytelling.
There were 148 stands, a children's pavilion and a pavilion for independent publishers. It was inaugarated by the Chilean president Michelle Bachelet and paid tribute to literary greats like Nicanor Parra, Roberto Bolano, Gabriela Mistral, Julio Cortazar, Pablo Neruda and Octavio Paz.
Approximately 40 per cent of the publishing stalls spoke English and I had some great chats and let 
them know about Spineless Wonders and its microfiction publications.
Latin dialogues included topics such as social rights and education, abuse of power by government forces, corruption in the justice system, gangs drug trafficking and violence. The publishers in South America are passionate, dedicated and diverse. Literary events and launches provide a wonderful opportunity to immerse yourself in the Spanish language. If you have a passion for book fairs or an interest in Latin American revolution and resistance — why not check out the fair next year.
Wittgenstein once said that 'the limits of my language are the limits of my world.' It was a privilege to attend a book fair in a country where I understood so little. So little and so much at exactly the same time.
Monica Goldberg

Bumper book bounty
Spineless Wonders is getting into the spirit of the season by giving away a hamper of five paperback titles.
All you need to do is write 20 words on 'What will my world to come look like on January 1?' Email your micro-story to Spineless Wonders.
The best story will receive the bounty and the winner and runners-up will be published in the next newsletter.
'Quote' unquote
In the letters to my mother I wrote about the 'deformed emptiness' of people, and asked 'what has happened to their search for the truth?' I had read Herman Hesse's Journey to the East and become obsessed with it. Om om shanti, I wrote at the bottom of my letters. And she wrote back, No, I've never heard of Herman Hesse. Is that someone you were at school with?
From 'Dangerous and Deep Undertow', The Glove Box and Other Stories by Vivienne Plumb

Cooking the Books this Christmas with Linda
This perfect Christmas salad recipe with feta and eggplant from Spineless Wonders' writer and editor Linda Godfrey will add zest to your table. As Linda says, 'The colours are good … whether you are celebrating the red and green of blood on pine needles with the Druids or the red and green of Australian summer vegetables.'
You'll find more of Linda's culinary and literary flair on her Cooking the Books Facebook page, where she locates food references in Spineless Wonders' stories, cooks them and posts them along with an extract from the writing and/or video clips.
A recent post was inspired by Kate Day Andrews' microfiction 'Rue Lagrange'. A Paris traveller steals some goat's cheese … and Linda cooks up a cheese and spinach pie. Yum! Read Kate's full story in Writing to the Edge, which you can buy online here.

Thrills and skills
Organiser Sharon Rundle reports that it was a huge thrill to meet the UTS Writers' Alumni at its 10th Anniversary Event!
Bronwyn Mehan, Nigel Bartlett, Delia Falconer and Bem Le Hunte were panel speakers.
'Everyone listened intently as Nigel told us how bus stops can be inspiring, Bronwyn spoke of her deep love for the short story form, Delia recommended a biblio therapist and Bem questioned whether any knowledge is useless — of course the speakers had a lot more to say about writing, editing, publishing, creative intelligence and entrepreneurial skills.'
What we look for
Featured in the UTS Writers Connect is an article where Bronwyn Mehan, Linda Godfrey and Julie Chevalier, editors and publishers at Spineless Wonders, reveal what they look for in writing and how stories are selected and commissioned.

… 'urry, 'urry, 'urry …
In addition to being a famous photo #GOB, Kirsten Tranter is judging the 2015 joanne burns award (entries closing December 21, 2014).
The theme is 'Out of place' and we're looking for writing that reflects on dislocation in space, time, feeling, psyche or memory.
First prize will be $300 and all entries will be considered for publication in the Spineless Wonders micro-lit anthology to be edited by Kirsten Tranter and micro-lit series editor, Linda Godfrey.
Kirsten Tranter is the author of the novels A Common Loss and The Legacy, and a co-founder of the Stella Prize. She grew up in Sydney and now lives in the San Francisco Bay Area. If you are considering entering some micro-lit of your own, it might be worth reading Kirsten's father, poet John Tranter, on 'Advice to a New Writer'.