Slinkies somersault into spring


Meet Spineless Wonders' first three Slinkies writers: Libbie Chellew, Slade Quinn and Tina Gaudrey.
With the new digital platform, Slinkies, Spineless Wonders is publishing and promoting the work of a handful of carefully selected Australian under-30s. Slinkies includes eSingles of up to 5000 words as well as collections of up to 10,000 words.
Libbie Chellew is a writer from Melbourne. Her short stories have appeared in Antipodes, Regime Magazine, Going Down Swinging, The Suburban Review, Wet Ink and Voiceworks, as well as online for Verity La and The Literarian. In 2010 she was shortlisted for both the Iowa Review Awards and the John Marsden Young Writers Prize.
Her story, about the fears and apprehensions of pregnancy, was inspired by having a bad day and running out of milk. 'I spooned milk out of my All Bran and put it in my coffee. I remember starting out with Hard Knots wanting to write about that — about how little things can take their toll on your state of mind.'
Slade Quinn, 25, a student who likes long walks away from the beach, wrote Kurt and the Interview, a hilarious send up of modern business practices. Hapless Kurt from the call centre applies for a promotion from a boss who is a cross between Ricky Gervais and the managing director from the IT Crowd.
Tina Gaudrey, who has a BFA in Creative Writing from Queensland University of Technology, this year won second prize for an FAW National Literary Award and was Highly Commended for the SLQ Young Writers Prize.
Intersections, her debut short story collection, aims to give readers an opportunity to question their own states of distortion and the notion of blame.
For all author interviews, visit the Slinkies page at Spineless Wonders.
On Thursday October 9 at 8 pm Libby Chellow will be online at the Spineless Wonders Online Bookclub with guest host, series curator Bridget Lutherborrow. You can preview or grab a copy here.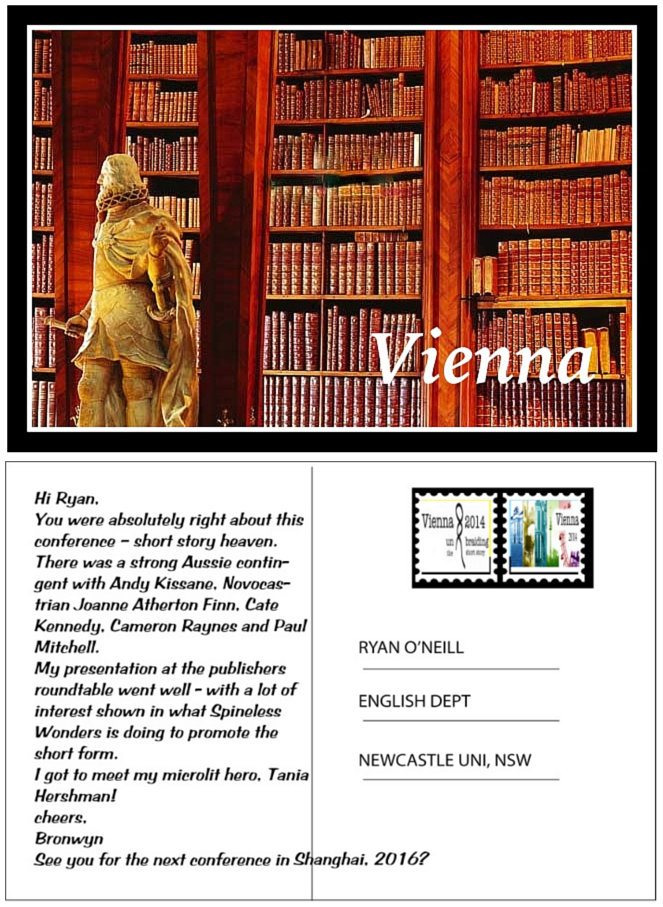 Postcard from ... Vienna
The 13th International Conference on the Short Story in English brought together renowned writers of fiction in English (including Irish, British, American, Canadian, Australian, Caribbean, South-African, Indian, Sri Lankan, Indonesian) with writers who have had or would have their work translated into English and who joined in reading sessions, roundtable discussions and panels, and translation workshops.
The conference also hosted a number of sessions, both in the more traditional format (with presentation of papers) and in other formats involving performance, dance, art and film, having in mind that the form of the short story is not necessarily confined to the limits of the written page but may open up to manifold fields of expression.
There were practitioners and academics or, as Robert Olen Butler says, 'both birds and ornithologists'. Ryan O'Neill told Spineless Wonders' Bronwyn Mehan she'd be in short story heaven. He was dead right.
Bronwyn moderated a panel on Australian Literature with Andy Kissane and Vienna University Professor Christa Knellwolf-King, speaking on David Malouf and Joanna Atherfold Finn, talking about liminality in the coastal writing of Robert Drewe and Gretchen Shirm.
Spineless Wonders authors Sylvia Petter, Andy Kissane, Paul Mitchell, Joanna Atherfold Finn and editor Linda Godfrey posed by the Shakespeare & Co. bookstall.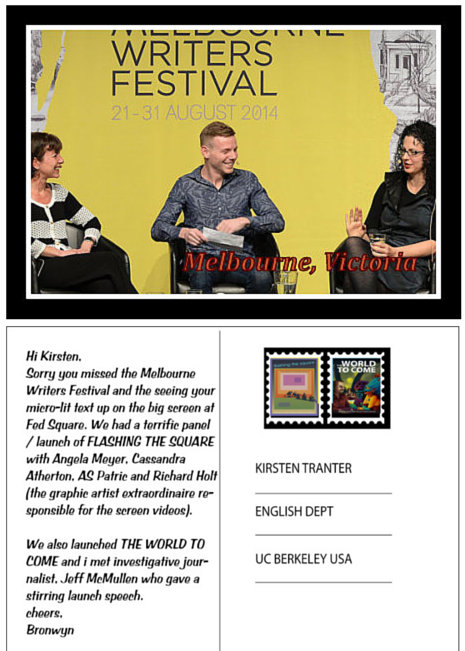 Postcard from ... Melbourne
We gave them a single blank square of paper to fill – maximum 200 words. They flashed it with political satire, memorable lines, mordant observations, flights of fancy and heartbreaking descriptions.
Flashing the Square was a showcase of microfiction with selected stories published as videos screened at Federation Square during the 2014 Melbourne Writers Festival and as a collection published by Spineless Wonders.
There was time for passersby to just read the text without the narration and then the narration kicked in.
There were tales of service station hold-ups, random violence in elevators, shark attacks and road fatalities. There are complete narratives with well-drawn characters and plot lines. There were short pieces about supermarkets, computers and dogfights – all packed with emotional punch and all in 200 words or less!
Audio versions are available for a limited time here on Soundcloud and you can purchase the print version here.
Also launched during the Writers' Festival was The World to Come, a smorgasbord of sci-fi and speculative fiction by hand-picked writers from across the globe, to amaze shock and stir. See the booktrailer!

Burns award
Judges Angela Meyer and Richard Holt announced the winner of the 2014 joanne burns Award at the 2014 Melbourne Writer's Festival launch of Flashing The Square, on Saturday August 30.
The winning entry was 'Hold Up' by Susan McCreery (pictured). Runners up were 'The Meteorologist's Daughter' by Mark Smith and 'Turing Test Study Guide' by Kirsten Tranter.
The closing date for the 2015 joanne burns Micro-lit Award is December 21, 2014.

Indulge yourself
Spineless Wonders will present Little Fictions – an evening of live readings by professional actors of short and longer stories from Spineless Wonders authors – at the Knox Street Bar, 7.30 pm to 9 pm, Monday November 3, on the corner of Knox and Shepherd Streets, Chippendale, Sydney.
Little Fictions is a brief night of entertainment, in keeping with the spirit of short fiction, perfect for a Monday night outing. It's a platform for Australian writers to have their work read and for the public to indulge in the simple pleasure of being read to.
The readers are professional Sydney actors, including Luke Carson, Caitlin Harris, Eleni Schumacher and Alex Williams.
The readings for November can be found on Spineless Wonders Presents ...
If you don't live in Sydney or can't make it on the night, don't fret. Little Fiction recordings will be available as mp3s from the website so you will be able to enjoy the readings anytime, anywhere you like.

Online book club
Spineless Wonders' online bookclub meets via Facebook every second Thursday between 8 pm and 9 pm to discuss a story (or two or three), put questions to the authors and to chat about writing. Anyone can be involved, so please join in!
In addition to Hard Knots author Libbie Chellew at the Slinkies launch October 9, the two other Slinkies authors – Slade Quinn and Tina Gaudrey – will participate in the online bookclub on October 23.
Visit Spineless Wonders for information about the short stories bookclub and what's coming up.
And don't forget to tell your friends about our great bookclub subscription deal: $15 for 11 downloads of digital and audio stories. We still have lots of great stories to come and anyone subscribing now will of course receive all previous downloads, including copies of Cracking the Spine, The World To Come, Writing to the Edge and Flashing the Square. Quite a bargain!

Short and sweet
Helen Elliot, writing for The Australian:
Only rarely does a reviewer come across a perfect collection. If this is the state of Australian short fiction the horizon looks spacious. Modesty, the commonality of voice in these stories and essays, is inappropriate. Everyone who is interested in the depth, breadth, sophistication and vitality of writing today needs this slender little book on their desk.
Win 'Hard Knots'
Which actor would you most like to read to you at bedtime? (They'd read you a Slinkies eSingle from Spineless Wonders of course!) Tell us who and why on the Spineless Wonders Facebook page in 25 words or less.

Open to Australian residents only. Competition ends October 31 and announced on the Spineless Wonders Facebook page and the winner's words will appear in November Sluglines. Full terms and conditions.
'Quote' unquote
She comes to me by night, smelling of the briny sea, her body slippery with sea lettuce, garlanded with Neptune's necklace. The room is lit by the green fluorescent numbers on the alarm clock, stuck at 3 am, strobing. In this greenish, flashing light she creeps towards the bed, her face, statue-like after years of being carved by the sea.
From 'Before the Wave' in Lives of the Dead and Other Stories by Jane Skelton.
New books out of the box!
We had a very successful and fun launch of Writing to the Edge and The Glove Box and Other Stories at the New South Wales Writers' Centre on August 16.
Thanks to our entertaining and enthusiastic launcher, Shady Cosgrove, for helping us to celebrate both books. We were joined by NZ-based author Vivienne Plumb, joanne burns and the three finalists from the 2013 joanne burns Award (Mark Smith, Hilary Hewitt and Mark Roberts) as well as many Writing to the Edge contributors and, of course, many many supporters.

Dates for your diary
October 9 - Online Bookclub, Slinkies Under 30s launch
October 9 - Spineless Wonders' Publisher Bronwyn Mehan and Editor and Publicist Linda Godfrey, panellists at the Wollongong Writers' Festival
October 23 - Online Bookclub, Slinkies Under 30s 'Kurt and the Interview' Slade Quinn and 'Intersections' Tina Gaudrey
November 6 - Online Bookclub, 'Storytellers' David Grigg
November 20 - Online Bookclub, 'The Wild' Anna Trembath
December 4 - Online Bookclub, 'Flat Daddy'Louise D'Arcy
December 18 - Online Bookclub, 'The Other Guy' Emilie Collyer
December 21 - Deadline for joanne burns Award 2015. Get to work on your 200 words on the theme 'Out of Place'!