It's a crime to miss this much Little Fictions
September is a bumper month for Little Fictions at Knox St Bar. Not one show, but four, as part of the Sydney Fringe Festival.
We decided to theme the nights for the Sydney Fringe Festival, starting with Comedy Knox on September 7, a selection of stories that had people laughing into their cider and wine all night.
We welcomed a new actor to read for us that night. Felix Johnson joined us to read 'King of the World' by Patrick Lenton and 'Who Likes Custard' by Caroline Reid, about a man who likes to make himself more interesting to his partner by creating stories and dramas.
He's worried his partner will find him bland as custard. His partner, Mike is more interested in a quiet life and wants him to stop with the name-dropping and the outrageous stories. A gentle look at one man's insecurities plus a satirical take on magazine articles about 'spicing up your relationship' or 'keeping your man interested'.
Alex Williams read Slade Quinn's Slinkies story about Kurt going for an interview for a job that has already been given to someone else in the office, and being put through his paces. The formidable Lauren Neill read 'Ross Geller Man', another Patrick Lenton story.
On September 7, the night of our comedy show, thousands attended a rally in the middle of Sydney in support of refugees and asylum seekers. In recognition of this cause, and because we were not able to be there at the rally, Little Fictions has decided to pass around a container each night of Little Fictions and give the collected money to Settlement Support International (SSI).
Little Fictions at Knox St Bar urges you to help support refugees and asylum seekers by donating to SSI. It is the state-wide umbrella organisation for 11 Migrant Resource Centres and Multicultural Services across NSW. Your donation will help fund vital programs and initiatives that support the health and wellbeing of refugee and asylum seekers. If you can't make it to Little Fictions at Knox St Bar, you can also donate directly to SSI.
Shiny vignettes of the Emerald City
On September 14, the city and people of Sydney shone as our actors read vignettes about various parts of the city. We say congratulations to Spineless Wonders' intern, Amber Dalrymple, who curated the evening of stories. Great night of entertainment that included Tim Heffernan's poem about a journey from Central to Circular Quay, a piece of microfiction by Anna Kerdijk Nicholson about a walk to see Sculpture by the Sea, and her daily diary of life in Surry Hills.
We welcomed another new actor, Emma Diaz, who read a very personal piece by a shy microlit writer, who was delighted when she heard the reading, about post-war refugees making their way in the Kings Cross area. And Emma also read from Jen Craig's Panthers and the Museum of Fire. Jon Steiner absolutely skewered the process of house hunting in Sydney, real estate agents and house hunters. People in the room were nodding and laughing in recognition and resignation.
Mark Roberts had a lot going on this night. He was there to listen to his piece 'City Circle' read, tweeting live about the night at Little Fictions, plus keeping himself and the room up to date with the political drama in Canberra in real time. Who says men can't multitask? The readings finished up with Lauren Neill taking on Jenni Nixon's 'This City', an impressionistic representation of the city of Sydney.
We introduced a nice little touch to end the evening, with the actors and our MC assembled on the stage, applauded in recognition of their talent and energy. This will continue after each night of performance. The MC is introduced as MC Adam, but we don't often hear his last name, which was revealed as Norris, and the actors brainstormed and gave him the middle name of Jeremiah, which Adam accepted with good grace.
The night of September 21 presents uncanny and spooky stories. Julie Koh's 'Sugar Daddy', Jen Mills' 'The Air You Need' and our guest reader on that night, Fleur Beaupert from Lace Balloon Theatre Company is reading Leonie Ross' 'Fix'. Come along and scare yourself silly.
The last night of the Fringe Festival for 2015, Monday September 21, will be a night of Crime Scenes with tales of stalker-painter-contractors, bikers, their teenage girlfriend and a monster pet and criminals burying bodies in bush graves. Enough to give you some ideas for the perfect crime or to keep you on the straight and narrow.
The dates are:
• September 21 for The Great Unknown
• September 28 for Crime Scenes
In October, we are returning to the once-a-month Little Fictions on Monday night, October 12, at 7 pm.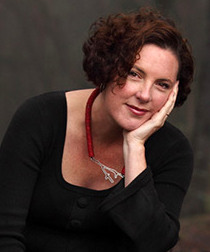 Fledgling inspired by Bird's advice
Danielle Wood, taking a close look at the extraordinary literary life of Carmel Bird and her long relationship with Tasmania, says since she found Bird's Not Now Jack — I'm Writing a Novel, she has had total faith in the truism 'when the student is ready, the teacher will appear'.
'Bird taught me, through the pages of that book, about the concept of suspending observations from life in the "marvellous clear jelly" of fiction (and included a recipe for Japonica Jelly as well). She told me, firmly, that "real writers don't have mothers", which meant that I could not expect anyone to hold my hand or mop my fevered brow; I must just get on with it, alone. She urged me to give up housework.
'Her advice – on writing, and on the writing life – was and is golden to me.'
Having just read Fair Game and My Hearts are Your Hearts, Wood says her mind was jostling with the many, many 'bits' – beautiful and terrible – that made their way into Bird's fiction.
'There's a $6,000 raincoat from Paris, a monkey on the loose at a garden party, a retinue of faded Beatrix Potter figurines on a child's grave, the broken insect that is the body a 15-year-old girl on the deck of the Princess Royal. And there's Bird's father Will Power standing in a Launceston garden on the day of an eclipse, comforting his little blonde daughter, who has just smashed a precious piece of green glass.
'Look, Bird always seems to be saying to her readers. Look.'


Meet the faces from 'Out of Place'
Each week on our blog we feature one of the contributors from our latest microlit anthology, Out of Place. You'll find a wealth of information in these brief encounters – inspiring reads to chase up, insights into the creative process and ideas for getting your own creative juices running.
To get a new interview in your inbox each Wednesday, sign up to our blog, The Column.
Here's a sample from our first three interviews.
Tell us about some writers that you've loved in the past and who you are reading now.
Charles D'Anastasi: When I first discovered W.G. Sebald, Borges and Rimbaud, I was moved by their daring and exciting exploration of language and ideas. I have recently discovered the work of Penelope Fitzgerald through a short story, 'Means of Escape'. And of course, I always try to make the stories of Alice Munro last, when I'm reading them.
What you do if you haven't written anything in a while and you want to get started writing again? Share one of your favourite writing exercises with our readers.
Lisa Smithies: I have notes on napkins, receipts, chewing gum packets, etc, scraps all over the place, with story ideas that I pull out when I am stuck for a starting point. My favourite exercise is The Treasure Hunt – which involves going for a walk, etc, and taking as many notes as possible. The aim here is quantity not quality. I steal conversation snippets, people's fashion choices, hairstyles, advertising slogans, anything and everything I see that takes my fancy.
The rules are: have a set time frame (the length of a tram trip is good, but if you're just going for a walk, don't make it too long); do not edit; and do not start to write a story. I end up with a pretty interesting list of observations that start connecting in fun ways.
What inspired you to write the piece of microliterature which will appear in Out of Place? How would you describe this form of writing?
John Tranter: Mine is a single sentence beginning 'As Letitia's lithe limbs slid into the tepid, prawn-coloured waters of the Gulf of Mexico, Sebastian blew a lazy plume of lilac-tinted smoke into the air.' I think Sebastian is a distant cousin of Sebastian Flyte in Brideshead Revisited. I was practising purple prose in a single long sentence, and I also had in mind a photograph I'd taken of a cast-iron balcony here in Balmain near where I live, which echoes the look of a fern tree growing in the garden on that house.

'Quote' unquote
Margaret snorted disgust. 'They want confrontation, we'll give them confrontation,' she said, passing the jam to Dot. 'Tomorrow, at dawn. My sources say there'll be another raid.'
'I've had enough,' said Polly. The other ladies were surprised. She'd always been a quiet little thing. 'My son's being followed to school, because I cook scones ...'
Vi stroked Polly's shoulder. 'It's not just about the food, Pol. We're too bloody Australian and too organised. The cops don't like the compound, the native garden, the verandah, the Blue Heelers, the smell of baking or the barbeque. Makes them nervous.'
'So, we're going down in a blaze of glory,' sang Polly.
'Cake Mistake' by Jude Bridge, published in Stoned Crows & Other Australian Icons. Listen to Lauren Neill performing the story.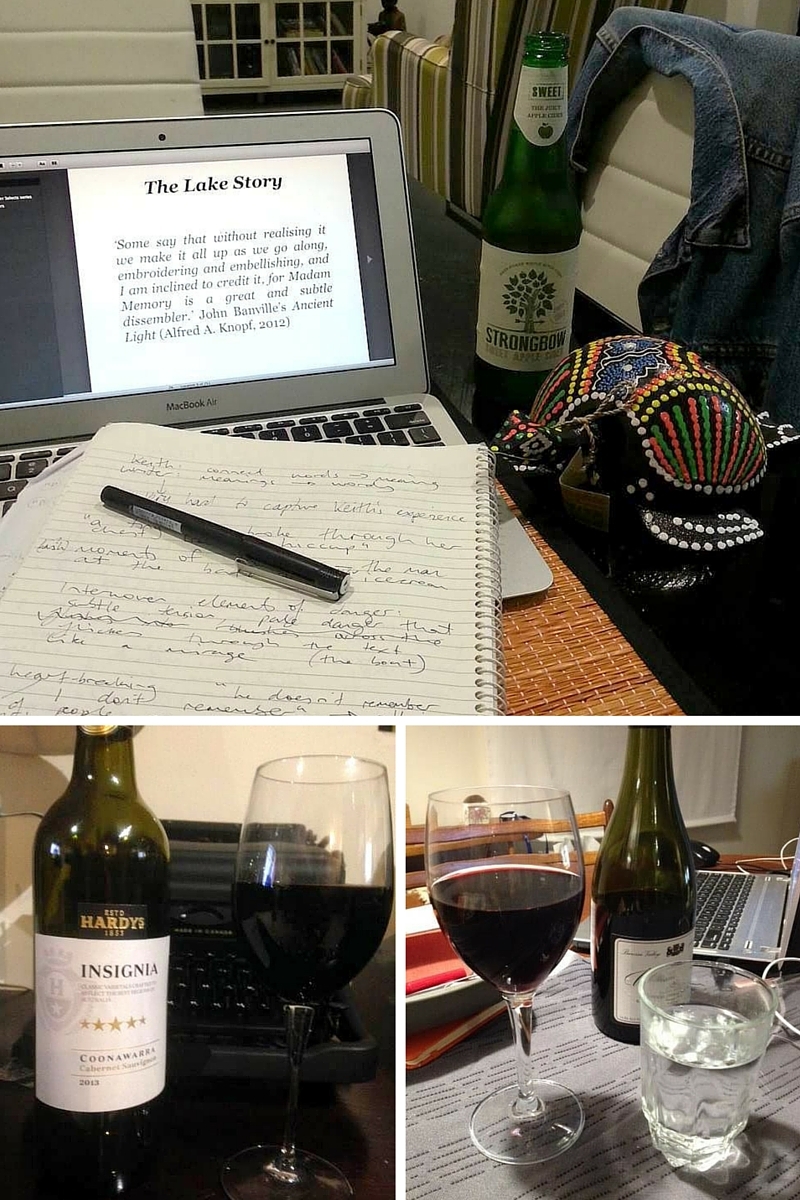 Life's better with authors
Readers relish the chance to start 'firing questions at authors about aspects of their writing and lives' during Spineless Wonders' online Bookclub.
'Frankly, where else do you get that sort of access?' asks Marjorie Lewis-Jones.
Spineless Bookclubbers agree that the chance to talk with authors about their process, inspiration and thoughts is what makes this book club a stand out.
'There's so much more to a conversation about a piece of writing when you include the person who wrote it!' says Amber Dalrymple. 'It becomes a celebration of the writing and a sharing of thoughts and ideas, rather than mere speculation. Life's better with authors.'
Authors value the 'rare opportunity' to interact so directly with readers.
'Attending the book club as a writer was a truly wonderful experience,' says author Ron Elliott, whose 'The Lake Story' was selected as part of the McGirr Selects Series. 'I know the club members were being gentle with me but it was great to hear what was working for readers: the big stuff like fear for the characters and themes teased out, but also hearing particular lines quoted and then discussed.'
The Bookclub offers writers a window into the minds of their readers. 'Usually you send the story out into the world and have no idea where it ends up,' says Ariella van Luyn, whose story 'Bulldozer' was Bookclub's feature story on September 3. 'But, during the Bookclub, I could hear how readers had made sense of the story, which was so useful for me as a writer. I also realised my readers are awesome, gorgeous people.'
But what's unique about the Spineless Wonders Bookclub is the special bookish intimacy that can only emerge between lovers of stories, an intimacy that somehow transcends the digital distance.
There's the intellectual rush of being in a community crazy about new ideas. The giddy feeling you get when your new favourite writer likes your idea about their story. The accidental yelling at the screen in excitement when you and another Bookclubber have the same favourite line.
Read more of Emma Walsh's first-hand account of the pleasures of our online short story Bookclub, which meets every second Thursday. Subscribe here. (You don't have to drink wine!)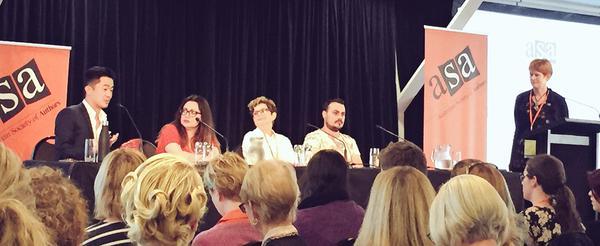 Reclaim, reboot, renew
Along with many challenges, the expansion of the internet has brought with it improved opportunities for writers to pursue artistic, activist or other ends.
A panel at the recent Australian Society of Authors National Congress, which took place on September 11 and 12 at Luna Park Conference Centre, explored such questions as: Which technologies are working best for which purposes? Beyond the explosion of formats and possibilities is the question of who does the internet work 'for'?
The panel, moderated by Jesse Blackadder, featured presentations from frontline practitioners, Van Badham, Elliott Bledsoe, Benjamin Law and Spineless Wonders' publisher, Bronwyn Mehan.
Bronwyn told Sluglines that she was delighted to be asked to appear as part of the congress and that she enjoyed meeting the fellow panellists.
She said that Elliot Bledsoe, Marketing and Communications Manager at Queensland Writers Centre, had lots of hot tips for the effective use of social media. 'Elliott stressed the importance of getting shares and likes within the first sixty minutes of posting something online,' Bronwyn said. He also said that it wasn't the number of followers you had but how you used them (that is, how you engaged with them) that really mattered.'
This latter remark was partly in response to author Benjamin Law, who has over 40,000 followers on Twitter! Benjamin said he had installed an app to help him keep track of the time he spent on social media. Van Badham, a columnist for The Guardian Australia who has over 26,000 Twitter followers, spoke of the camaraderie among feminists such as Clementine Ford and Catherine Devaney who speak out on the web and of the devastating impact of internet trolls.
Bronwyn told Sluglines that she saw her role on the panel as one of a practitioner with some 'good news' stories to tell about opportunities the internet provided indie publishers and authors. 'There are myriad ways for us to showcase Australian writing on the web,' she said, 'and ways for writers to engage with readers.' She warned about the dangers of 'boring self-promotion' and encouraged authors to 'show and not tell' when it came to using social media.
Bronwyn pointed to the Spineless Wonders' online Bookclub as a good example of how social media can promote real dialogue between writers and readers. 'We also feature regular author Q&As on our blog, The Column,' Bronwyn said. 'And this is a great way for short story authors to share reading and writing tips.'
Asked what innovations she was excited about, Bronwyn told Sluglines she loved how easy it was for readers to share quotes directly from their e-readers onto Facebook and Twitter. She was also excited by the new ways writers found for using the internet to help with the writing process.
'Popular authors such as Ben Law find they need to switch off from the net in order to get on with their writing,' Bronwyn said. 'But the inventive people at Writers Bloc have devised a unique online workshopping model which turns the internet into a productive space for writers.'

Who's your literary heart-throb?
Thanks to all those who entered last month's competition, won by Daan Spijer from Mt Eliza, Victoria.
This month's competition is ...
Carmel Bird's My Hearts are Your Hearts was launched in Sydney in July by Gabrielle Lord, at the Geelong Writers Festival by Cate Kennedy and at Readings St Kilda by Angela Meyer. To win a copy of Carmel's marvellous book tell us (in 20 words or less):
Who is your most unexpected literary heart-throb (author, book, story or poem) of the last few months and why?
Dates for your diary
September 21 - 'The Great Unknown', Little Fictions @ Sydney Fringe, Knox St Bar, 7 pm.
September 28 - 'Crime Scenes', Little Fictions @ Sydney Fringe, Knox St Bar, 7 pm.
October 1 - Spineless Wonders online Bookclub: 'Dancing On Your Bones' by Rebekah Clarkson, 8 pm.
October 12 - Little Fictions at Knox St Bar.
October 15 - Spineless Wonders online Bookclub: 'Love Bites' by Andy Kissane, 8 pm.