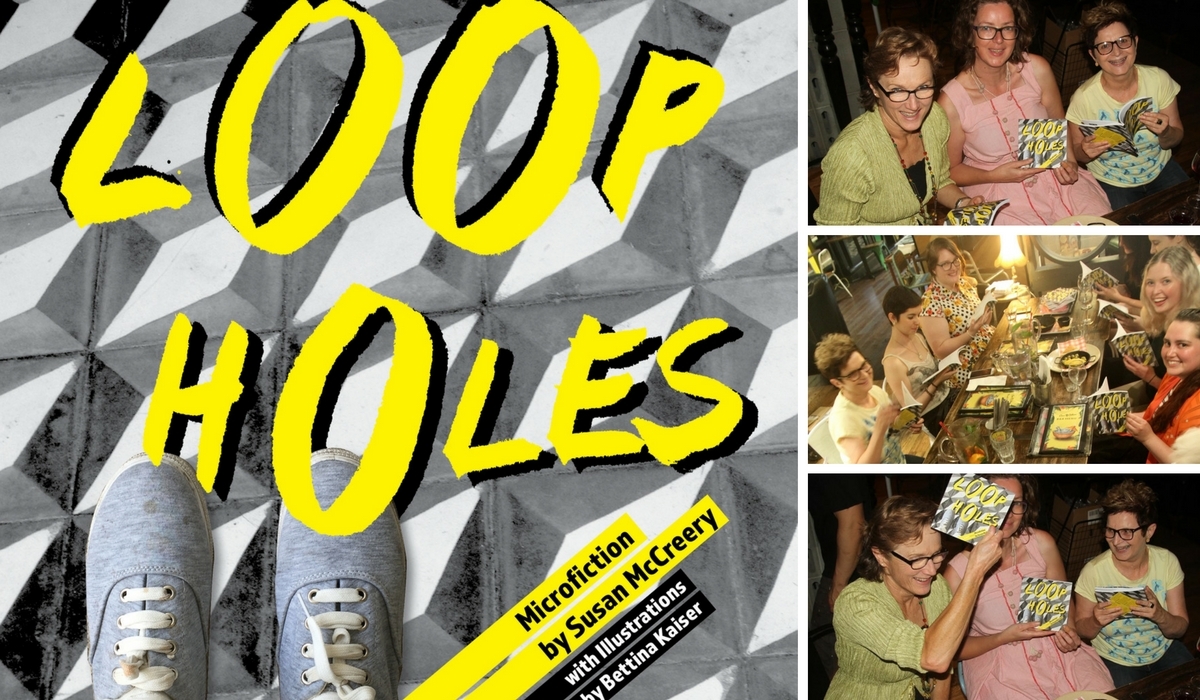 Three cheers as 'Loopholes' hits the shelves
Spineless Wonders released two exciting new books by regional writers on December 1. They were Loopholes by Susan McCreery and The Waterfowl Are Drunk! by Kate Liston-Mills (see more about The Waterfowl in the next story).
The author, publisher, and illustrator of Loopholes raised glasses of white and red sangria in Sydney, at the Coca Cubana, Central Park, to celebrate the publication of this unique microfiction collection.
The happy trio were flanked by Spineless Wonders publishing interns past and present, author Julie Chevalier, and the Sluglines' newsletter team—who wished them well for the book's formal launch at the Newcastle Writers Festival (April 7-9, 2017), and with future sales.
Publisher Bronwyn Mehan said she was excited to be releasing two new collections—both filled with excellent contemporary Australian stories—and both terrific gifts for booklovers this Christmas.
'Susan is a master of microlit, and we're proud to publish this fantastic collection.'
McCreery said she couldn't be happier about her new collection's arrival in the world.
'Six months ago this was a pile of ordinary A4 paper and now we have this. What a supremely happy chance for me that Bronwyn Mehan and Bettina Kaiser were willing to take that pile of paper on and turn it into something so gorgeous.'
Illustrator Bettina Kaiser said she had drawn on everyday items to create visuals that would resonate with the narratives in Loopholes, which offered fleeting but profound insights into the daily challenges of relationships, family, ageing and loss. The insides of envelopes, kitchen tiles and loopholes (of course) were just a few of the items Kaiser had used to fashion the book's distinctive identity, she said.
Most people who'd gathered to celebrate the release of Loopholes found it hard to choose just one out of the 60 stories included in it as their favourite.
Chevalier described this dilemma well in her blurb on the back cover: 'Reading McCreery's one-page stories is like being a kid holding a Whitman's Sampler Box and trying to pick your favourite chocolate. Yum, gritty as pistachio. Yum, creamy as caramel. Of course, I had to devour all of them in one sitting.'
Susan McCreery is an award-winning writer from Thirroul in New South Wales. Her microfiction has been published by Spineless Wonders (Writing To The Edge, Flashing The Square, Out of Place), as well as by Seizure and Cuttlefish. Her poetry and short fiction have appeared in Best Australian Poems 2009, Sleepers Almanac, Going Down Swinging, Hecate, Five Bells, Island, Award Winning Australian Writing, Lost Boy, Escape, The Trouble with Flying and Shibboleth, among others. Her poetry collection, Waiting for the Southerly, was commended in the Anne Elder award (2012).
If you'd like to try Loopholes before you buy it, read McCreery's story 'Rats', which featured in the US online journal Microfiction Monday Magazine on November 7.
A panel on microfiction and launch of Loopholes by Carmel Bird is planned for April 11 at the Newcastle Writers Festival.
Loopholes is available now from all good bookstores and online at Booktopia. Or purchase your copy here.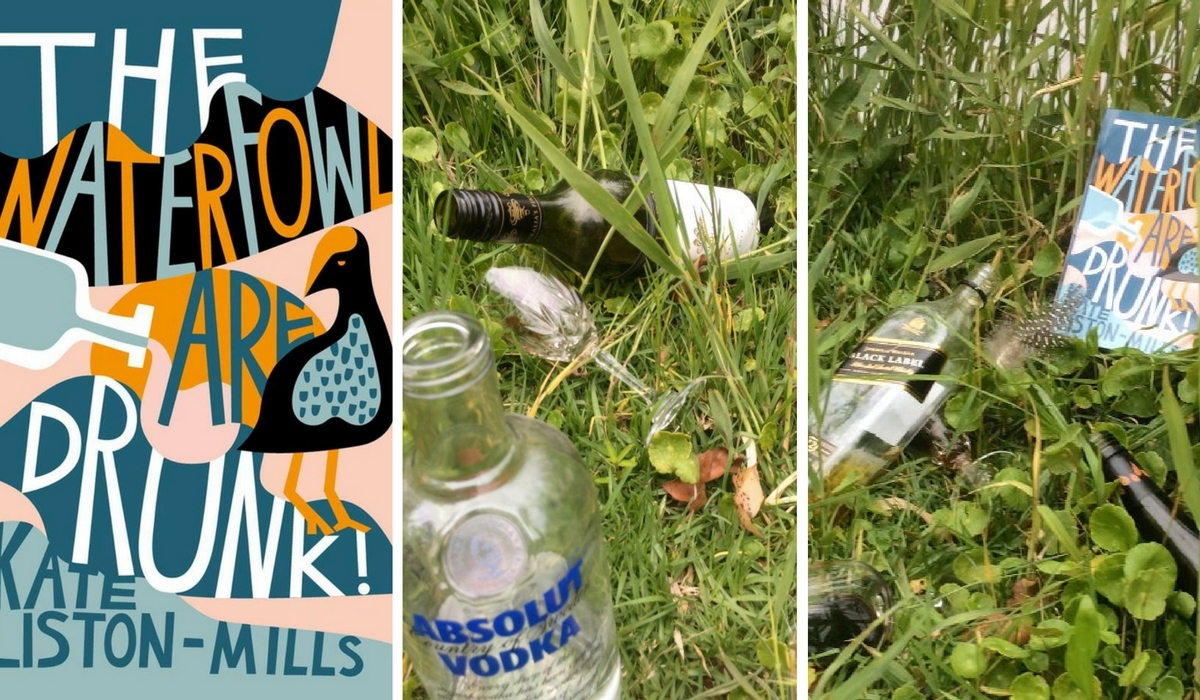 Let's raise another glass to Liston-Mills' latest: 'The Waterfowl Are Drunk!'
Kate Liston-Mills gives us a bird's eye view of how her new collection of stories in The Waterfowl Are Drunk! was hatched … and is about to take flight.
The Waterfowl Are Drunk! is a collection of short stories I threaded together over two and a half months for the Slinkies Under 30s collection. The hardcopy, illustrated chapbook was released on December 1 after I'd found the book strewn across the grass, bird poop everywhere, empty whiskey and wine bottles peppered in between the grass blades and reeds, and a lone party hat.
I knew the culprits straight away. Those darn waterfowls were at it again! But the book they'd left was beautiful … Thus, the launch date is December 27 at Booktique in Merimbula, NSW, at 5.30pm—bring all your birds and bourbon.
I wrote this collection when I was 28 years old and the trip it's taken since has been wild and, yes indeed, drunken. It's finally out in bookstores and it looks like candy-cane, fairy floss, and a shiny carousel sitting there in the shop window.
What Gert Geyer did with the illustrations was a young Kate's dream, like a Katy Perry film clip or a My Little Pony party, and it seems fitting considering this book was a bit of a coming of age book for me.
My life has come full circle since its genesis. I started writing it in Wollongong when I was living the uni student's porridge-munching existence and finished it writing the last few lines in my grandma's old house in Pambula, coincidentally sticking to the lino and listening to whistling kettles. It was surreal, and it really did feel like ghosts were seeping out of the cracks to get a geezer of me, 'Is she really back?' 'Oh yep, there she is clacking away, she's sure got a lot bigger since she was last here …'
Before The Waterfowl Are Drunk!, I had never heard of a chapbook, but now, hey, there the little blighter is on the bloody shelf! Hope you can all fit in a read of it in between eating ham, pulling bonbons and poking your fat bellies. And if you're down the coast, I'll see you at the launch.
Join us at the launch of The Waterfowl Are Drunk!, 5.30 pm, December 27, at Booktique, Merimbula. Purchase your copy from Spineless Wonders online or at good bookshops.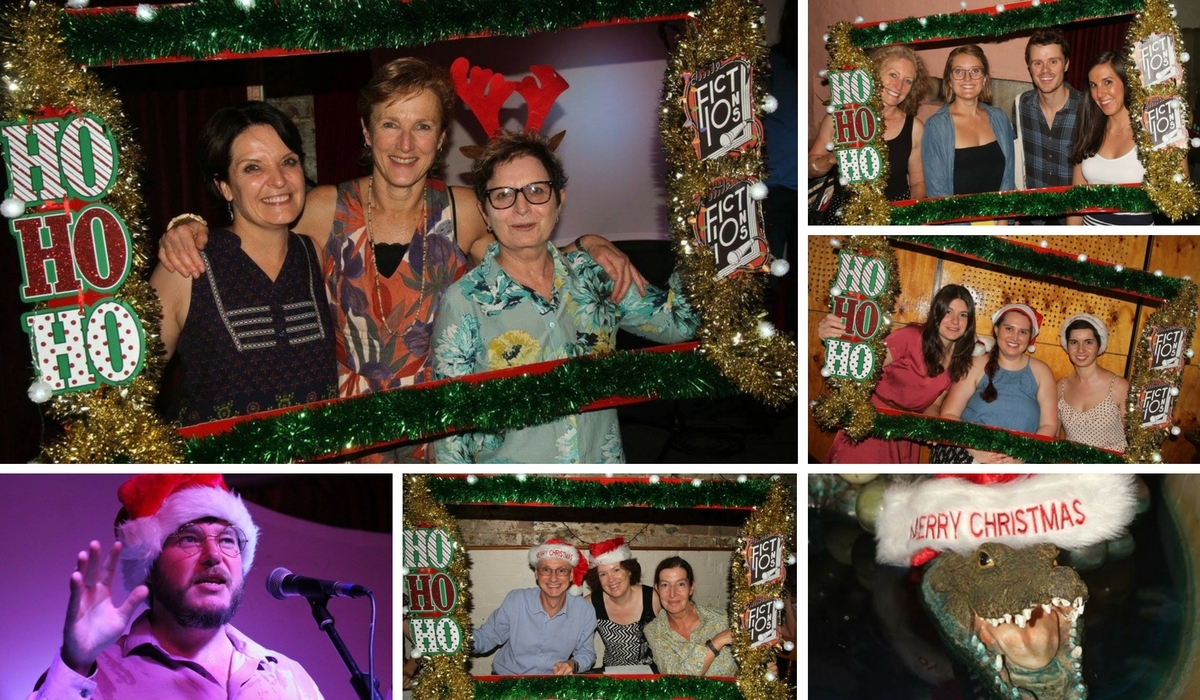 Little Fictions' marvellous fictional mashup!
Like Eton mess, bubble-and-squeak, or your partly-devoured plate of plum pudding with custard, Little Fictions @ Knox Street Bar on December 13 was a (Xmas) mashup of the highest order.
The superbly smashed menagerie included 'porpoise-headed pirates sailing a microwave' ('Wine Dark Sea' by Marian Matta),'ducks silent as commas' ('Well Then' by Susan McCreery), 'young half-naked seals' at the Olympic Games ('Ducks' by A.S. Patrić ), silhouetted ibis 'their black heads like pickaxes' ('Three Sisters' by Maria Takolander) and much more.
The magnificent melange of characters included: Juliet's jealous mother ('Open Letter to the Star-crossed Lovers' by Carol Ann Martin); a girl who desperately wants to be Amelie, with her haircut 'so quirky, so cute' ('Amelie' by Pam Seckon); and a coolly reimagined character who sips martinis in a Hitchcock film ('Rear Window' by Susan McCreery).
With expert care (and fabulous accents) from actors Ella Watson Russell, Eleni Schumacher and Joel Horwood the audience was transported through time and space to rural Australia, the small towns of Ireland and rural Victoria, Melbourne's Elwood, Parkes (for the Elvis Festival) and to an unnamed American town where an unlikely couple discuss the ins and outs of the 'Oprey'.
Feature book for the night was Spineless Wonders' newest collection of microfiction Loopholes—and its author Susan McCreery was in the audience to enjoy the crowd's enthusiastic response to her pieces.
A tribute to author Mary Manning, who died in November (see 'Vale Mary Manning' story), involved a reading of 'Film Study 101' from her book Damaged in Transit (published by Spineless Wonders in 2012), and the screening of a catchy book trailer made by Evelyn Araluen Corr.
Reindeer antlers, Christmas hats, a bevy of sparkly interns, and a special (aka Quite HARD, thanks Hannah) quiz added spritzig. The effervescent MC Adam Norris was even more buzzy and spritely than usual thanks to a cruise he'd been on where the champagne poured from the upper decks to the eager hoards below (including him) who tried to catch every drop of the bubbly in their mouths.
It was a fitting and funny end to a fabulous year of Little Fictions—and an excellent way to usher in the festive season.
Little Fictions returns to the Knox Street Bar on Tuesday February 14 for I HEART LGBTI—please join us!

Pounding the pavements with 'Panthers' author Jen Craig
Jen Craig hit Sydney's streets with Alyssa Hanley to explore the parts of the city that she writes about in her novel Panthers and the Museum of Fire, and which was longlisted for the Stella Prize in 2016. Their walk features in Hanley's essay, Talking and Walking: Sydney Literary Culture, so we've clipped a few taster paragraphs from it here.
The Lansdowne is a big, grungy, quintessentially Sydney pub on the corner of Broadway and City Road, the one that looks as though decades of spilt beers have seeped through the carpet only to leave an insipid, lingering stench. There are a lot of old pubs on this street, 'marinating in their own history', as Craig puts it. Suddenly loud whooping sirens wail and scream past, interrupting our discussion. Several fire-engines part the seas of traffic as car horns beep and pull to the side in an inconvenienced manner. Perfect timing to ask Jen to reflect upon what it means to write about Sydney.
While Jen is a native North-Shore Sydneysider, she did not set out to write a book about Sydney, but merely as a familiar backdrop to the narrator's personal journey. However, Panthers does indeed show an unfettered vision of Sydney, untouched by the tourist eyes of the popular harbour city. Instead, Jen's book shows the everyday residents' Sydney, with a smutty reality that portrays Sydney's disgusting side. …
It becomes apparent that Jen has inadvertently created a type of living historical documentation of this portion of Sydney in writing this book set during a certain time. Craig muses that this was unintentional. 'It's certainly not what I intended to do. But by writing it at the time that I did and trying to catch those moments that I did, it ended up being historical.' Panthers captured the changing visual landscape of the ever-changing face of Broadway, before the UTS monolith, before the great garden building, before the older pubs were modernised. …
Ignoring the escalator and choosing the stairs to ascend out of Central tunnel, we emerge into the light of the now midday sun. Now in Surry Hills, this side of the city immediately feels a bit more relaxed in comparison to the bustle of Broadway. There is less traffic and office workers are relaxing on their lunch-breaks. We begin the sharp ascent of Foveaux Street. …
We reach the summit, more than a little out of breath. I expect to see the gleaming café I had read about in the book, but in fact, there never was any café on the top of the hill of Foveaux Street. Where Jen had imagined the cafe to be in the book there was an unappealing townhouse desperately in need of a refurbish. We find a theoretical café to end our walk. Jen decides that this quaint café called Cup Half Full on the corner of Crown and Foveaux will suffice. I switch off my audio recorder and order a double shot skim latte to have here, just as Jen does in the book.
Alyssa Hanley is a graduate of University of Sydney's MA in Publishing degree. Read her full essay here Talking and Walking: Sydney Literary Culture. Buy Jen Craig's Panthers and the Museum of Fire here.

Under 30s: Slinkies seeks stories to make us somersault
The deadline for submissions to Slinkies under 30s eSingles has been extended to Jan 29, 2017.
If you're under 30, we want your fiction of up to 10,000 words (theme and form open) for our digital stories platform.
Through Slinkies we publish and promote the work of a handful of carefully selected Australian under-30s.
We want fiction that's twisted or sleek, highly strung or tightly sprung, inventive, funny, belligerent, beautiful, different …
We want stories that will send us somersaulting down the steps and climbing the walls.
If you've got it, send it! If you haven't got it, start writing now and get it in to us by the deadline.
More info at submissions www.shortaustralianstories.com.au

Vale Mary Manning
We were very saddened by the passing on November 8 of one of our much-loved authors, Mary Manning.
Mary was an inspirational teacher and an exceptional writer. We are very proud to have published Mary's short story collection, Damaged in Transit, with cover and illustrations by Paden Hunter.
Paddy O'Reilly described Mary's writing in this way: 'Mary Manning takes her stories to places few writers would dare to go. She ranges across different styles with ease in a unique voice that is tart, tight and compulsively readable.'
And Jen Mills wrote in Overland: 'Manning's odd, off-kilter world is strangely addictive and her images will leave an impression precisely because they refuse definition.'
Mary was very chuffed with these descriptions of her work. Spineless Wonders extends its deepest sympathy to Mary's family and many, many friends.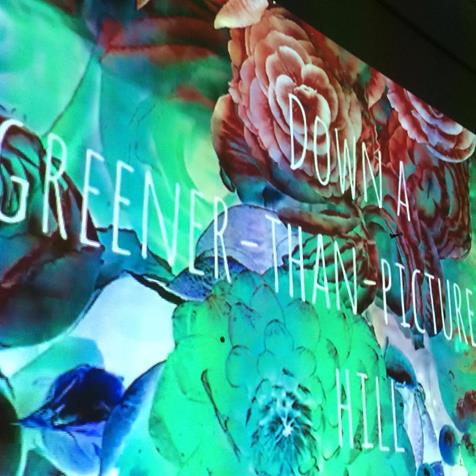 We blitzed 2016 … and we're ready for whatever's next
Spineless Wonders publisher Bronwyn Mehan shares some highlights from 2016.
1. Award-winning writing
The year began with a flight to Melbourne with Sydney author, Jen Craig for the announcement in The Spiegel Tent of this year's finalists in The Stella Prize. Jen's novella, Panthers and the Museum of Fire was among twelve books longlisted from a field of 170. The judges described Jen Craig's book as:

immersively written in a stream-of-consciousness style that takes the reader directly into her reflections on life, friendship and, importantly, her own writing.
The unpretentious truths and agonies, soul-searching and tenuous self-regard of the artist's life are brilliantly and immediately depicted, in writing that deploys European modernist literary techniques in an Australian setting. In Jen Craig's novella, voice, character and vocation combine in a sophisticated and accessible narrative.

In August, we were thrilled to see Alec Patric win the Miles Franklin Award. Spineless Wonders published Alec's debut short story collection, The Rattler and other stories back in 2011 and one of the stories, 'Some Kind of Blues', formed the basis of his award-winning novel, Black Rock White City. I was very pleased to meet up with Alec at Better Read Than Dead in Sydney where he spoke alongside Charlotte Wood about his novel and his writing journey in which Spineless Wonders has played a part.

And the year ended with another flight to Melbourne, for not one but two award ceremonies. Patrick Lenton was special guest at The Wheeler Centre when his debut collection A Man Made Entirely of Bats was selected as a finalist in the Small Press Network's Most Underrated Book Award. Award judges Sarah L'Estrange, Megan O'Brien and Toni Jordan (convenor) had this to say about Patrick's book:

We are delighted to share the Most Underrated Book Award judges' report on A Man Made Entirely of Bats: Patrick Lenton's astonishing imagination finds full expression in A Man Made Entirely of Bats, a short story collection based around the theme of surprising, counter-intuitive superheroes and villains. Some of the stories are flippant and funny, like 'Radioactive Jerk', who was an ordinary guy living on an Antarctic research base when he was bitten by a radioactive jerk and gained his super powers, like spine-snapping wedgies. Other stories, like 'When the Helicopters Came', about a young person travelling through Vietnam who discovers important things about their grandfather and themself, are poignant and touching but never sentimental. The stories are frequently short and hard-hitting, and the confidence and style that Lenton shows make A Man Made Entirely of Bats a thrilling collection.

And, meanwhile, across town at the iconic Readings bookstore in Carlton, Carmel Bird's life-long contribution to Australian literature was celebrated through the prestigious and lucrative $20,000 Patrick White Literary Award. The annual award was established by Patrick White using the proceeds of his 1973 Nobel Prize for Literature, and is traditionally awarded to authors who 'have made a significant but inadequately recognised contribution to Australian literature'. The 2016 judging panel comprised Brennan, David Carter and Debra Adelaide. Judging panel chair Bernadette Brennan said Bird had:

contributed widely and uniquely to Australian literature since her first book in 1976 …. [going] on to publish thirty more books—her imagination is extraordinarily wide-ranging and her fiction consequently creates a world that criss-crosses textual, intellectual and geographical boundaries.
2. Festival season
We were thrilled to be part of the Newcastle Writers Festival this year where we launched Crime Scenes, our anthology of short crime, presented a panel on microlit and screened Richard Holt's microlit videos. We are delighted to have been invited back in 2017 where we will be presenting a number of panels, co-hosting the inaugural NWF/joanne burns Microlit Award and hitting the town with #storybombing (more on this in our next Sluglines).

Little Fictions has also been festive with shows in both the Sydney Writers and Sydney Fringe Festivals. We are very happy to announce that we will present three shows in the Newcastle Fringe in March next year and apart from our monthly show at Knox Street Bar we will also present a special performance at Woollahra Library in April.
3. Funding news
Federal government cuts to the Australia Council earlier this year meant that many fine literary journals and organisations missed out on much-needed funds. Spineless Wonders was delighted and very grateful to be among a small number of publishers given funding. These funds enabled us to continue our multi-platform publishing activities. We were also lucky enough to receive a grant from both the Copyright Australia Cultural Fund and the City of Sydney for our Little Fictions productions this year.
4. Creative collaborations
In 2016, we continued our collaboration with the Sydney Conservatorium of Music with a number of emerging composers from Daniel Blinkhorn's 'Experimental Acoustic' course producing soundtracks for our microlit videos. We look forward to an expanded collaboration with students across the Con in 2017.

This year also saw the formation of the multi-disciplinary artists' collective, #storybombing with our first major engagement taking place in Dick Street at the Beams Festival in Chippendale.

'Landmarks' cover reveal
Here's your sneak peek at the cover of our upcoming anthology, Landmarks, to be officially launched at the 2017 Newcastle Writers Festival in April.
The cover was designed by Richard Holt, a writer and visual artist from Melbourne who creates text-based artworks and blogs about microfiction at bigstorysmall.com.
Landmarks will feature the microfiction of finalists in the inaugural 2016 Newcastle Writers Festival/joanne burns Microlit Award along with invited writers from across Australia.
Stay tuned for more details about the launch and how to purchase your copy.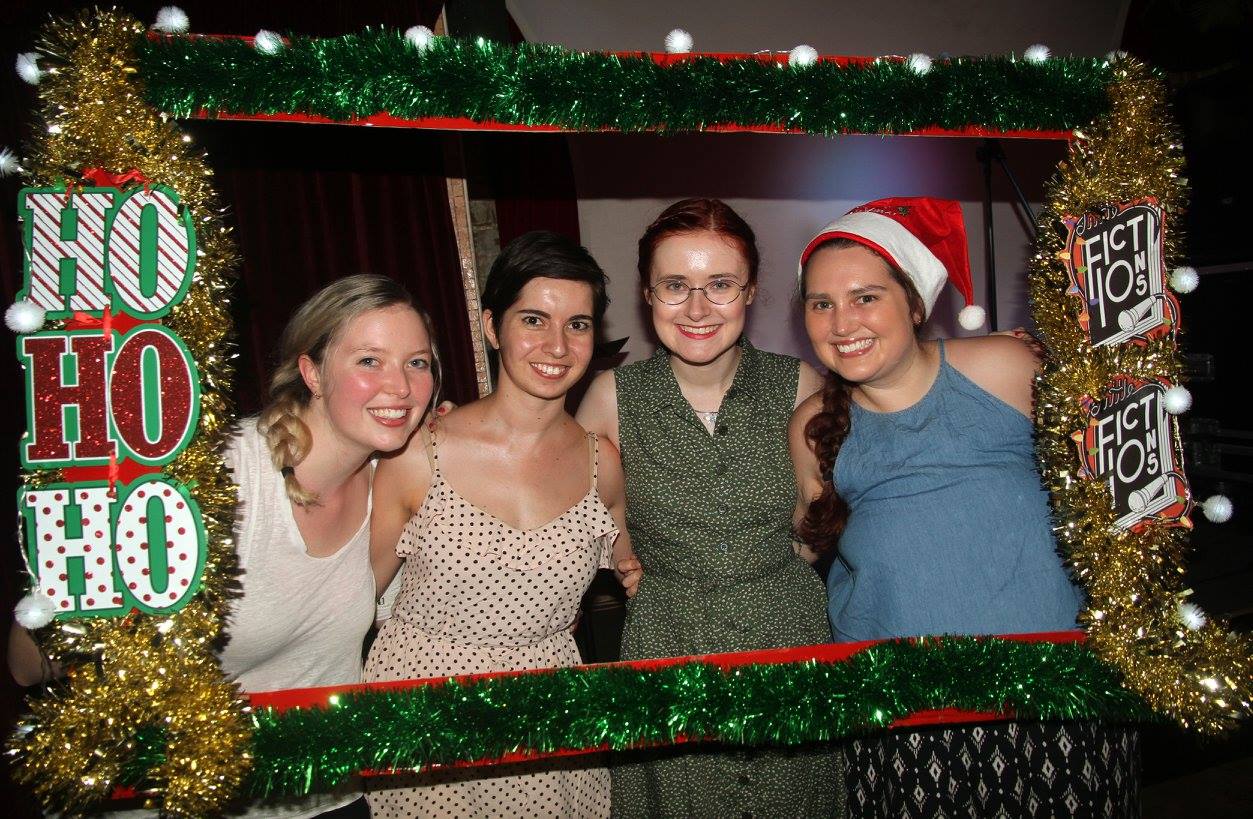 Interns love the industry experience
Each year we are lucky enough to have interns from the University of Sydney's Master in Publishing working on our team. We asked some of them what they thought about their experiences and about their dreams and ambitions.
Talie Gottlieb
My dream role in publishing would be CEO of Penguin Random House. Just kidding (sort of). In all seriousness, though, the best thing about work I have done as a publishing intern is that it has been interesting, inspiring and something I actually looked forward to doing. That is what my dream job is, something that challenges me intellectually and doesn't feel like the thing I do in between small amounts of living.
Almendra Garcia
The best thing about the SW internship project was working with a small but amazing team. It was a great opportunity to see what happens behind the scenes of a publishing house and how the written word can be used in creative ways through live performance.
It was surprising how my role in Little Fictions let me use tools and skills I acquired on my undergrad in combination with what I learnt during my masters.
I learnt how to look at the publishing industry from a different perspective, far beyond the written word and how to make use of it through creative ways. And I learnt that publishing goes beyond writing and printing. We can use other senses to enjoy a good story.
I discovered that I could analyse through a marketing lens, to better understand the consumer and find ways to attract new audiences.
Little Fictions is a show to read with your ears. One thing about Spineless Wonders is that it is a great opportunity for Australian authors to share and publish their stories.
My dream role in publishing would be to work in the art department and/or to be part of the children's publishing industry.
Thank you for allowing me to join your team and I wish you the best for the future! I hope Little Fictions reaches the level you desire!
Jordan Meek
The best thing about my SW internship project was how it changed and evolved as the priorities of the audio production shifted. I came in eager to learn podcasting and have since taken on a different but innovative project—the StoryPhone.
The StoryPhone is a marvellous piece of technology that combines the nostalgia of old push-button phones with new forms of audio story technology, bringing literature to a new audience. Taking on this project has been the best thing I could have gotten out of this internship and I am thankful I've had the chance to be a part of this project.
Hannah Oakshott
The best thing about the SW internship project? Getting to be involved in so many aspects—from editing to marketing and everything in between. Nothing is off limits at Little Fictions!
It was surprising when I made the Xmas Mashup quiz far too hard. Yes, I admit, when the highest mark is 6 1/2 out of 10 I should probably reconsider a future in quizmistressing.
I learnt to challenge myself, to throw myself into things and get the best possible outcome.
I learnt that the publishing industry is so varied. Spineless Wonders has opened my eyes to its potential! Although I'm even more unsure of what I want to do in the future now, I find that prospect exciting.
Short stories/microlit are a fantastic 'moment' in time. In such a fast paced world it is wonderful to be able to read a story in one sitting. It often makes me dwell on it even more. It's amazing how such a short story has the potential to affect you beyond the page.
Little Fictions is unique! I love the concept of bringing together performance and short stories. So many of us were read to as children, and it was integral for developing the love of reading I have now. The first proper novel I read was Harry Potter with my mum—she used to read it aloud to me and as the series went on I became more involved, 'performing' certain characters using voices (Bellatrix was my favourite —so dramatic). Little Fictions reminds me of why I love literature so much.
One thing about Spineless Wonders is that it is celebrating Australian short fiction! Where else do Australian writers get such a special platform?
My dream role in publishing would be …. as a newcomer, my dream role is A role, but I do love editorial. Working with fiction is a must eventually!
Prospective interns
Whether you are undertaking a formal internship program with an institution or would like some experience working in the publishing industry that is meaningful and project-based, we'd love to hear from you. We have a number of exciting projects on offer starting from early in 2017. Email for more information.

'Quote' unquote
The girl reminded me of a woman in a film I once saw. She had everything she needed on her outback property, a gorgeous man, lovely clothes from the city, a private plane. Like her, this girl would never need to steal things. All her life she would just mention her needs casually to someone like the man whose hand was resting on hers. They'd be sitting on the verandah in the evenings and she would list things suitable for life on the land, strong boots and checked shirts, raincoats for the odd wet days.
And he would bring her to the city and buy her boxes of silk underwear folded in tissue paper scattered with rose petals, satin sheets for the two of them to lie on under ceiling fans in the summer, flimsy nightwear for him to remove.
'The Man with the Blue Bucket' by Mary Manning, Damaged in Transit, October 2012.

Competition
Win the 2017 Pilot: a diary for writers.
The 2017 Pilot diary is the perfect Christmas gift for any writer—so we're chuffed to be giving ONE away.
The diary features tips from Spineless Wonders' Bronwyn Mehan and lists 150 competitions, festivals and awards. It also offers a year's worth of writing prompts and tons of industry info.
Bursting with book recommendations, encouragement and advice from more than 50 inspiring authors, including Benjamin Law, Anna Funder and Inga Simpson, you'll want this stylish diary by your side as you write.
It's easy to WIN your copy—just tell us your # 1 writing goal for 2017. Email with your answer in the subject line.
Our winner of last month's competition, Julie Davis (Woonona, NSW), is the proud owner of a copy of Loopholes for correctly telling us that author Susan McCreery recently took up the sport of ocean swimming.

Dates for your diary
January 29 - Slinkies Under 30s submission deadline.
February 14 - Little Fictions @ Knox Street Bar: I HEART LGBTI, 7-10pm.